How to Care and Maintain Your Hair Cutting Scissors
Shears designed specifically for cutting hair, commonly known as haircutting scissors, are an essential tool for any cosmetologist, barber or hairdresser. How important are they? A professional barber or stylist would be unable to perform their duties effectively in the absence of shears.

Shears could seem like a peculiar set of scissors to those who aren't familiar with the hairstyling or barbering industries. Shears are used for cutting hair and are a large financial investment. You don't want to be replacing your hair shears every few months due to carelessness or lack of knowledge surrounding proper maintenance. To achieve a perfect haircut; sharp, clean shears are essential. We have heard stories of clients complaining that their barbers shears pull or tug on their hair while getting a hair cut. The primary reason for this is dull hair shears. 
Using hair shears that were designed and intended for professional use is essential if you are in the hair cutting profession. Master barbers and hairdressers know that using a cheap set of hair shears makes their job more difficult.
Recommended Hair Shears for Barbers and Hairdressers
Saki Shears Precision: The Precision hair shear utilizes a super premium blend of Japanese steel called ZA-18, which was developed by Osaka Clad Co. and Aichi Steel Corp. We chose ZA-18 Steel for the Precision hair shears because it is harder, more corrosion resistant and more durable than almost any other steel on the planet. The resulting HRC for the Precision shears is 61-63. We have received incredible reviews from professional barbers who have tried this new addition to the Saki Shears line. 
Saki Shears Grand Master: Another new addition to the Saki Shears line of Master level hair cutting shears. The Grand Master hair shears utilizes VG-10 Japanese Steel; considered by many barbers, hairdressers and stylists around the world to be the preferred steel for professional level shears. The Grand Master has an easy thumb-adjustment dial for tension control, eliminating the need for a tension key. The Grand Master features the increasingly popular sword style blade with a super sharp convex blade. 
Saki Shears Precision Sword Blade Hair Shears
Saki Shears Grand Master Sword Blade Hair Shears
Advice Regarding the Upkeep of Shears

Cleaning and sterilizing your hair cutting shears on a regular basis is recommended as a best practice in the hairdressing industry. Not only will this assist the shears remain in fine operating condition and survive for a longer period of time, but many states mandate that it be done for reasons of public health and safety. In addition to cleaning, preserving your pair of haircutting scissors requires that you use them correctly and store them away appropriately.

1. Use Extreme Caution When Working With Shears

When in use throughout the day, haircutting shears should be handled with extreme care and gentleness at all times. It is possible to disrupt the alignment of the blades and dull the cutting edge of the shears by violently slamming them down on the countertop or by unintentionally dumping them on the floor. If you drop the scissors and they break or are nicked in any way, you will need to take them to have serviced and fixed.

If you own a pair of Saki Shears, you are in luck, because we offer a Accidental Damage Warranty which protects your purchase against drops. There is a fee, depending on the original price of the shears, however, it is much cheaper than paying for new replacement shears. The majority of our shears covered by our Accidental Damage Warranty will be replaced for $50. This applies to our 440C, Japanese Steel Shears. 
It is essential that you keep your shears in a secure location and do not lend them to anyone else. Shears made specifically for cutting hair are notoriously costly due to their specialized construction and functionality. They shouldn't be utilized for applications that are used often. Never try to cut wrapping paper with your shears or open a bag of chips or anything else with them.

If you bring your hair shears home at the end of the day, be sure to talk to your kids about not using your hair shears for typical household use. Imagine finding your salon shears covered in Elmer's glue because your child used them for a school project!

2. Proper and Thorough Cleaning of Haircutting Shears

Maintenance of haircutting shears starts with washing and sterilizing them on a regular basis. Every beauty parlor and barbershop has its own specific guidelines for cleaning shears. The majority of these processes need that the scissors be cleaned and sanitized in between different customers. In addition, it is a good idea to wipe the shears clean at regular intervals while doing the same haircut in order to prevent hair fragments and sweat from the hands of the hair stylist or barber from interfering with the cutting performance of the scissors. It is imperative that you never let liquids like as water, cleaning solution, or perspiration dry on the shears. Not only does it give the appearance that the shears are unclean, but the buildup of residue may also make the shears less sharp, cause the surface of the shears to erode, and perhaps lead to the spread of illnesses via cross-contamination.

In order to properly clean haircutting shears, you must first rinse the shears with soap and water, then dry them in a cautious and thorough manner, and then use either rubbing alcohol or haircutting shear sanitizer solution to finish the cleaning process. After washing and drying, it is common practice to sterilize the item in an autoclave.


Shears should be oiled on a daily basis in addition to receiving routine cleaning and sanitation during the workday. This will help to prolong the shears' usable life and ensure that they remain in excellent working condition. At the end of the day, when their shears and scissors won't be used for a number of hours, many hairstylists and barbers choose to oil their shears. The oil for the haircutting shears prevents them from rusting and becoming stiff, making it possible to get a regulated haircut that is simple, smooth, and efficient. Shears that are rusted or stiff will be difficult to handle, which will cause hand pain for the person providing the haircutting service as well as a poor cut for the customer. Hair shear oil also helps flush out lodged or trapped hair pieces from the interior of the scissors, which the ordinary cleaning and sterilizing process may have missed. This is especially helpful for scissors that are used often. When use shear oil, it is recommended to have the scissors open to an angle of 45 degrees and apply a little drop on the middle joint that holds the two blades together. This will ensure that the oil is distributed evenly over the blades. Utilizing a delicate cloth, massage the oil into the scissors in a gentle manner. The shears might become slippery if an excessive amount of oil is used, which would increase the likelihood that they would be dropped by mistake.

3. Ensure That Your Shears Are Stored Correctly

After being cleaned, dried, disinfected, and oiled, shears for cutting hair should be kept in a manner that ensures they remain dry and protected. This will not only prolong the shears' usable life but will also keep their performance and handling intact. Your shears should be stored in a protective container once they have been cleaned, disinfected, and protected. This case should have a lining that is soft and absorbent so that the shears are protected from moisture and other environmental influences. Within the carrying case for your shears, there should be a designated space only for them; shears should never be jumbled about with other equipment in a box or other container. You run the danger of causing damage to the blades of the shears and any other instruments that may come into contact with one other. Put the case in a spot where it won't get wet and store it there.
Most Saki Shears come with a premium leather storage case. This is a great place to keep your shears when they are not in use. 


4. Keep the Shears Sharp and Adjust the Tension So That They Fit Your Hand

Not only must the blades be razor-sharp, but also the grips and handles must be well-designed and pleasant to use. It is possible for a pair of haircutting shears to have a tension that is either too loose or too tight, which may have a detrimental impact on the scissors' ability to cut well and be handled properly.

Damage to the blades of the scissors and extra strain on the hands might result from using scissors with insufficient tension. If the tension on the scissors is not tight enough, the strands of hair will be bent instead of cut, which will result in a bad haircut. When barber shears lose their edge, it is essential to have a professional shear sharpener or a sharpening firm restore their edge and perform any necessary maintenance on the shears.

If you take your haircutting shears to a professional to get them sharpened, you can be certain that they will be sharpened correctly, using equipment and methods that will not cause the scissors to become damaged.

5. Haircutting Shears Should Only Be Used on Hair.

Barbers and other experts in the hairstyling industry are aware that the haircutting scissors they use should only be used for cutting hair. However, family members, friends, and customers could have a different perspective on them. It's possible that a customer may ask to borrow your shears so they can cut open an envelope or trim a stray thread from their sweater; nevertheless, doing so may lead the scissors to get damaged.

Although to the untrained sight, there is not much of a difference between a strand of hair, a piece of paper, and a strand of polyester, these three things are really very distinct. Cosmetologists, on the other hand, are aware that there are noticeable variances. In comparison to fabric and paper, the thickness and feel of hair is entirely unique. The small strands of linked proteins that make up hair are called keratin. Paper is manufactured from wood pulp and fiber that has been crushed. Fabric is made up of twisted threads that are woven together to form fabric. The blades of haircutting shears rapidly grow dull when they are used to cut anything other than hair, and the blades may also be thrown out of normal alignment if this happens.
Protecting your hair shears won't take much time. Just a few minutes a day is all it takes along with being mindful of how you store your shears at the end of the day.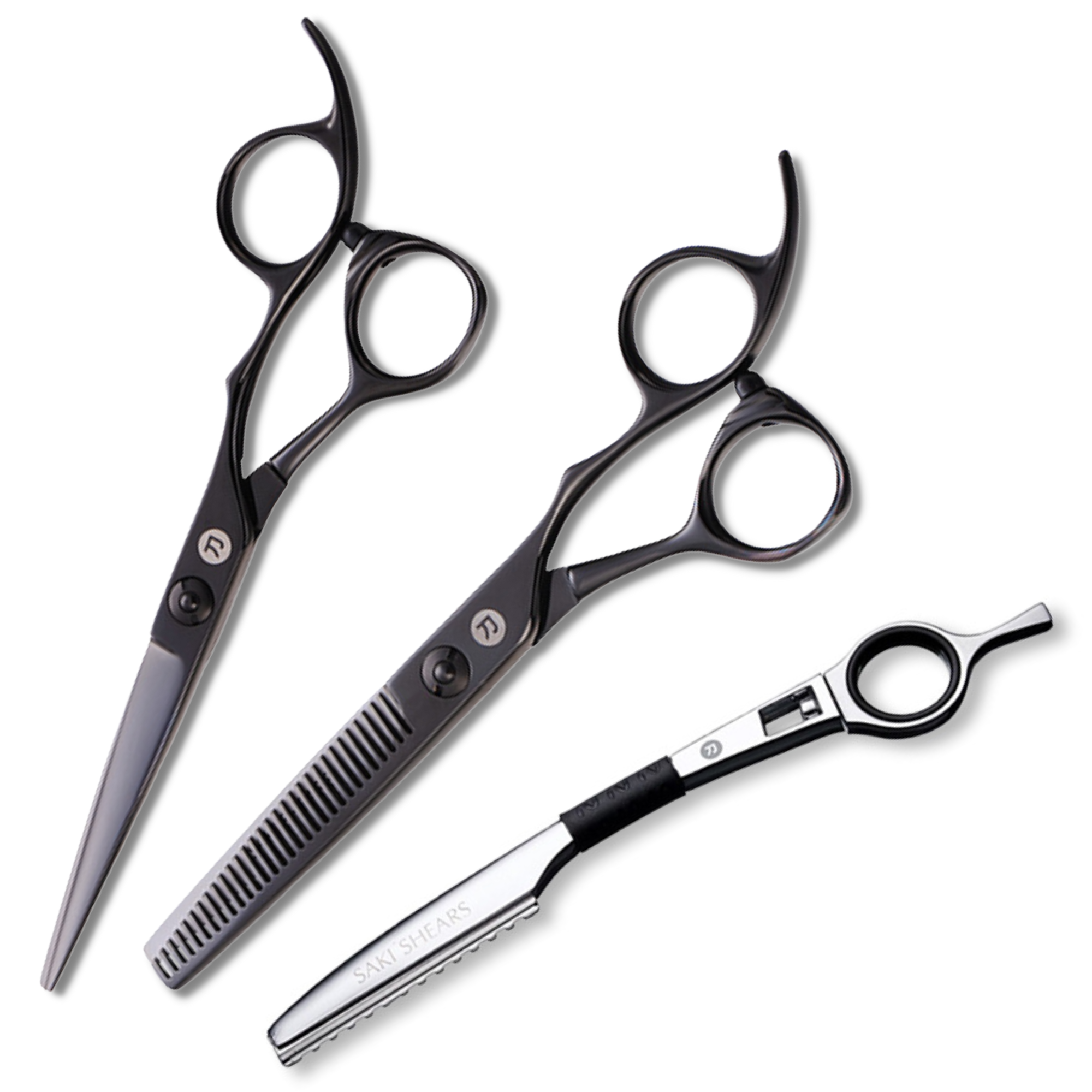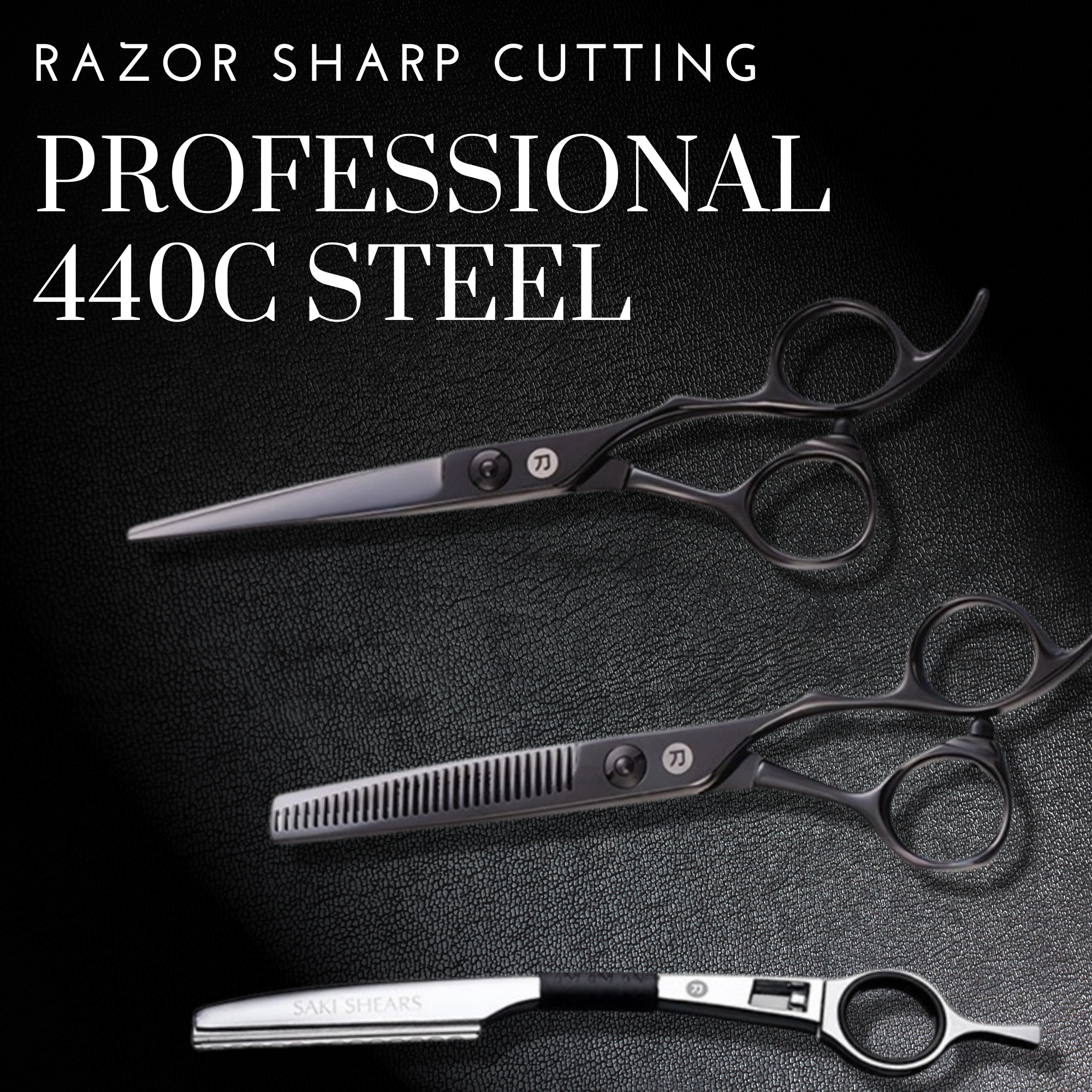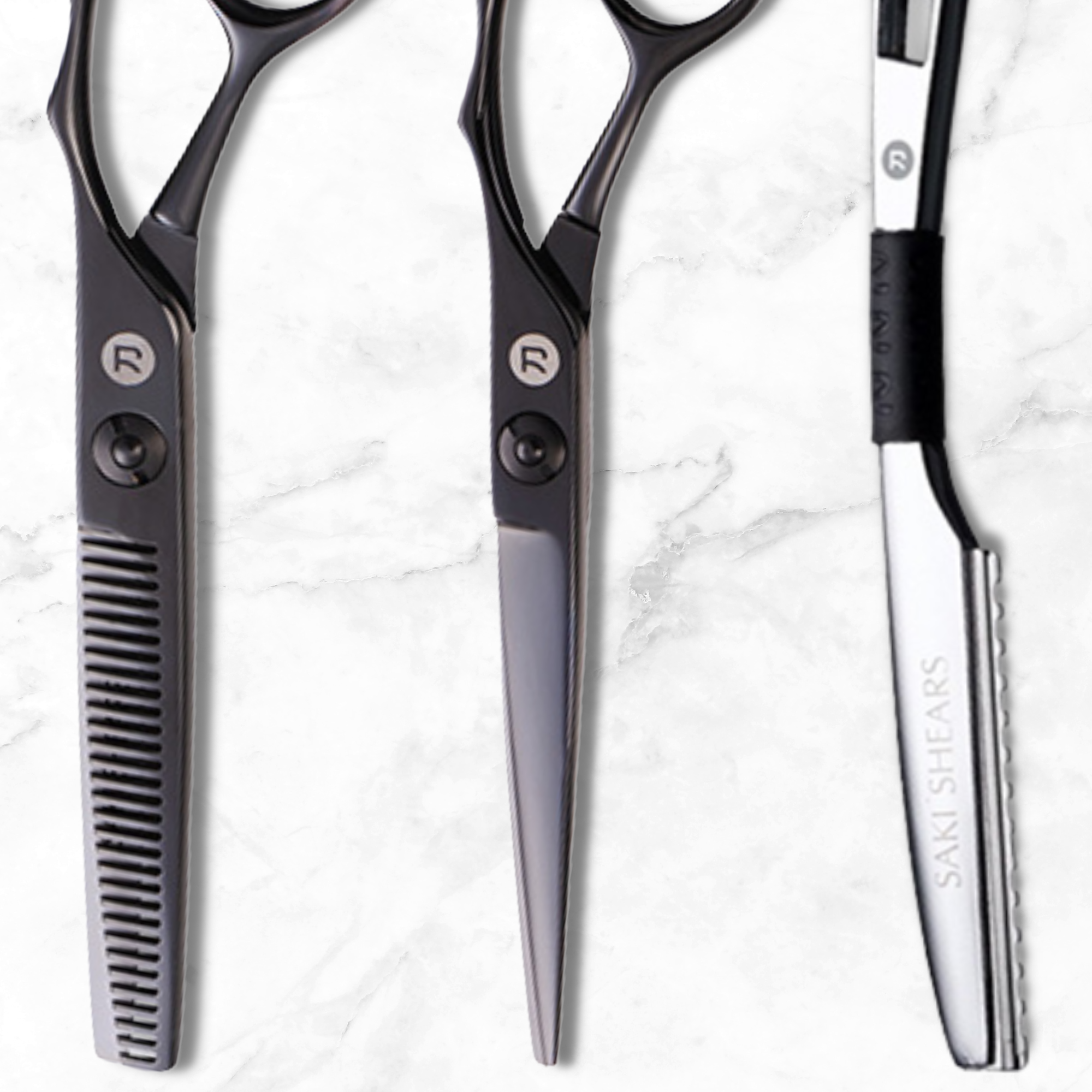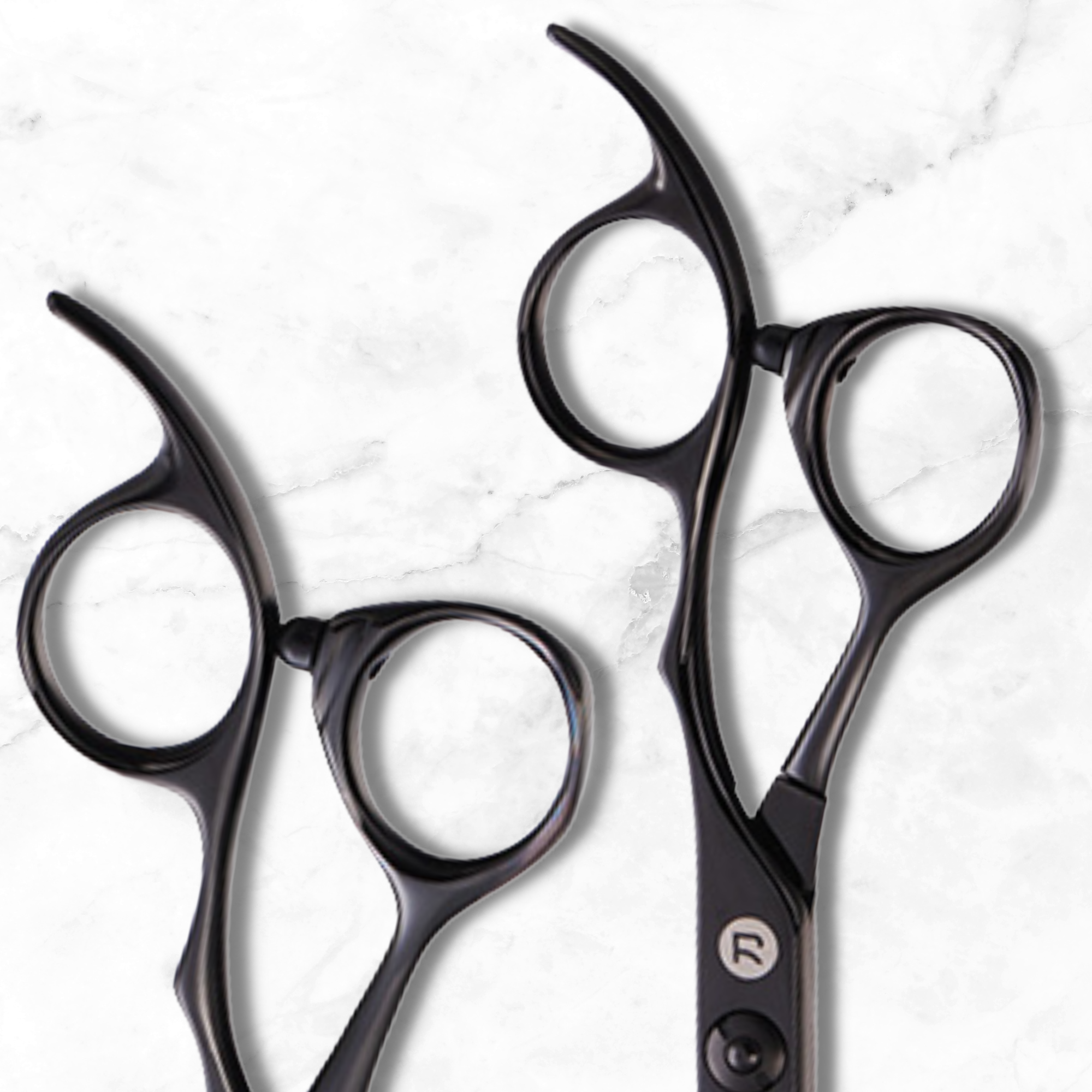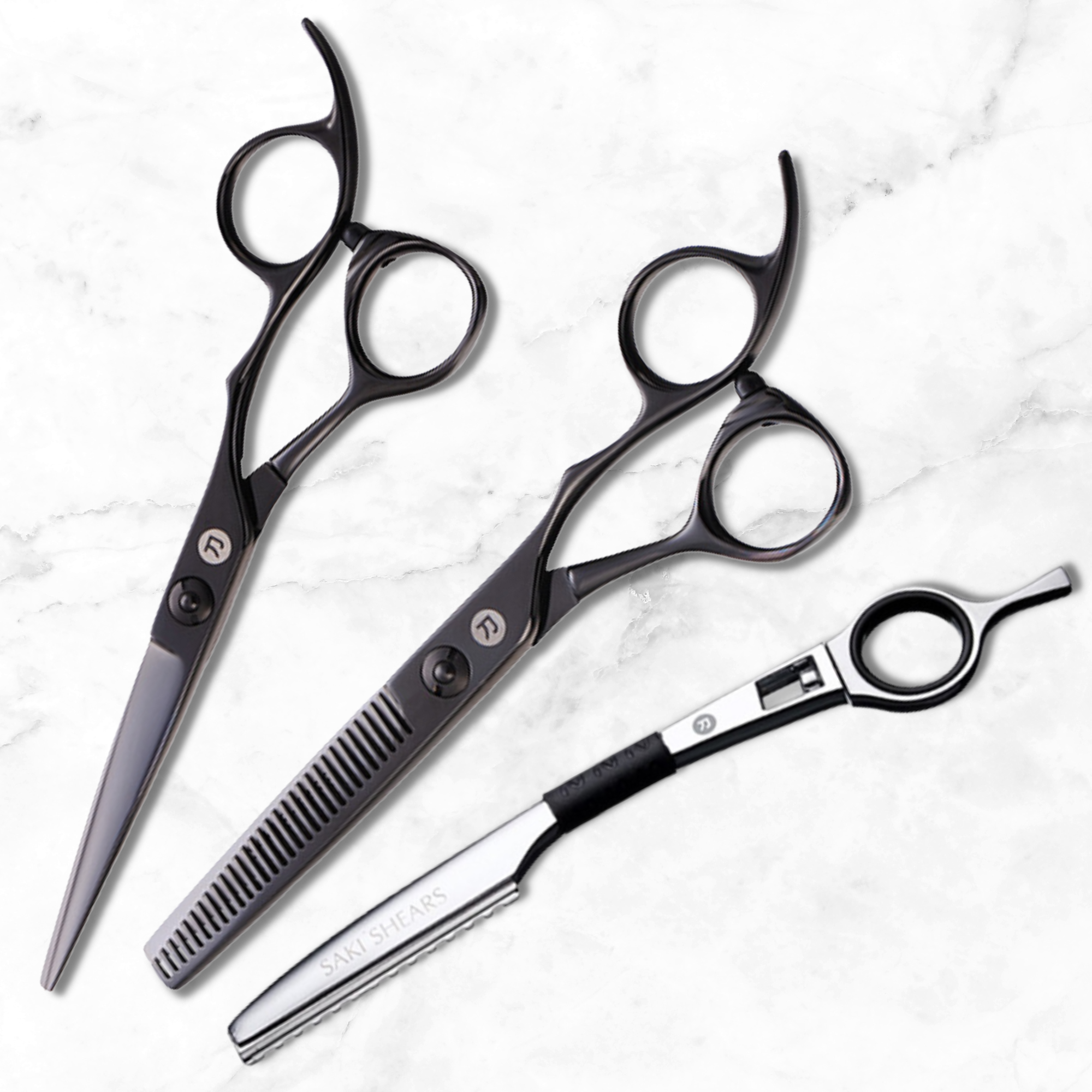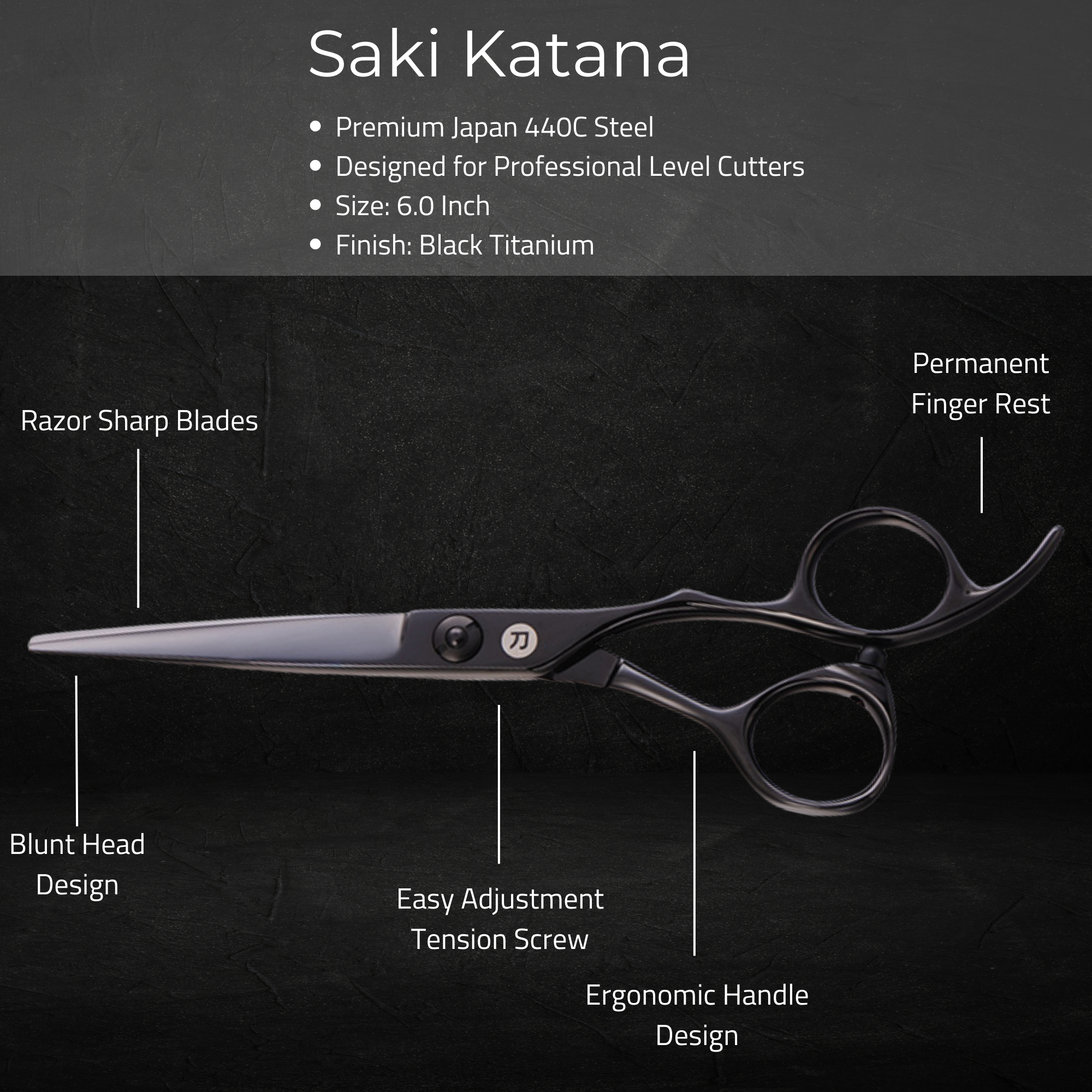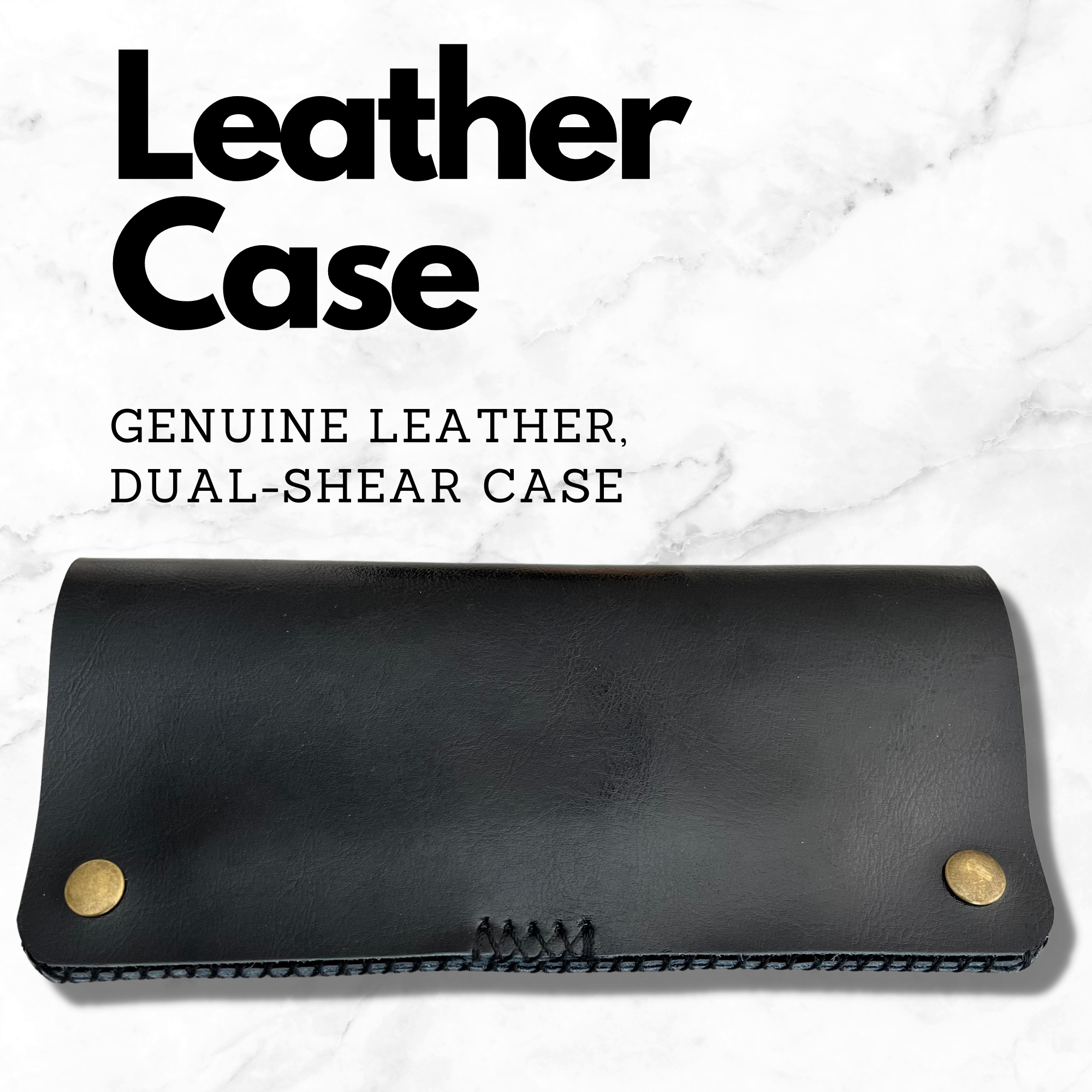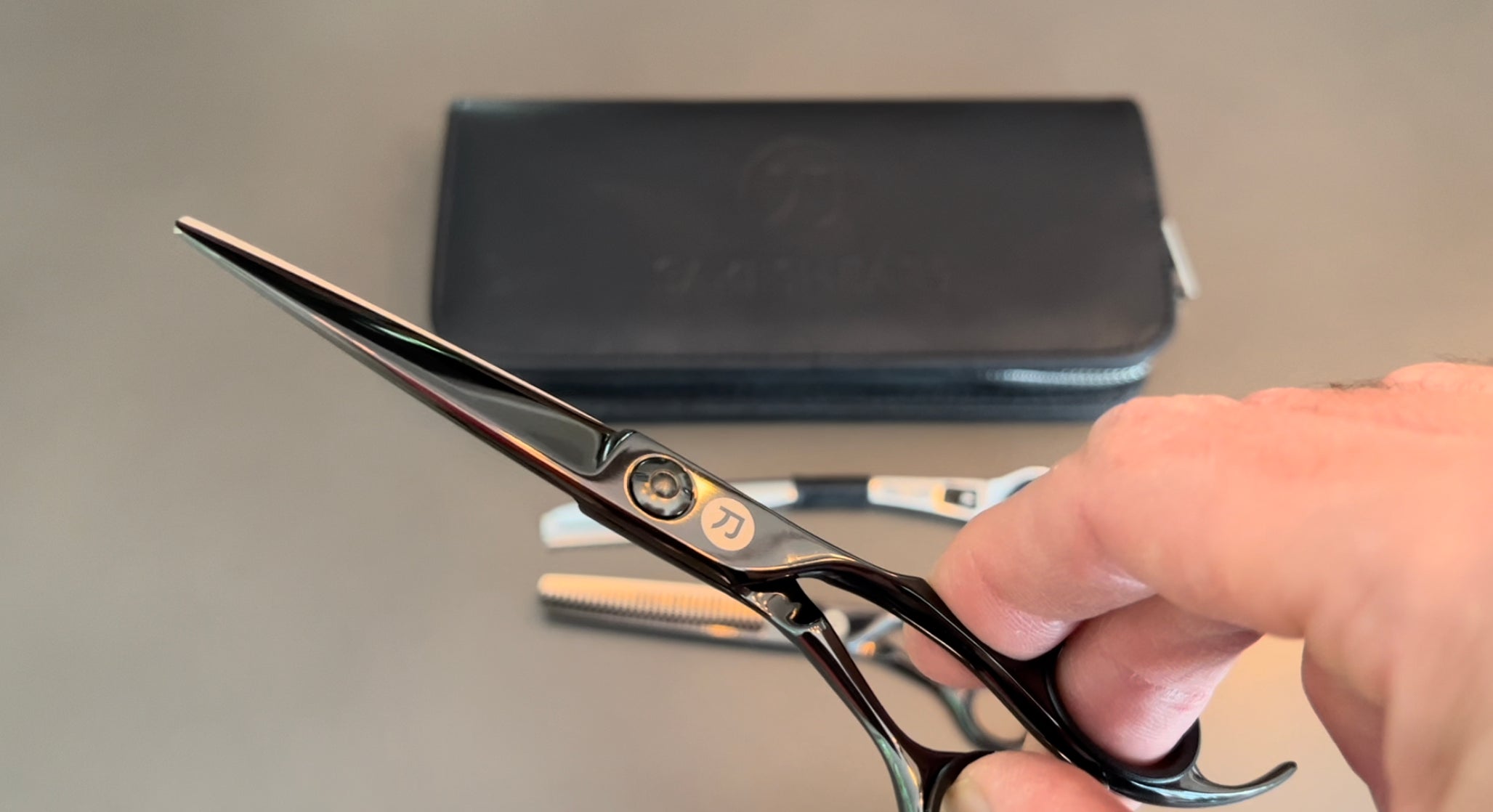 Save 30%
---
Saki Katana Hair Cutting set is the perfect pair! Handmade and constructed using Japanese stainless steel and a thick coating of black titanium, the Saki Katana Hair Scissor and Thinning Shear provide the ultimate durability for a long-lasting pair of hair shears you can count on. The Saki Katana set includes our premium hair cutting shears, hair thinning shears, razor and leather carrying case. 

Options:

6" set includes the Katana 6" cutting shears, 6" thinning shears, swivel razor and leather case.

7" set includes the Katana 7" cutting shears, 6" thinning shears, swivel razor and a leather case. 

Saki Katana Warranty: Covered by Saki Shears Lifetime Warranty

Saki Katana Cutting Shears

Saki Katana Hair Shears feature a convex edge and triple-honed, stainless steel blade for precise and smooth cutting while the offset, extra-long crane handle fights fatigue and provides the ultimate in comfort. Ideal for blunt, wet, and dry cutting.

Features:

Handmade for Precision
Material: Japanese Stainless Steel
Blade: Japanese style convex blade with hardness 60-61 HRC
Ring Size: Adjustable
Two-Piece Welded
Black Coating: Titanium Coating
Coating Thickness: 1.5 um
Size: 6 inch

Saki Katana Thinning Shears

Saki Katana Thinning Shear is perfect for thinning, blending and/or adding texture to any hairstyle with 30 teeth and thick, short sword back blades. Offset, extra-long crane handle, and adjustable ring size offers the utmost comfort and support while styling.

Features:

Handmade for Precision
Material: Japanese Stainless Steel
Blade: Japanese style convex blade with hardness 60-61 HRC
Ring Size: Adjustable
Two-Piece Welded
Black Coating: Titanium Coating
Coating Thickness: 1.5 um
Size: 6 inch/30 Teeth

Your Saki Katana Set Includes:

1 Handmade Saki Katana Hair Shears
1 Handmade Saki Katana Thinning Shears
1 Handmade Swivel Razor
1 Case
Lifetime Warranty

Saki Shears Katana line of hair shears are perfect for master barbers, advanced hair stylists and professional hairdressers. 
Read More About Hair Shears and Scissors