The Proper Way to Clean Hair Cutting Scissors: A Step-by-Step Guide
Professional barbers and hairdressers understand how essential it is that their hair shears are kept clean and sharp. Their scissors need to be cleaned regularly. There are many ways to keep the shears clean. In this piece, we will walk you through the process of cleaning your scissors using rubbing alcohol and/or ethanol. It is imperative that you clean your hair shears after each use in order to remove any buildup or debris that may have accumulated on them as a result of their use in the salon. We will also go over how to properly maintain your scissors so that you can get the most use out of them for as long as possible.
Supplies Needed to Property Clean Your Hair Shears
In order to properly clean your hair cutting scissors, you will need the following supplies: 1) a scouring pad or rag, 2) alcohol or ethanol, 3) oil to be applied to the blades after they have been cleaned.
Cleaning Your Hair Scissors in 3 Simple Steps
Use Alcohol. The salon is filled with products that contain non-water-soluble solutions. The only way to cut through these products which accumulate on your hair shears is to use an alcohol based product for cleaning and removal of the buildup. Soap and water often times isn't strong enough to fully remove these products, which can negatively effect the performance of your shears. 
Use a Chamois Cloth. The vast majority of hair scissors and sets of shears come with a maintenance package that contains a towel designed expressly for the purpose of cleaning scissors. Saki Shears includes a cleaning cloth with most of our shears. Place the chamois in the palm of your open hand. Make use of the chamois to clean the cutting edge that is located on the exterior of the blade. Utilizing the chamois, wipe the outside of the blade clean. During this procedure, each and every one of the blade's edges will be rounded off. When using the chamois, you should use increased caution so that you do not cut yourself.
Apply Shear Oil. The oil that is applied to hairdressing shears after they have been cleaned It is absolutely necessary to oil your scissors on a regular basis. The oil has a role in helping to keep the scissors in the best possible condition. Saki Shears includes complementary shear oil with most of our shears. Be sure to apply oil regularly. 
After thoroughly cleaning your hair shears, it is important to adjust the tension screw on the scissors. The screw that is used to regulate the tension is placed between the hairdressing shears' blades.
Hair shears designed using premium steel such as Japan 440C, VG10, ZA-18 or Damascus Steel, will hold a razor sharp edge much longer than cheap hair shears manufactured using inferior steel. Saki Shears premium hair shears utilize the finest steel in our Apprentice, Professional, Master and Damascus lines of shears. For example, the Grand Master, Saki Gold and Saki Diamond Hair Shears uses a high cobalt steel called VG10. 
Additional Ideas For Cleaning Hair Shears
When cleaning your hair cutting blades, choose a method that is recommended by professionals and that has been tested and shown to be effective. Your cutting tools may be thoroughly cleaned in a short amount of time using this method.
Use Paint Thinner - It's possible that water and dish soap won't be able to remove all of the gunk, and it might build up over time if it's used frequently. Applying paint thinner will both get rid of the gunk and allow the area to breathe again. Apply the thinner in order to get rid of any residue that is sticky. Additionally, wash the blades of your scissors to eliminate any dirt or debris that may have accumulated on them.
Use a Sponge - It is dependent upon the state of your shears as well as the cleaning solution that you will be utilizing. Around the cutting edges there may occasionally be visible traces of adhesive. The fact that hair cutting blades are flat makes it easy to clean them with a cotton ball and a solution of water. A sponge may be utilized to clean the blades, particularly the side that has a more abrasive texture. In the event that your blades get corroded and rusty, you may clean them with the help of a cotton ball. White wine vinegar must be poured over the cotton ball before it can be used.
Oil The Blades - It is absolutely necessary to lubricate the joint that connects the blades of your scissors in order to keep them clean and sharp. Oil the screw by wiping it down with a soft, clean cloth. It is recommended that the practice of oiling be carried out once each month. When you do this, you will ensure that the blades operate without any resistance or friction. Make use of a very tiny amount of oil, but before you do so, ensure that the blades have been meticulously cleaned. 
Sharpening Your Hair Shears
After you have cleaned your scissors, you may want to consider sharpening them. We are frequently asked if this is a DIY project. Our advice is that shear sharpening is best left to a professional if you have a premium set of barber shears. If you are using an inexpensive set, go ahead and give shear sharpening a try. 
Sharpening Stone - Sharpening your equipment is the method that will give you the best results when trying to hone your hair cutting shears at home. If your scissors are not functioning correctly and you do not want to put yourself or anyone else in danger, it is imperative that you seek the assistance of a professional. You should probably get your scissors professionally sharpened, but you can manufacture one at home on your own if you really want to save some money. It's also known as a whetstone in some circles. When cleaning the surface, you need just use water or oil. Make a mark along an edge that runs the length of the stone's surface, from the very top to the very bottom. To sharpen the scissor will take around 15 strokes of the steel.
Electrical Rotor Tool - Using a rotary tool to sharpen your cutting tools at home is an awesome and time-saving method to get the job done. After utilizing this electric tool, your cutting implements will have a cutting edge that is second to none. You will need to make use of the vise in order to secure the scissor blade in position. There is a connection that may be made between grinders and spinning tools. Start your engine after placing the stone against it and turning it on. After you have finished the process once more, the scissors that you make will be of higher quality.
Sewing Pin - You can keep the cutting edges of your scissors sharp with the help of sewing pins. First, use the scissors to cut the head off of the pin. Pull the pin out from between the blades of the scissors after the shears have been closed. Carry on in this manner until the edge of the scissors is sufficiently sharpened. After the edges have been sharpened, you may use a towel to wipe the blades clean in order to remove any metallic debris that may have been left behind. When sharpening blades with sewing needles, little pieces of metal can sometimes become embedded in the blades themselves. They put themselves at danger of being hurt.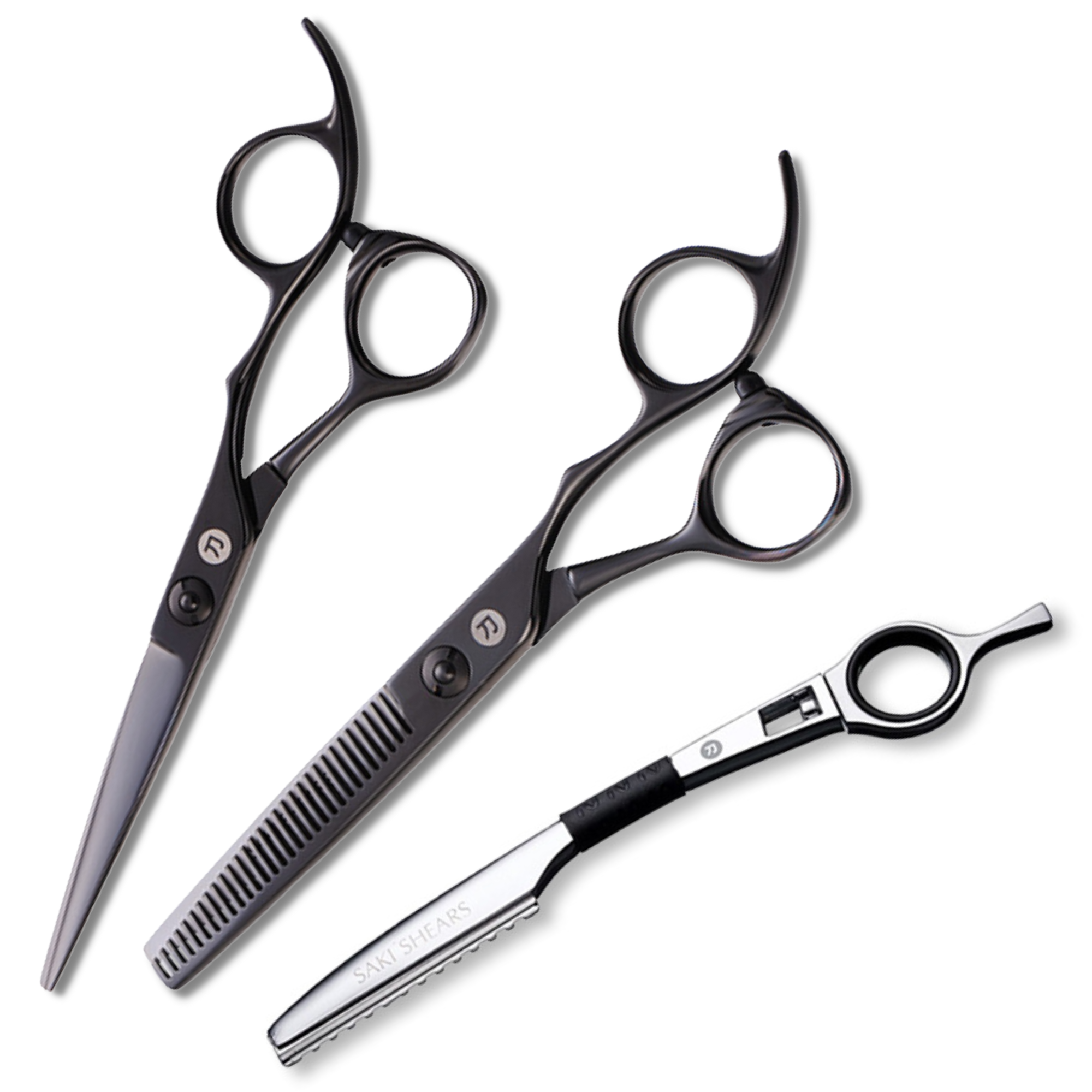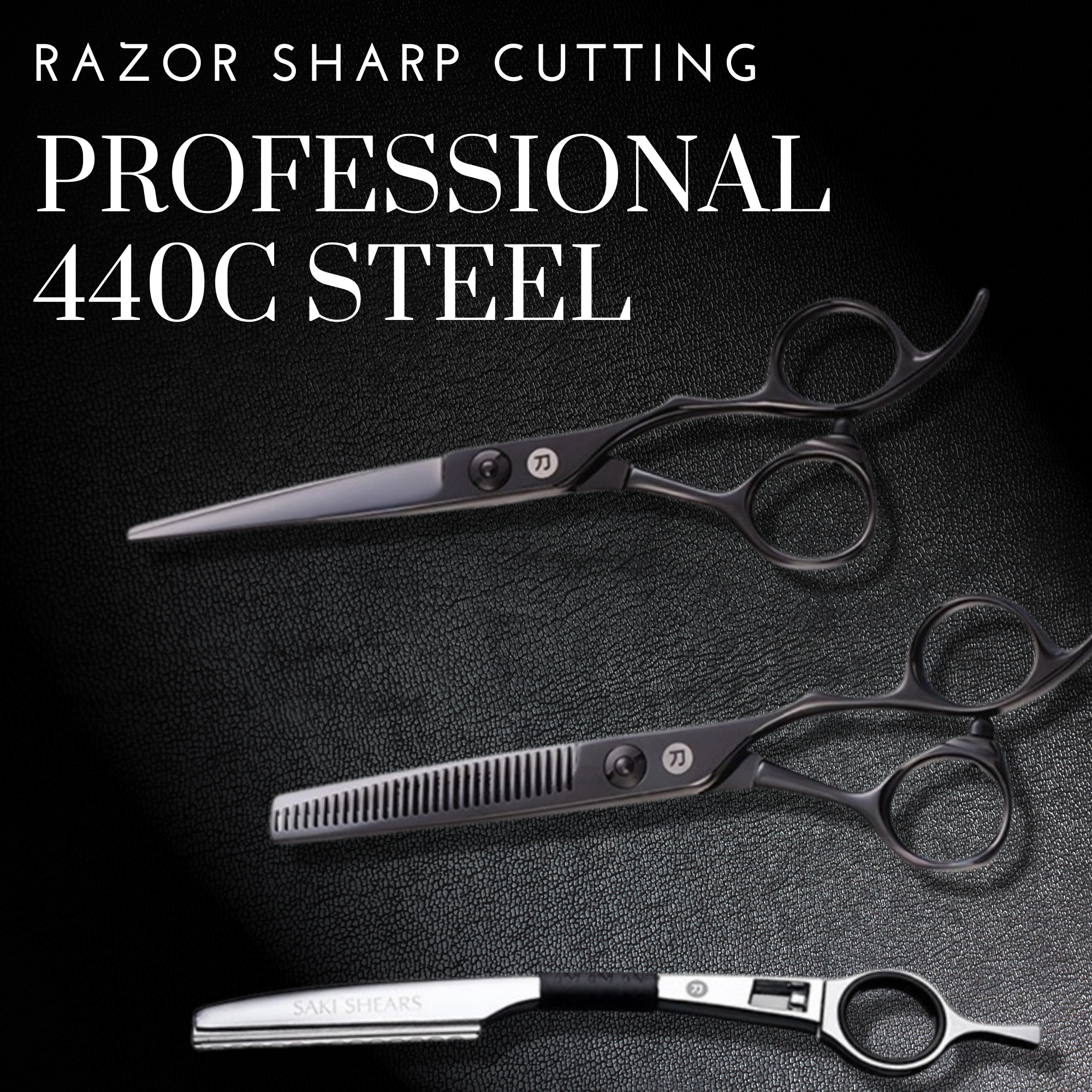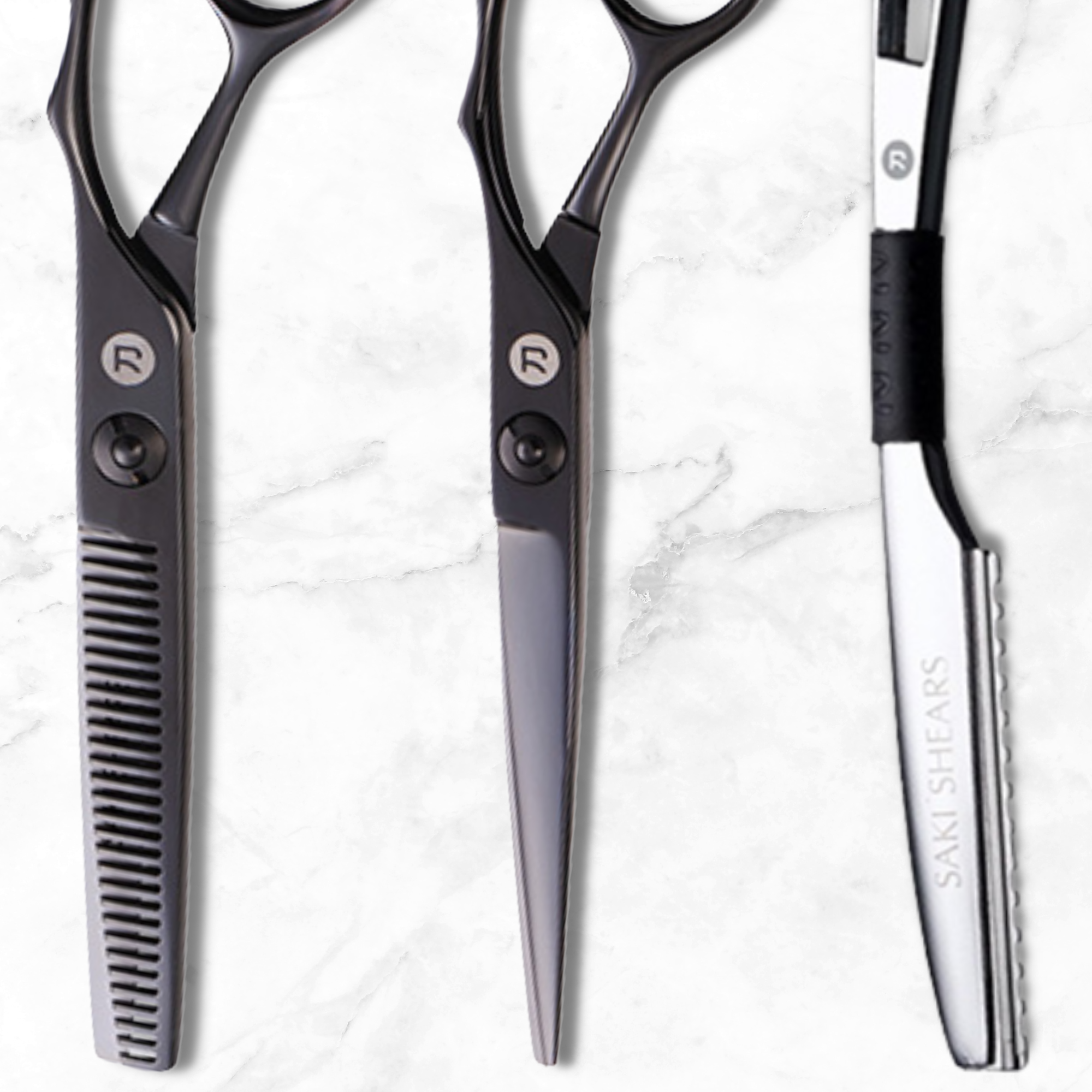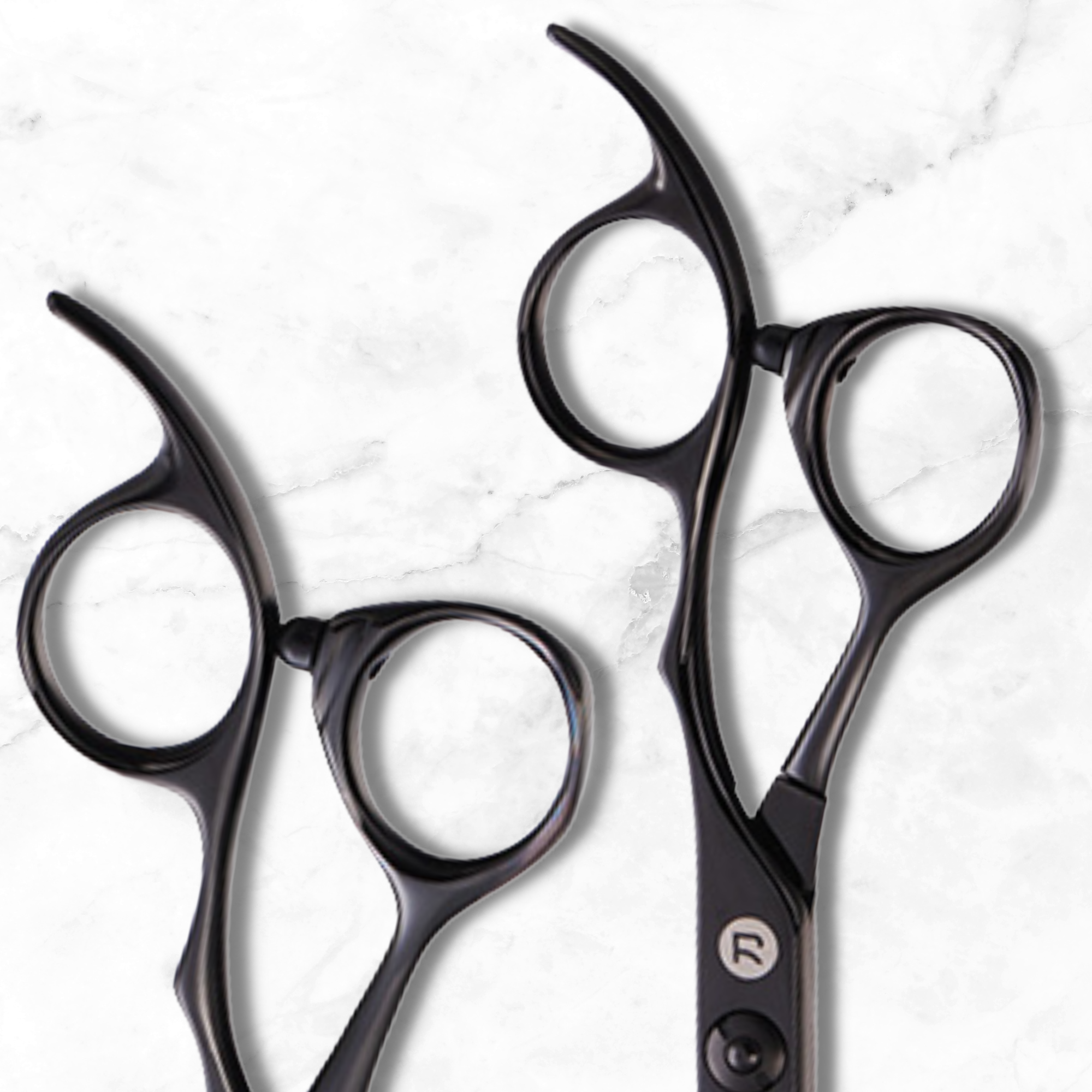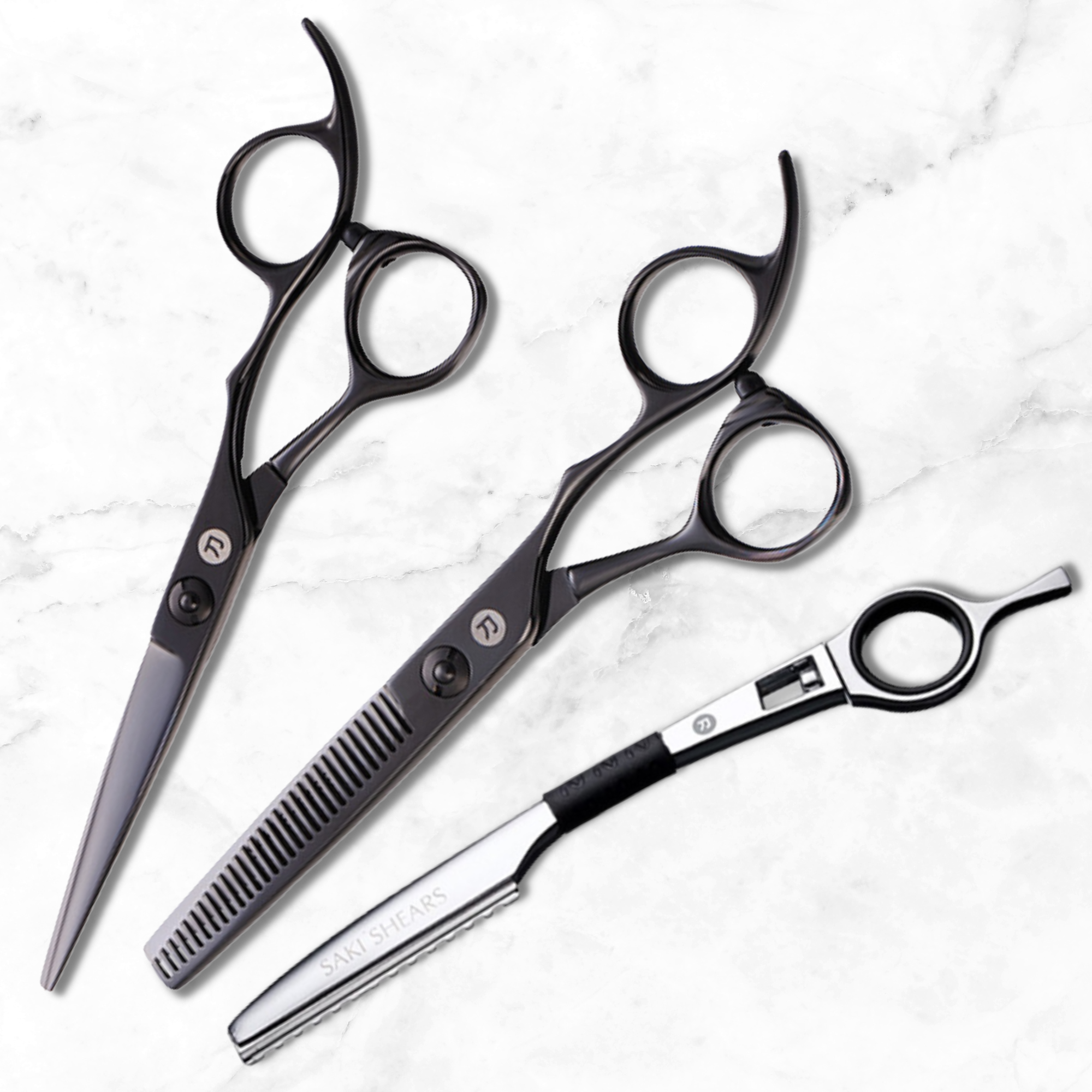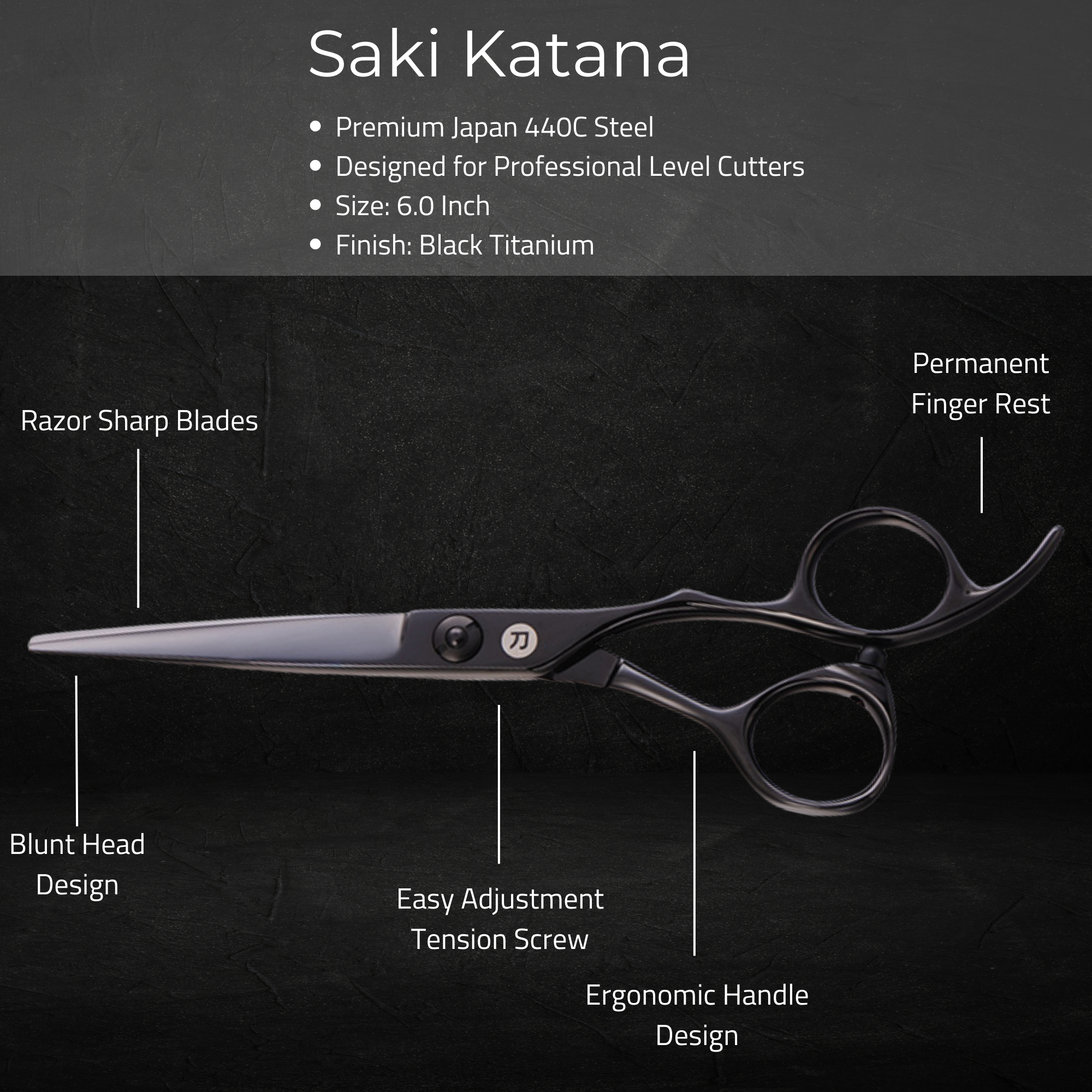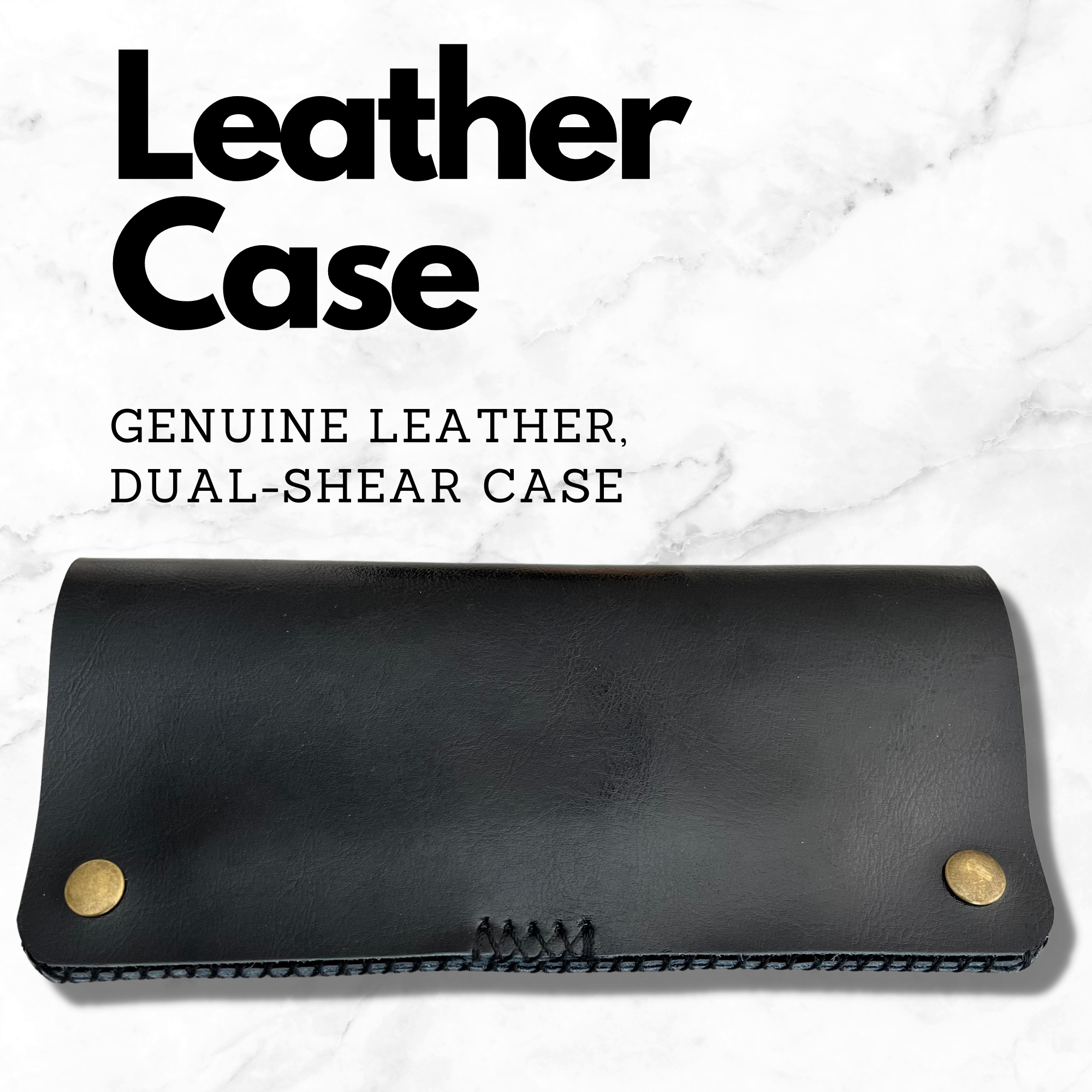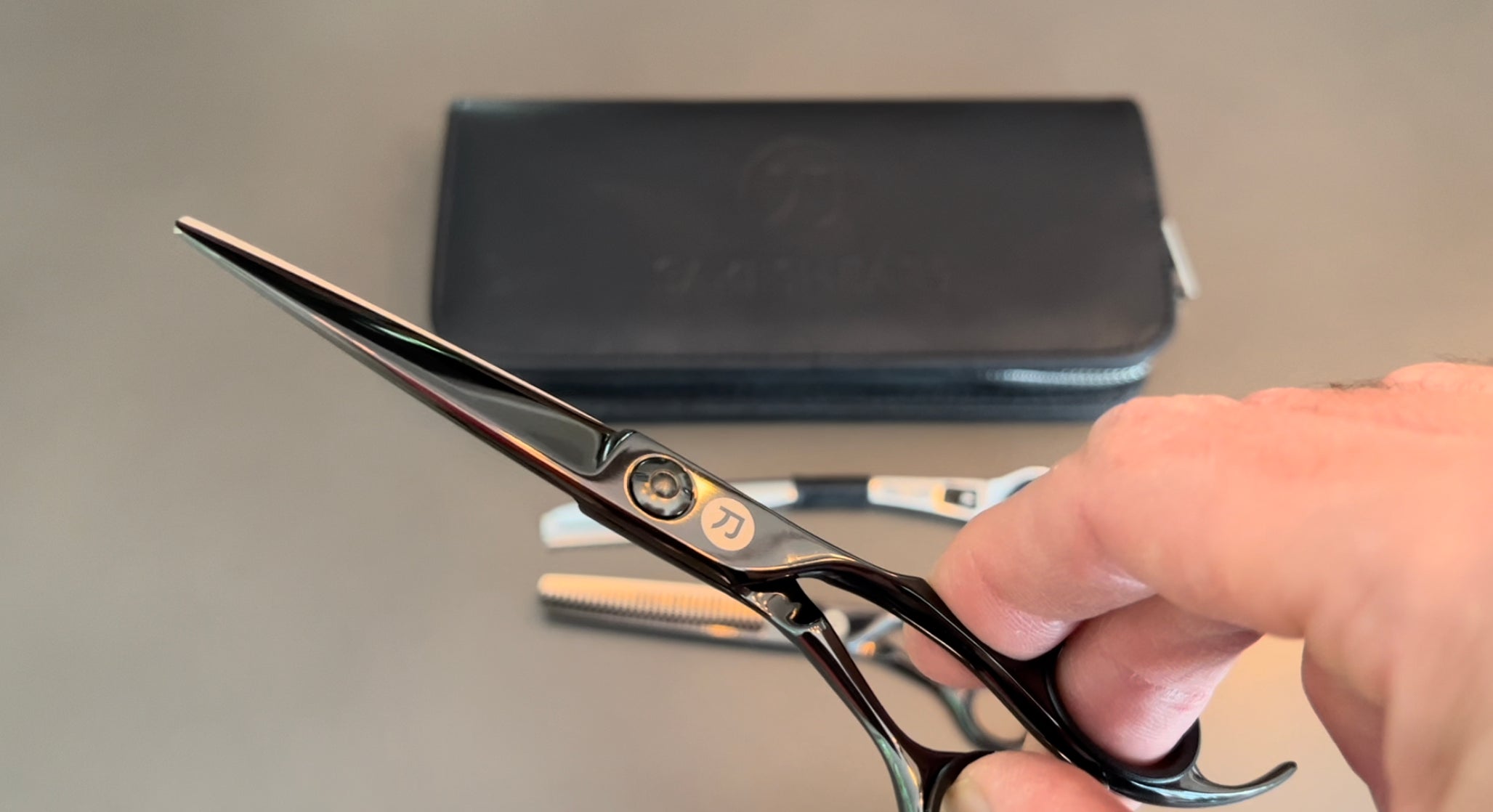 Save 30%
---
Saki Katana Hair Cutting set is the perfect pair! Handmade and constructed using Japanese stainless steel and a thick coating of black titanium, the Saki Katana Hair Scissor and Thinning Shear provide the ultimate durability for a long-lasting pair of hair shears you can count on. The Saki Katana set includes our premium hair cutting shears, hair thinning shears, razor and leather carrying case. 

Options:

6" set includes the Katana 6" cutting shears, 6" thinning shears, swivel razor and leather case.

7" set includes the Katana 7" cutting shears, 6" thinning shears, swivel razor and a leather case. 

Saki Katana Warranty: Covered by Saki Shears Lifetime Warranty

Saki Katana Cutting Shears

Saki Katana Hair Shears feature a convex edge and triple-honed, stainless steel blade for precise and smooth cutting while the offset, extra-long crane handle fights fatigue and provides the ultimate in comfort. Ideal for blunt, wet, and dry cutting.

Features:

Handmade for Precision
Material: Japanese Stainless Steel
Blade: Japanese style convex blade with hardness 60-61 HRC
Ring Size: Adjustable
Two-Piece Welded
Black Coating: Titanium Coating
Coating Thickness: 1.5 um
Size: 6 inch

Saki Katana Thinning Shears

Saki Katana Thinning Shear is perfect for thinning, blending and/or adding texture to any hairstyle with 30 teeth and thick, short sword back blades. Offset, extra-long crane handle, and adjustable ring size offers the utmost comfort and support while styling.

Features:

Handmade for Precision
Material: Japanese Stainless Steel
Blade: Japanese style convex blade with hardness 60-61 HRC
Ring Size: Adjustable
Two-Piece Welded
Black Coating: Titanium Coating
Coating Thickness: 1.5 um
Size: 6 inch/30 Teeth

Your Saki Katana Set Includes:

1 Handmade Saki Katana Hair Shears
1 Handmade Saki Katana Thinning Shears
1 Handmade Swivel Razor
1 Case
Lifetime Warranty

Saki Shears Katana line of hair shears are perfect for master barbers, advanced hair stylists and professional hairdressers. 
Read More About Hair Shears and Scissors