The Pixie Cut, often seen as a bold statement of style and individuality, boasts a rich history. Originating from the roaring 1920s, its name is believed to be derived from the playful and mystical pixie creatures from folklore, signifying its playful and daring nature. While it made waves during the flapper era, its popularity truly surged in the 1950s when Hollywood icons like Audrey Hepburn embraced this chic style in the movie "Roman Holiday."
As decades rolled on, the Pixie Cut's appeal didn't wane. It evolved, mirroring the socio-cultural shifts of each era. During the 1960s, it was associated with the feminist movement, as more women began to defy traditional norms of beauty and femininity. Later, in the 2000s, celebrities like Rihanna, Halle Berry, and Emma Watson breathed fresh life into it, showcasing its versatility and timeless allure.
A unique blend of elegance and edginess, the Pixie Cut's impact on global fashion has been monumental. It's not merely a hairstyle; it's a cultural emblem of liberation, strength, and self-expression.
Look & Appeal of the Pixie Cut
The Pixie Cut has an unmistakable charm. It's more than just short hair; it's an ensemble of style, grace, and character. A glance at the core characteristics of the classic Pixie Cut reveals its minimalist approach: short sides and back with slightly longer strands at the top, often accompanied by side-swept or textured bangs. This structure offers a silhouette that accentuates the face, highlighting features such as the eyes, cheekbones, and jawline.
Modern times have given birth to a plethora of variations of the Pixie. There's the asymmetrical pixie, where one side is longer than the other, adding an edge to the look. The feathered pixie involves layers and volume, perfect for those with fine hair looking for depth. Then there's the shaggy or choppy pixie, a more rock-n-roll variant that screams attitude.
It's intriguing how a haircut can resonate with individual personalities. Some opt for the Pixie Cut as a symbol of liberation or a new chapter in their life. For others, it's a representation of their unyielding spirit, fearless attitude, or simply a penchant for minimalism in style. There's a Pixie for the artist, the executive, the rebel, and the dreamer. This versatility is why it continues to captivate the hearts of many.
Benefits of the Pixie Cut
At a glance, the Pixie Cut seems to promise convenience – and it certainly delivers. Those hot, cumbersome summer days? They become a breeze with the short, off-the-neck style. Gym enthusiasts rave about how easy it is to manage during a workout, minus the weight and sweat accumulation typical of longer styles.
But beyond these practical advantages, the Pixie Cut offers aesthetic benefits that are hard to overlook. It frames the face beautifully, bringing attention to the eyes and cheekbones. It can also work wonders in exuding confidence. There's something incredibly empowering about choosing such a distinct style and owning it, which often translates to a radiant aura of self-assuredness.
From a societal perspective, the Pixie Cut often garners admiration for its chic and contemporary appearance. It's a hairstyle that says, "I'm here, I'm present, and I'm unapologetically me." In fashion circles, the Pixie is revered as both classic and avant-garde, ensuring its wearer is always en vogue.
Step-by-Step Guide to Cutting a Pixie
Crafting the perfect Pixie Cut requires a blend of technique, vision, and precision. Here's a detailed walkthrough:
Preparation:

Wash and Condition: Starting with clean, damp hair ensures smooth sectioning and more predictable results post-cut.
Detangling: Use a wide-tooth comb to gently detangle. This prepares the hair for even sectioning.

Mapping Out the Cut:

Sectioning: Begin by dividing the hair into sections: top, left side, right side, and back. Securing each section with clips can help keep the process orderly.
Setting Benchmarks: Decide on the length for the nape, sides, and crown. Having a clear vision can aid in achieving a balanced look.

The Cutting Process:

Nape Area: Start from the back, trimming upwards with a slight angle. This gives a neat, tapered look.
Sides: Moving to the sides, ensure the cut blends seamlessly with the nape area. Adjust the length based on the desired variation of the Pixie.
Crown and Front: The top can be slightly longer, providing room for styling. Ensure the bangs or front strands align with the overall look, whether side-swept or textured.

Finishing Touches:

Texturizing: For added volume, subtle texturizing can be done on the crown.
Outlining: Define the edges, especially around the ears and neck, for a polished appearance.
Maintenance and Styling
The Pixie Cut, while low on daily hassle, does require regular maintenance to retain its charm:
Morning Routine:

Quick Styling: A dab of pomade or gel can be used to style the Pixie in a jiffy. Depending on the cut's variation, it can be tousled, smoothed, or spiked.
Protection: For those with colored or treated hair, a protective spray or serum can be beneficial.

Maintenance:

Regular Trims: To keep the style fresh, trims every 4-6 weeks are recommended. This prevents the Pixie from growing into an awkward phase.
Transitioning: For those looking to grow out their Pixie, consulting a stylist for intermediary styles can ease the journey.

Product Recommendations: Lightweight gels, texturizing sprays, and smoothing serums are Pixie favorites. They offer hold without weighing the hair down.
Saki Shears for the Pixie Cut
The perfect hairstyle demands the right tools, and when it comes to precision, quality, and durability, the choice of many professionals is the Saki Grand Master hair shears.
Why the Saki Grand Master?
Material Excellence: Crafted from the coveted Japanese VG10 steel, the Grand Master stands out in the world of hair shears. This steel is renowned among barbers globally for its superior quality, making it the foundation for long-lasting, sharp, and efficient hair shears.

Design and Functionality: The Grand Master isn't just another pair of shears; it's the workhorse of the Saki Shears lineup. Intended for professionals who spend hours upon hours cutting hair, every element of its design reflects thoughtfulness. The Japanese style convex blade with a hardness rating of 61-62 HRC ensures clean and precise cuts, while its sword blade design enhances its cutting prowess.

Aesthetic and Finish: Beyond its functional brilliance, the Grand Master is a beauty to behold. It arrives with perfect cutting blades and sports a mesmerizing mirror finish, making it not just a tool but a stylist's prized possession.

Comfort and Size: Handmade to perfection, the 6-inch Grand Master promises comfort for those prolonged cutting sessions. Its size and design ensure that professionals can wield it with ease and precision.

Value and Warranty: Currently available at a sale price of $209.99, down from its regular price of $249.00, the Grand Master presents an irresistible offer. Additionally, for a limited time, there's an opportunity to avail an extra 10% discount with the code: SHEAR10. But it's not just about the price; it's about the promise. The Grand Master comes with Saki Shears' Lifetime Warranty, a testament to its enduring quality.

Shipping, Returns, and More: Prospective buyers would be delighted to know that shipping is free for all shears. The commitment to customer satisfaction extends to a hassle-free returns policy as well.
In the realm of hairstyling, where precision and quality are paramount, the Saki Grand Master hair shears stand tall as the embodiment of excellence.
Testimonials
In the vast world of hairstyling, few haircuts boast the transformative power of the Pixie Cut. Its enduring appeal lies in its ability to fuse elegance with edginess, tradition with innovation.
Personal Testimonials:
Anna, 32: "Switching to a Pixie Cut was like rediscovering myself. I never realized how much a hairstyle could boost my confidence until I took the plunge. Every time I look in the mirror, I see a version of myself that's daring, vibrant, and unapologetically bold."

Priya, 27: "The Pixie Cut wasn't just a style choice for me; it was a statement. It symbolized a new chapter in my life, one where I embraced change, took risks, and broke free from societal norms. And the best part? Every time I visit my stylist, the precision of the Saki Grand Master shears ensures I walk out feeling like a million bucks."

Elena, 40: "Going Pixie was like turning back the clock. It gave me a youthful exuberance I hadn't felt in years. But more than that, it made my mornings hassle-free. A touch of gel, a quick comb-through, and I'm ready to seize the day. The Pixie Cut might be short in length, but it's long on style and convenience."
Expert Opinions:
Marie, Hairstylist: "The Pixie Cut is a favorite among my clients. It's versatile, easy to maintain, and always in vogue. And when I'm crafting a Pixie, my go-to tool is the Saki Grand Master shears. Its precision, combined with its comfort, ensures that my clients get a cut that's both stylish and tailored to perfection."
In wrapping up, whether you're considering the Pixie Cut as a refreshing change, a style statement, or a nod to its rich cultural legacy, one thing's certain: it promises a transformative experience. And with the right tools, especially the precision of the Saki Grand Master shears, that transformation is bound to be nothing short of spectacular.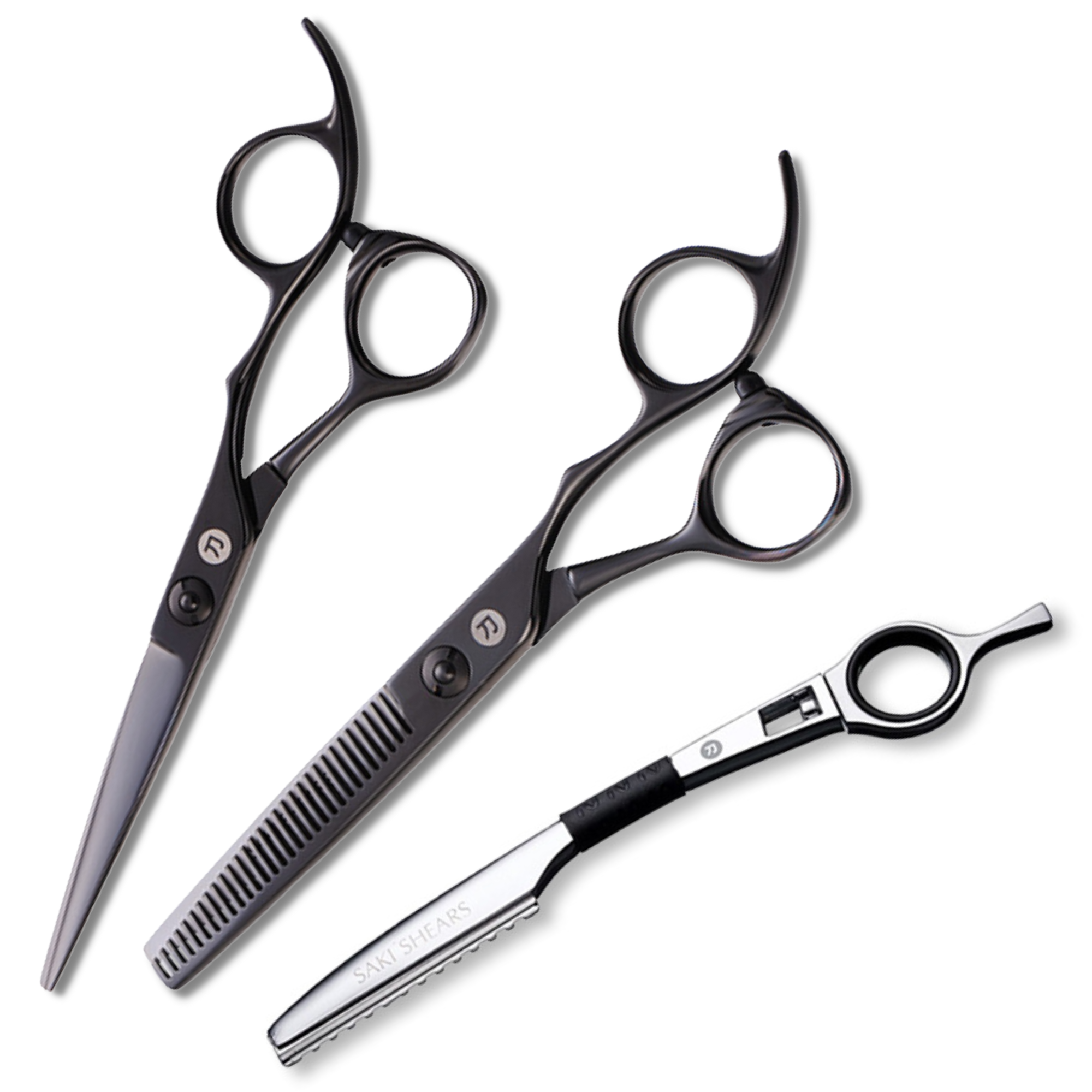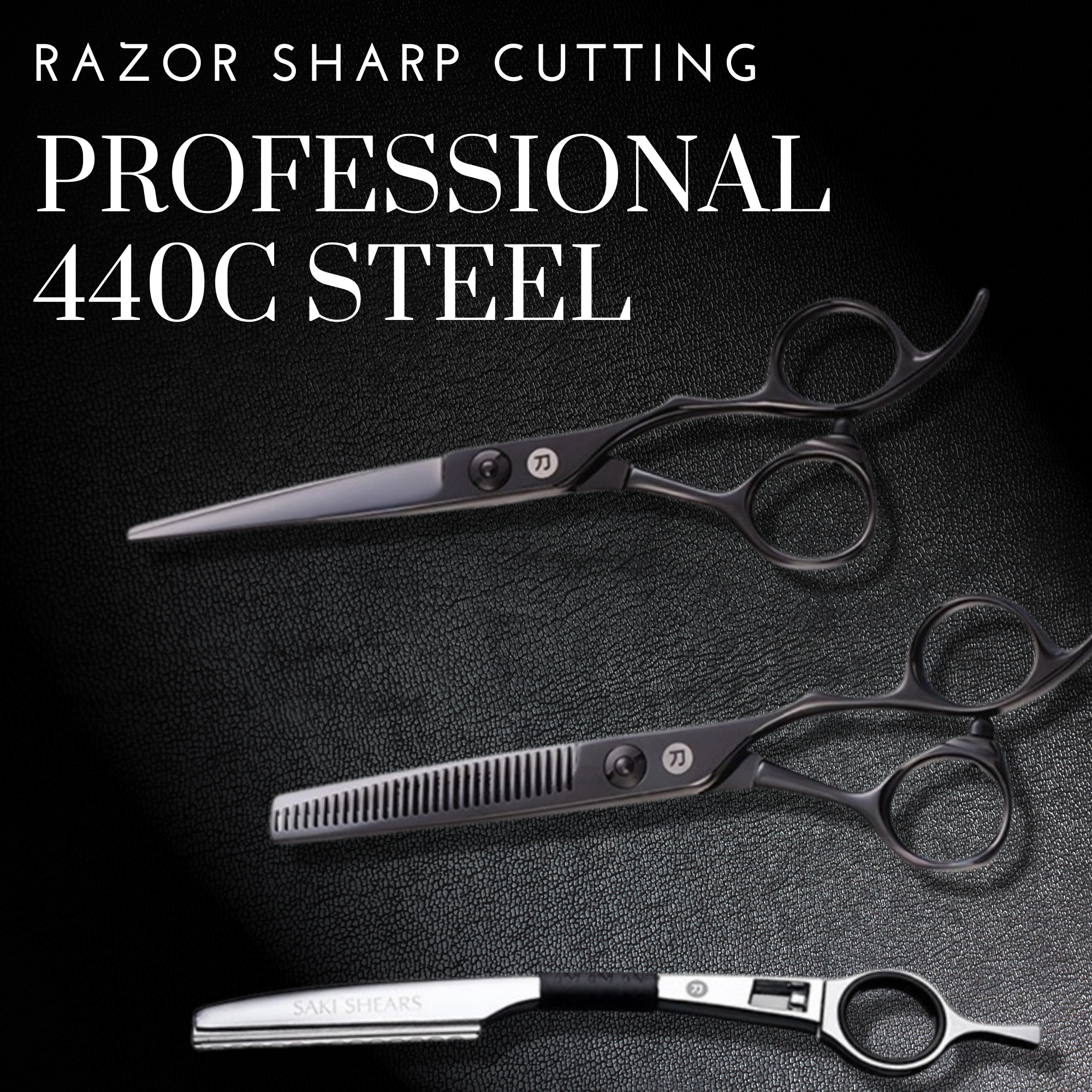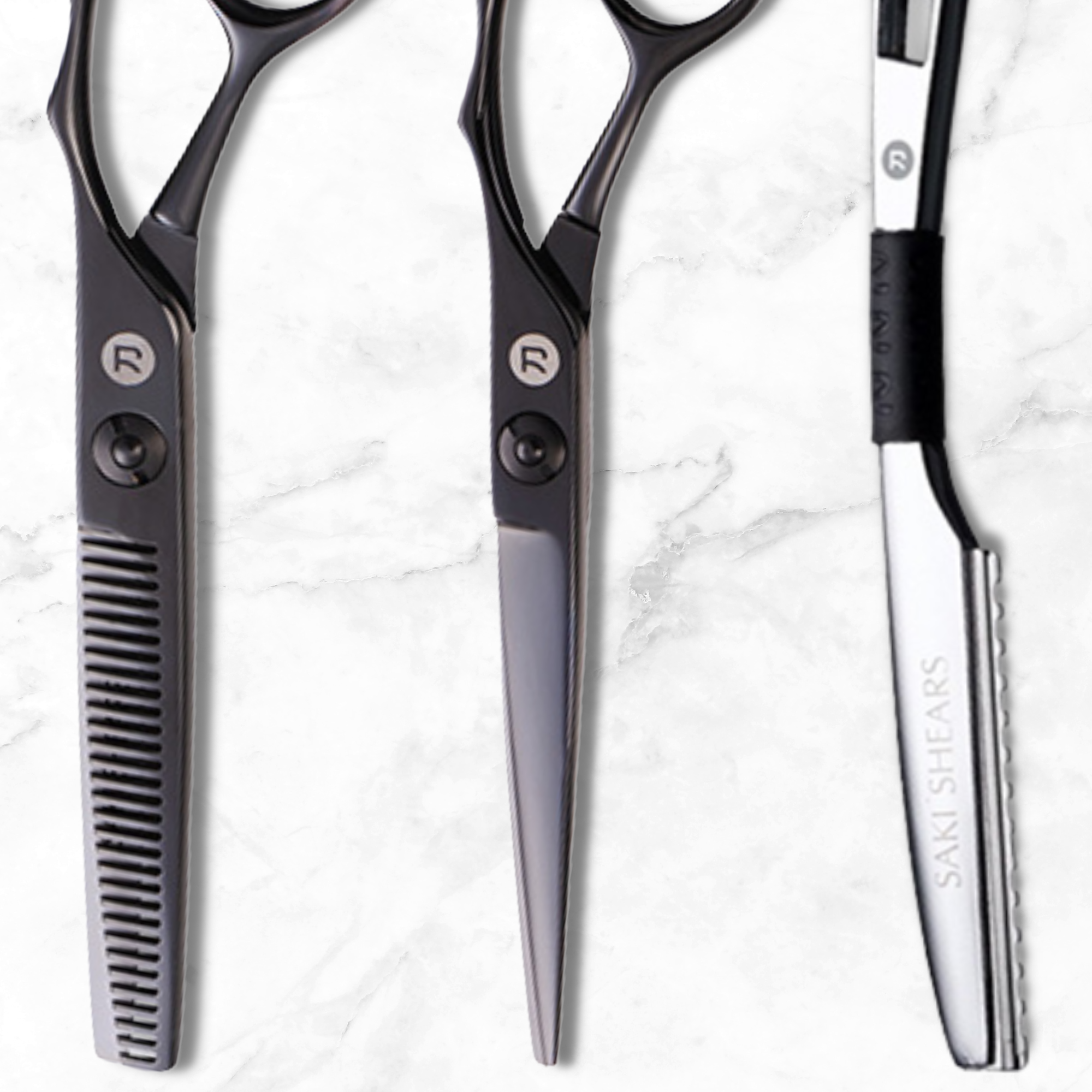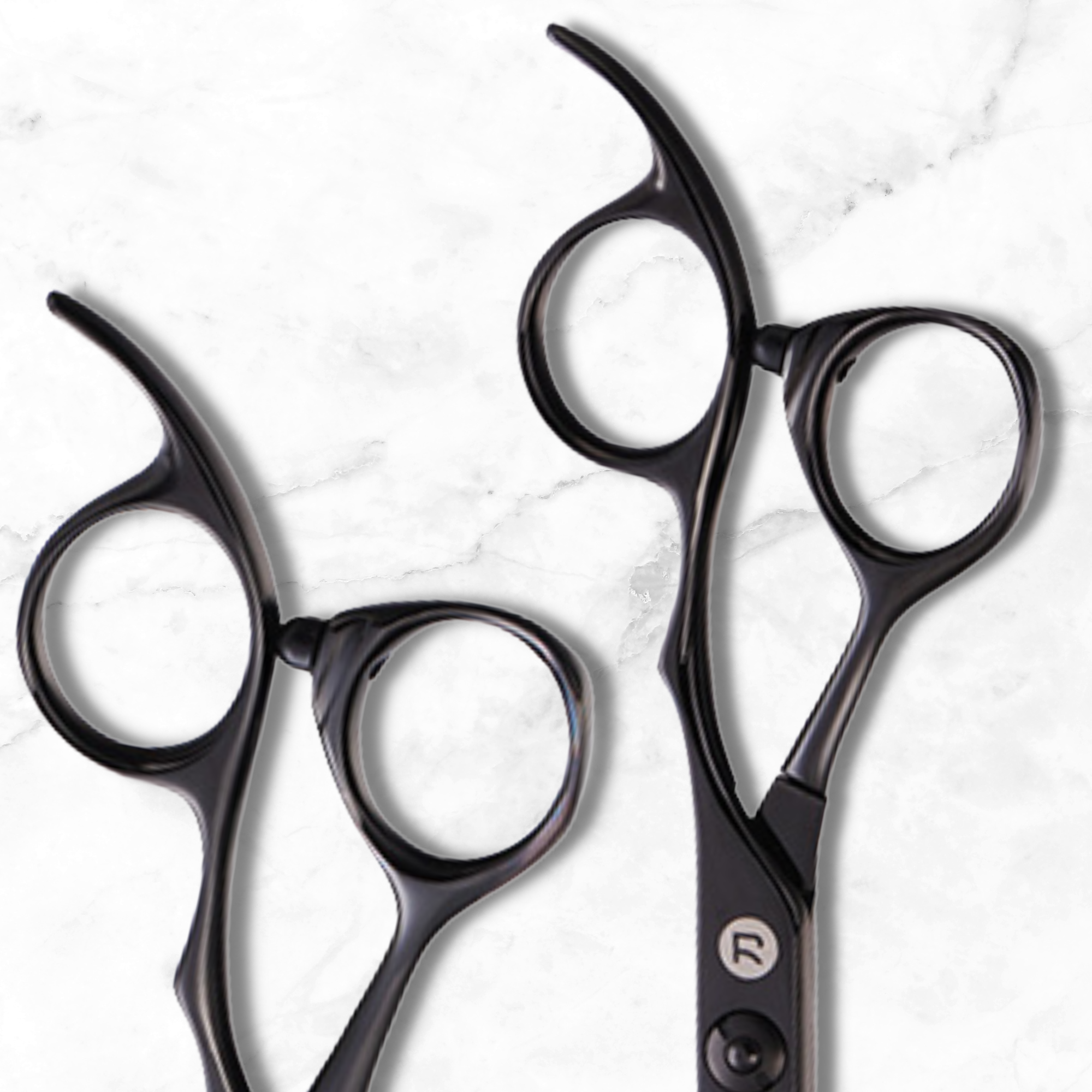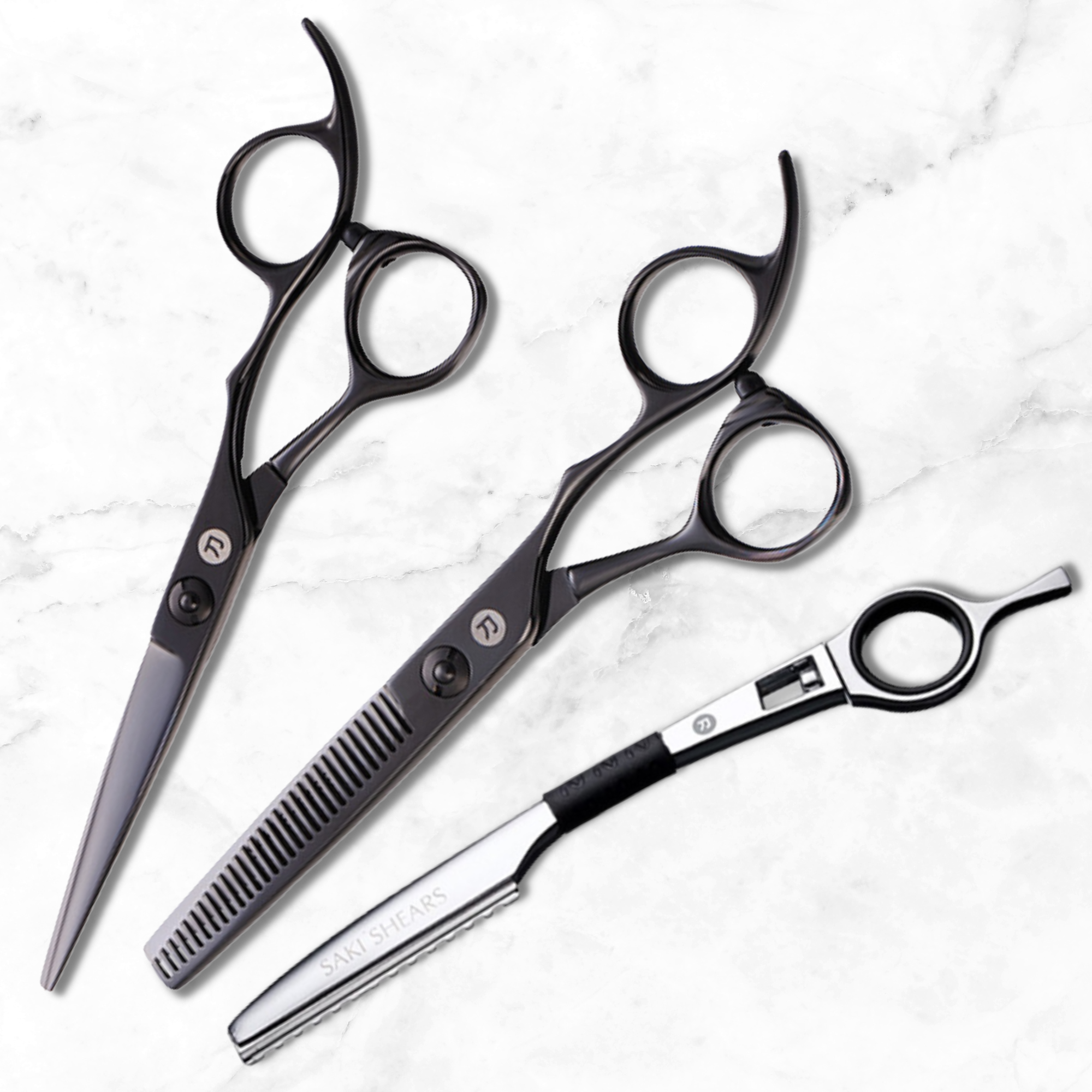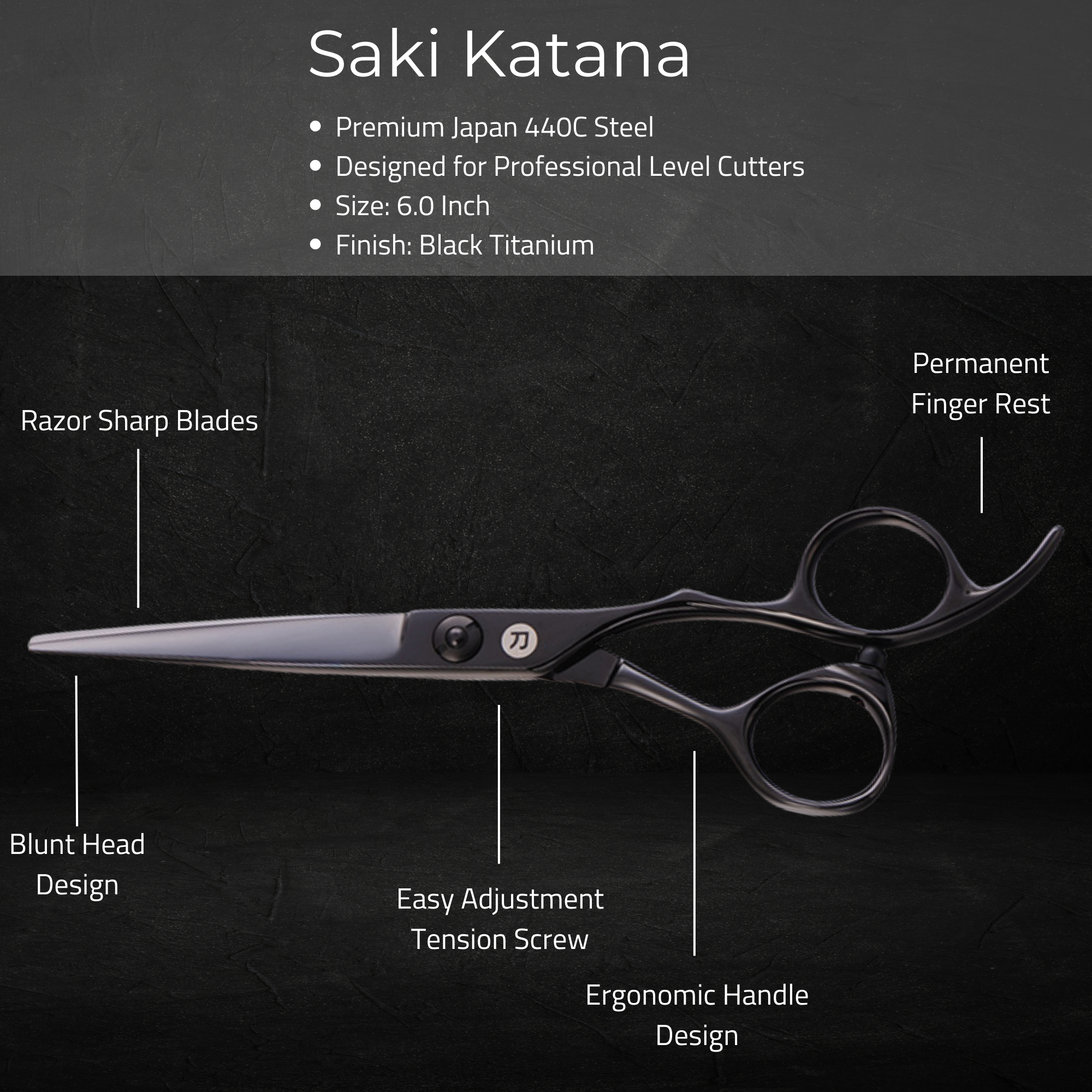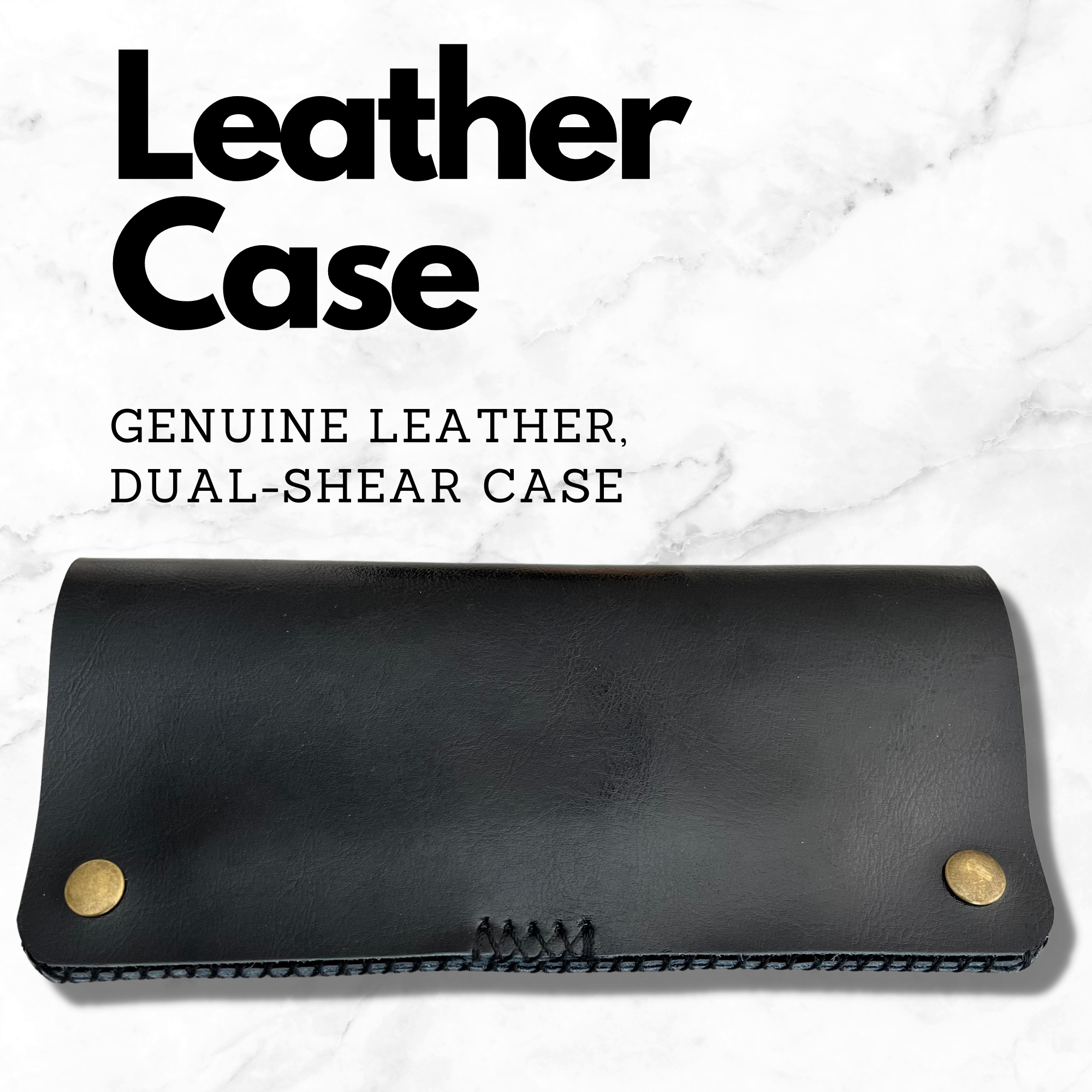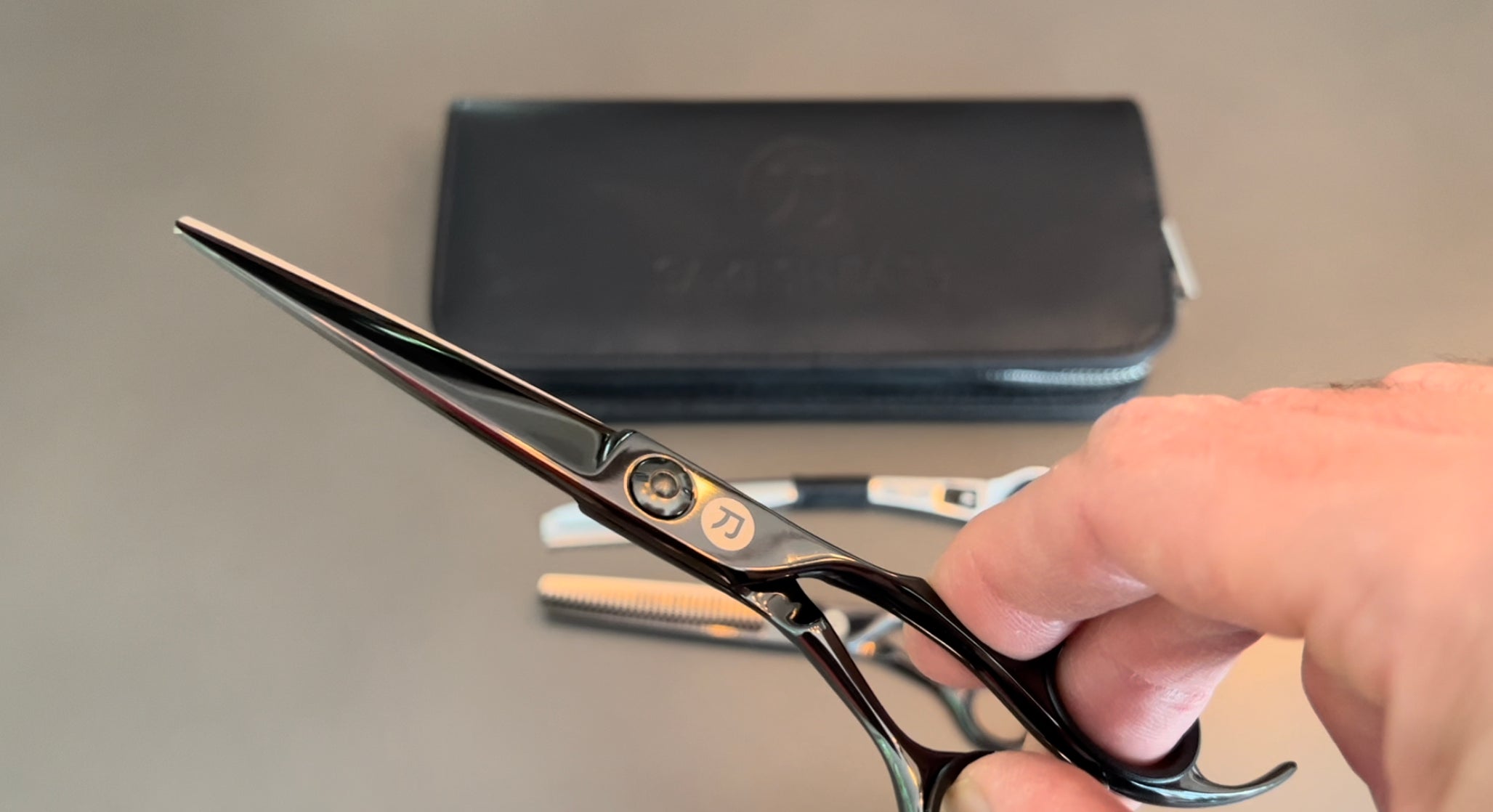 Save 30%
---
Saki Katana Hair Cutting set is the perfect pair! Handmade and constructed using Japanese stainless steel and a thick coating of black titanium, the Saki Katana Hair Scissor and Thinning Shear provide the ultimate durability for a long-lasting pair of hair shears you can count on. The Saki Katana set includes our premium hair cutting shears, hair thinning shears, razor and leather carrying case. 

Options:

6" set includes the Katana 6" cutting shears, 6" thinning shears, swivel razor and leather case.

7" set includes the Katana 7" cutting shears, 6" thinning shears, swivel razor and a leather case. 

Saki Katana Warranty: Covered by Saki Shears Lifetime Warranty

Saki Katana Cutting Shears

Saki Katana Hair Shears feature a convex edge and triple-honed, stainless steel blade for precise and smooth cutting while the offset, extra-long crane handle fights fatigue and provides the ultimate in comfort. Ideal for blunt, wet, and dry cutting.

Features:

Handmade for Precision
Material: Japanese Stainless Steel
Blade: Japanese style convex blade with hardness 60-61 HRC
Ring Size: Adjustable
Two-Piece Welded
Black Coating: Titanium Coating
Coating Thickness: 1.5 um
Size: 6 inch

Saki Katana Thinning Shears

Saki Katana Thinning Shear is perfect for thinning, blending and/or adding texture to any hairstyle with 30 teeth and thick, short sword back blades. Offset, extra-long crane handle, and adjustable ring size offers the utmost comfort and support while styling.

Features:

Handmade for Precision
Material: Japanese Stainless Steel
Blade: Japanese style convex blade with hardness 60-61 HRC
Ring Size: Adjustable
Two-Piece Welded
Black Coating: Titanium Coating
Coating Thickness: 1.5 um
Size: 6 inch/30 Teeth

Your Saki Katana Set Includes:

1 Handmade Saki Katana Hair Shears
1 Handmade Saki Katana Thinning Shears
1 Handmade Swivel Razor
1 Case
Lifetime Warranty

Saki Shears Katana line of hair shears are perfect for master barbers, advanced hair stylists and professional hairdressers. 
Read More About Hair Shears and Scissors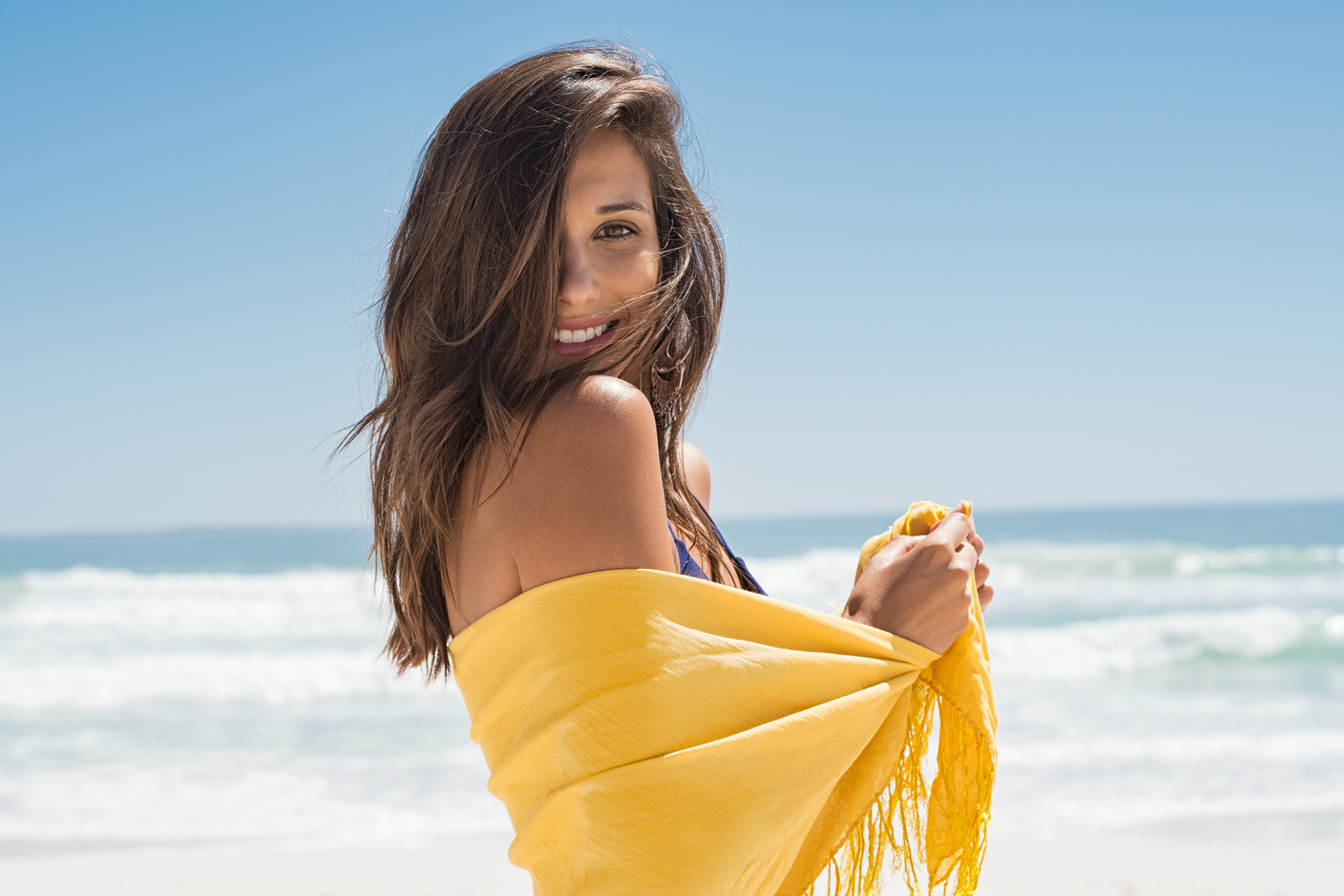 The Psychology of the "Break-Up Cut"
Breaking up is hard to do, as the saying goes, and the emotional aftermath can leave individuals grappling with a mix of feelings—sadness, relief, confusion, and even liberation. During such times,...
Read more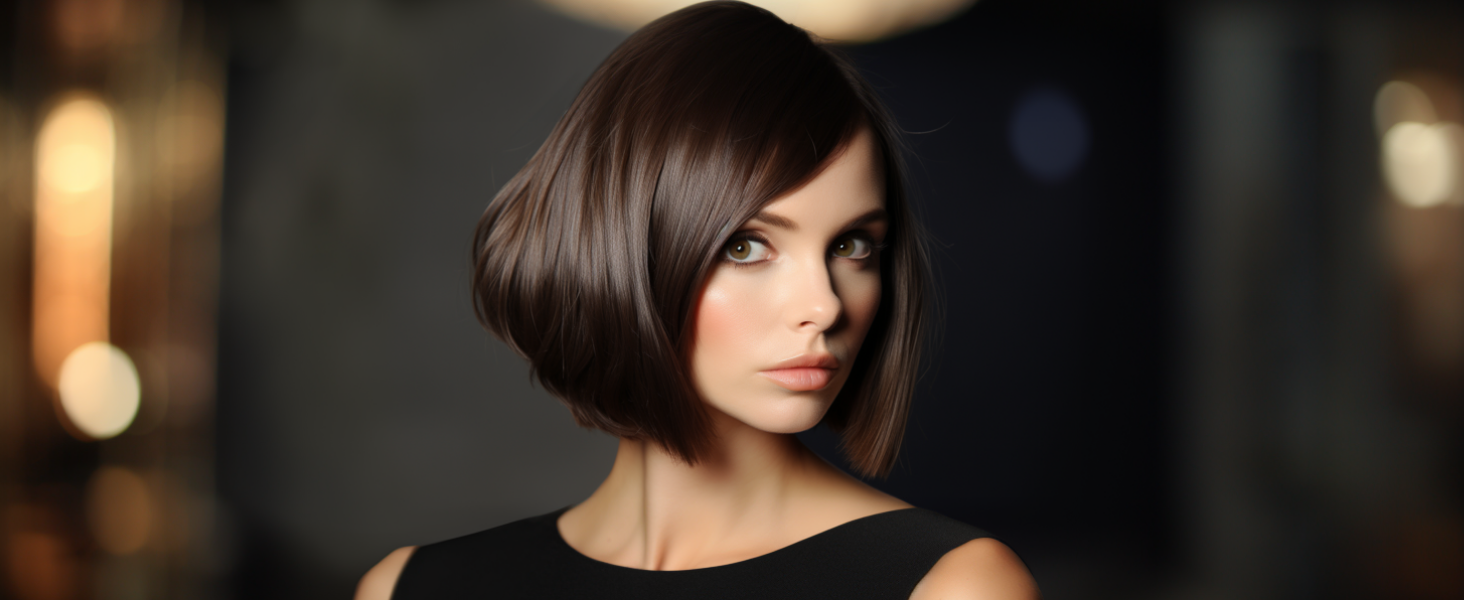 Angled Bob Hairstyle for Women
 The Angled Bob, a captivating variation of the classic bob hairstyle, has cemented its place in the annals of hairstyling history. Born in the roaring 1920s, the classic bob was an emblem of femal...
Read more