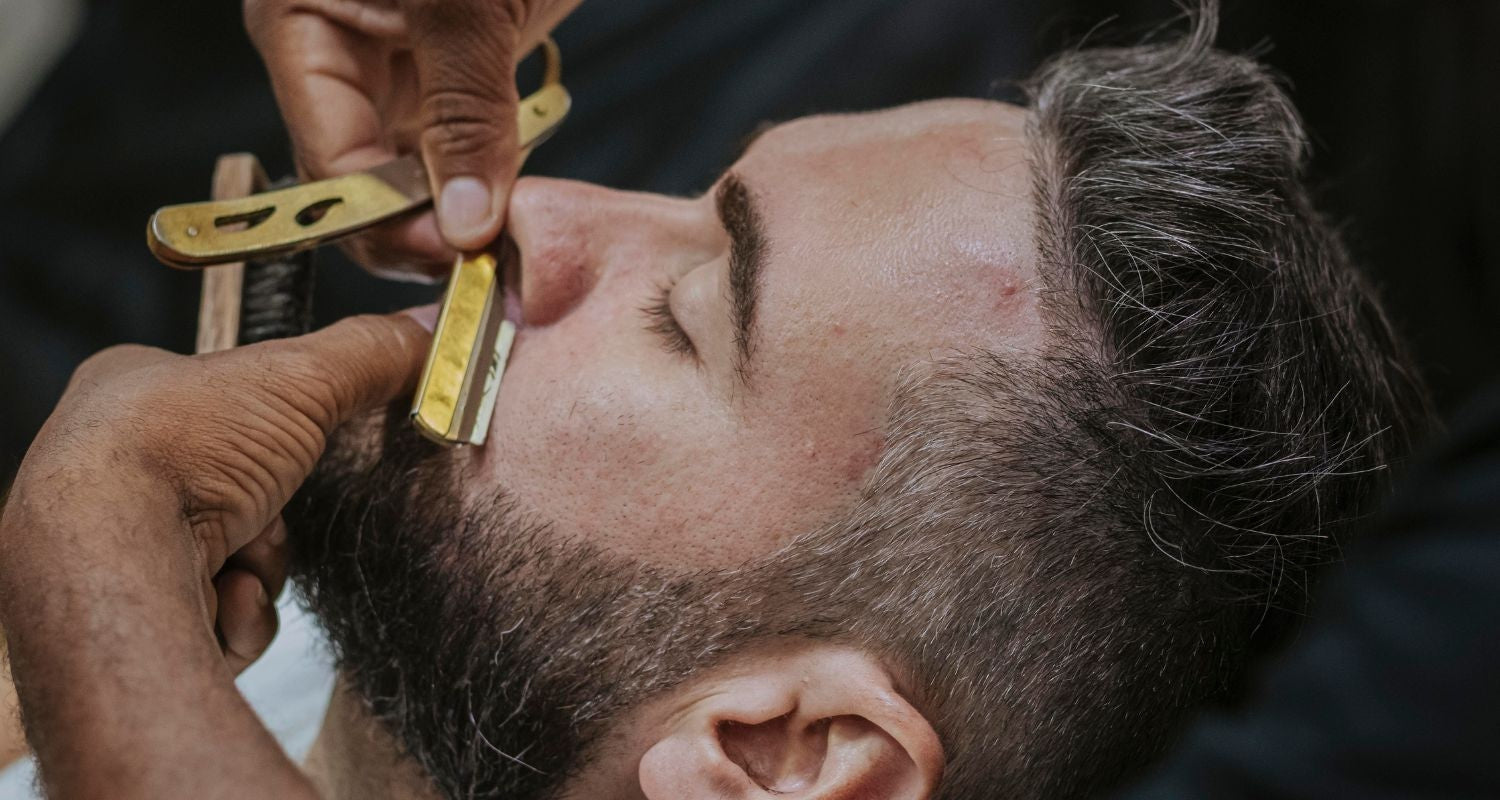 THE FOLLOWING ARE REASONS WHY YOU SHOULD BEGIN WITH A TRADITIONAL STRAIGHT RAZOR BLADE
Traditional razors with fixed blades are less difficult to manipulate and make considerably more sense for first-time users. The challenge is in selecting the appropriate one.

HOW TO CARE FOR AND KEEP YOUR STRAIGHT RAZOR IN GOOD WORKING ORDER
Keep your straight razor in pristine condition by ensuring that it is always dry, clean, and sharp. Let's go into how to maintain the cleanliness of your straight razor.

HOW TO STAY WITH IT RAZOR THAT'S SPOTLESSLY CLEAN
Shaving soap and hot water should be used to clean the blade.
Make sure the blade stays dry. Use a clean cloth to blot it dry, or simply allow it to air dry.
Apply some rubbing alcohol to it in order to sterilize it.
Apply some baby oil, mineral oil, or camellia oil to the blade and coat it.
Keep out of the reach of dampness (a drawer in the bathroom is fine)
To thoroughly clean the handle, use either a wet or dry toothbrush.
Maintaining proper blade hygiene can be quite beneficial. Not only does it prevent bacteria from growing on the cutting edge, but it also slows down the edge's natural degeneration over time. This results in a more razor-sharp edge.

HOW TO KEEP IT STRAIGHT AND BE SHARPER THAN A RAZOR
Straight razors that were manufactured in the past can still be used today. The good news is that if you take care to keep the cutting edge of your razor blade clean, it will remain sharper for a longer period of time. Bear in mind that we are not dealing with blades that can be thrown away once the edge becomes dull because you can do so with disposable blades.

There are two techniques to keep the edge on a cutthroat razor sharp:

The process of stropping involves running the edge of the blade back and forth along a strop, which is commonly made of leather, prior to shaving in order to keep it sharp.
Honing the Blade's Edge It is recommended that you hone the edge of the blade once every one to two months. This is accomplished by sharpening the blade against a stone.
Do not allow yourself to be frightened by the process of sharpening. Not only is it enjoyable, but it can also extend the life of your instrument by decades.

IN CONJUNCTION WITH A STRAIGHT RAZOR, DO YOU APPLY ANY KIND OF SHAVING CREAM OR SOAP?
To get the closest shave possible, you need to prepare a good, smooth surface to shave on. When used with a high-quality shaving brush like a badger hair brush, shaving soaps are the most effective approach to achieve this goal. Choose a shaving brush made of synthetic material if being vegan is important to you on a personal level. Make use of lathering soaps or shaving creams of the highest quality; they should be thick, hydrating, and powerful. You shouldn't use the same shaving cream that you used for your cartridge razor with your safety razor. The operation of a straight razor is a little bit different. There is only one blade, and it cuts forward rather than backward. You need lotions that have a stronger moisturizing and softening effect on the hair.

MODERN VS VINTAGE STRAIGHT RAZORS: WHAT IS THE DIFFERENCE, IF ANY?

Razors Made in Modern Times Straight razors made in modern times, as you might guess, have the added benefit of containing the most up-to-date technology that is now on the market. The quality has been increased as a result of years of experience, which frequently comes from businesses that have been in the game for centuries.

Vintage Razors: A well-maintained vintage straight blade might be of the same quality as the current equivalents, or even better, simply because it was crafted by a competent artisan. This is the case even when compared to modern razors. However, a historical straight razor requires some tender loving care in order to restore it to its previous splendor. A professional blade restoration may not be the greatest idea for someone just getting started with straight razor shaving.


WOULD IT BE BETTER TO MAKE SEVERAL PASSES WITH THE STRAIGHT RAZOR OR JUST ONE?
The age-old subject of how many times you should pass the blade comes up again and again. If you've never used a straight razor before and bought one for the first time, you might wish to start by merely making one downward stroke (shave downward). Shave a diagonal line downward over the bottom half of your cheek, following the grain of your hair or the direction your beard develops. This will allow you to get a sense of the blade and the strength it possesses. After gaining sufficient skill, you will be able to use a crisscross method that involves going against the grain and across the grain.

HOW DO I PREP MY FACE FOR STRAIGHT RAZOR SHAVING?
First, wrap yourself in a warm cloth. An essential first step in shaving is preparing your chin to accept the blade and begin the process. Thankfully, it's not hard at all. All you need to do is either take a steamy shower or wash your face with a mixture of soap and warm water. To actually produce a smooth surface for shaving, though, you should spend a few moments laying a hot wet towel over your face first. This will allow you to get a closer shave.

Facial hair becomes more manageable to trim after being subjected to heat and water, like after a hot shower. In addition to this, it clears out clogged pores and helps the skin shed dead cells and debris.

EVERYTHING YOU REQUIRE TO BEGIN USING STRAIGHT RAZOR IN ITS ENTIRETY
We are aware that switching to using a straight razor to shave might be a challenging endeavor. It may appear as though there is a great deal to learn, and it is true that making mistakes may be, well, messy. However, if you begin by gaining a solid understanding of the components that make up a razor, the remaining steps will be a breeze to complete, and you will soon have a flawless and stunning face.