Tips on Choosing the Right Hair-Cutting Scissors
There are many varieties of hair shears available for sale in the United States and around the world. The number of choices can be overwhelming.  In order to make an informed decision while shopping for hair cutting shears, it's important to understand a few key points. What follows is a discussion of some of the most crucial considerations.

1. To Cut Hair, What Size Scissors Do you Prefer?

It's something to think about, and it's vital. Just because a pair of shears feels great in your hand doesn't mean you should buy them.

Hair cutting shears between 5.5 and 6.0 inches in size account for 80 percent of all purchases made in the United States. Other options include 6.5 and 7.0 inches. Of course there are also shears specifically for right and left-handed barbers. 
It's likely that a 5.5" or 6.0" hair cutting shear will come in handy whether you're a professional hairstylist, a barber, or a do-it-yourselfer.

Mastering the art of shear use is a difficult task. You should get a range of sizes to cover your bases.

2. Make Sure You Pick The Proper Handles.

You may find it challenging to settle on a single option among the many available on the market nowadays. About 70% of all professional and novice hair cutting shears sold have an ergonomic offset handle, so that's a good place to start if you're not sure what kind of handle will work best for you.

A thorough examination of the merchandise, however, will help him make an informed decision. In most cases, you can choose from three distinct kinds of handles.

The name "opposing grip shears" says it all.

It's designed for ease of use while cutting hair, with thumb and finger slots that are adjacent to one another.

Since in this scenario the two handles are unequal, the offset handle looks a little different.

The Thumb's handle is shorter to accommodate a smaller hand.

Cranes with handles like this are helpful since the user may work with them for extended periods of time without experiencing hand fatigue. In certain cases, the thumb hole can rotate to allow for more natural hand movement when cutting hair.

3. Think About Its Quality

Using low-quality tools might negatively impact the haircuts you provide your customers. The best shears for cutting hair are available from a variety of reputable manufacturers. Invest on your shears by getting them from a reputable business, like Saki Shears that has been around for a while and has a good reputation. It offers the greatest quality, is long lasting, and can prevent you from experiencing a number of problems in the future. The best shears for cutting hair are made from special steel. You will want to look for Japanese 440C, VG10 or Damascus steel when choosing a professional hair shear. 

4. The Shear's Original Intent


Be sure you need it for that specific reason before making a purchase. Timeframe and specifications should be adequate.

One type of shear is the rotating thumb shear, which can come in handy if you own a salon. As was noted before, different types of shears come in a variety of sizes and shapes, each of which is designed for a certain task.

If you want a haircut that looks and feels exactly the way you want it to, you need to invest in the right pair of hair cutting shears.

5. When deciding on a scissor blade, what should I look for specifically?

Scissors come with a variety of blades for a wide range of tasks. If you're on the market for a new blade, arm yourself with knowledge first.


If you want a beautiful haircut, clamshell blades are your best bet.
Bevel-edge blades are widely used across all styles of barbering.
An alternative to the clamshell is a blade with a convex edge.
For dry hair, you can choose from a variety of various blades.
Realizing the function of the blade is crucial to getting a good cut.

6. Maintaining Your Hair Cutters

Scissors that don't require much upkeep are ideal. Check the tightness of screws and the looseness of bolts, and sharpen or replace dull knives frequently.

The answer lies in how often you employ them. Dirt and dust can impede the sharpening process, so make sure your scissors are always clean. Mineral oils should be used for regular oiling. To protect your scissors, it's preferable to put them in leather cases.

If you want your scissors to continue cutting like new for a long time, you should have them sharpened every three to six months. You shouldn't try to sharpen your scissors on your own because you can damage the shears.

7. The Ultimate Guide to Buying Hair-Cutting Shears

Scissors designed specifically for cutting hair come in a wide variety of styles. Finding a suitable pair of scissors might be difficult because of the wide price variations available. When cutting hair, the scissors are the single most important tool. You need to be sure to get a dependable and high-quality one.

Do not waste your money on low-quality scissors. They won't work for as long as you'd like or as well as you expect. You should only buy scissors from well-known manufacturers who stand behind their products and provide helpful customer service.

How Do Scissors for Cutting Hair Work?

You may have seen a variety of hairstyling implements the next time you visited a salon. Different hairstylists utilize different equipment to help their clients achieve their ideal looks. These contain not only brushes and combs, but also scissors, combs, and mirrors.

Scissors are an indispensable tool for any stylist. Haircutting scissors are an investment, therefore it's important to get them right the first time. To minimize breakage and maximize precision, this is the way to go about cutting hair.

The wide variety of hair-cutting implements is exciting to explore. Different hairdos call for different designs, and we've got you covered. Each and every hairstylist requires a reliable pair of scissors. Haircutting shears like this are commonly used by stylists.

The Ultimate Guide to Getting the Perfect Haircutting Shears

As you can see, the hairdresser's scissors are a must-have item. When looking for scissors, it's important to find the perfect pair. It's a personal choice, although some people like to keep their hair short. This might have devastating effects.

Doing it yourself can lead to hair damage. While this could help you save money, it could also harm your hair.

If you want to save money, skip the salon and cut your hair with the best hairdressing scissors at home. To get the finest results, you'll need a variety of scissors.

Haircuts are only as good as the scissors used to create them. Hair damage and an unprofessional appearance might be the result of a poorly performed haircut with dull scissors.

It's also possible to damage your hair. High-quality scissors are an excellent investment for any hairstylist. These scissors are more durable and adaptable, so you can cut your hair as you like. Here are a few pointers to keep in mind when you shop for a pair of hair-cutting shears.

Considerations Concluding:

These are, therefore, some of the most important factors to keep in mind when shopping for hair cutting shears.

How long your middle finger is in relation to your palm will determine the length of scissors you need for cutting hair (the total length of the scissors). The standard length for scissors is between 4.5 and 8 inches.

Stylists who are left-handed may experience increased hand stress when using right-handed scissors. As a result, it's crucial that left-handed people make use of the right equipment. The left side of the blade on a pair of left-handed scissors is ground into a sharp point.

Make sure the holes in your scissor handles aren't too sloppy, as this can add unnecessary strain to your hand. Thin out the finger openings with some plastic inserts.

The market is flooded with ergonomic scissor options nowadays. Because of their design, they're easier on the arms and hands. Several ergonomic designs are currently on the market, such as twin swivels (swivels), offset, and swivels.

Scissors come in a wide range of sizes. When cutting hair, smaller scissors (between 4.5 and 5.5 inches in length) produce a cleaner, neater shape. Scissors 6 inches or longer are recommended for scissor over combing and similar methods. The scissor/comb method may be preferred by some because it takes so much longer to finish.

Smaller scissors can be slower and more accurate, but they can still get the job done quickly enough. A skilled barber or hairstylist may cut hair in any style with the proper equipment. Cutting with smaller scissors and blending with larger scissors using a comb will yield the best and quickest results.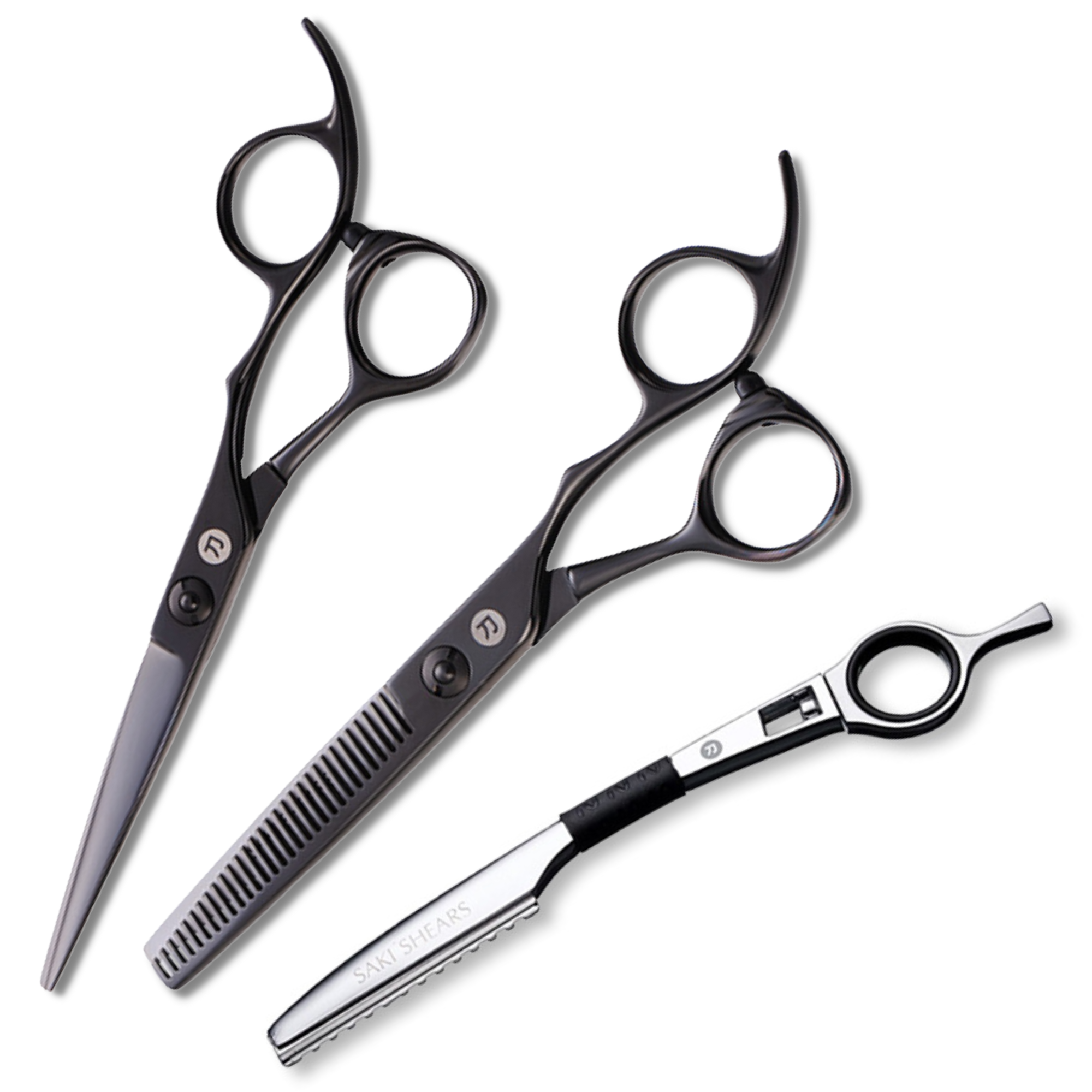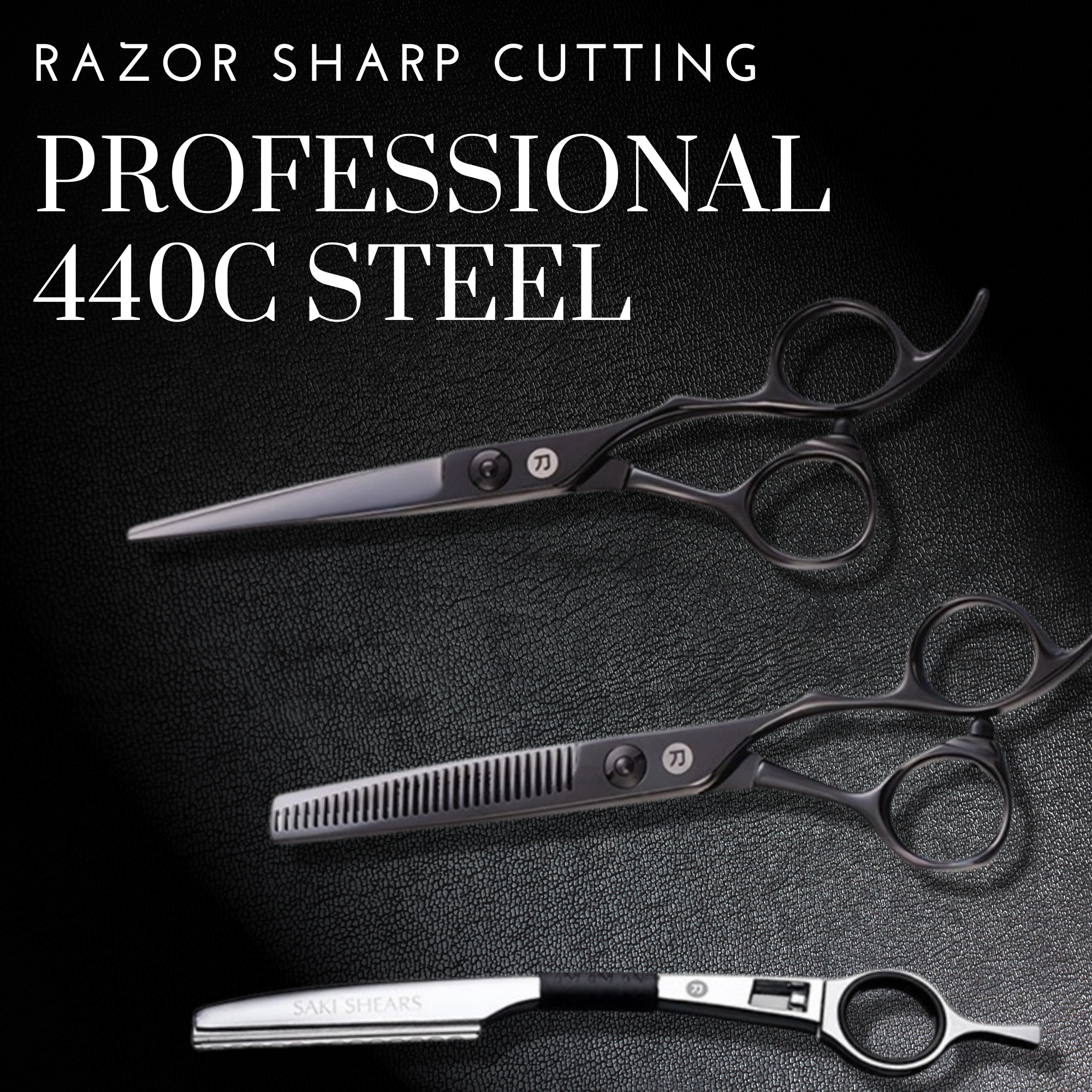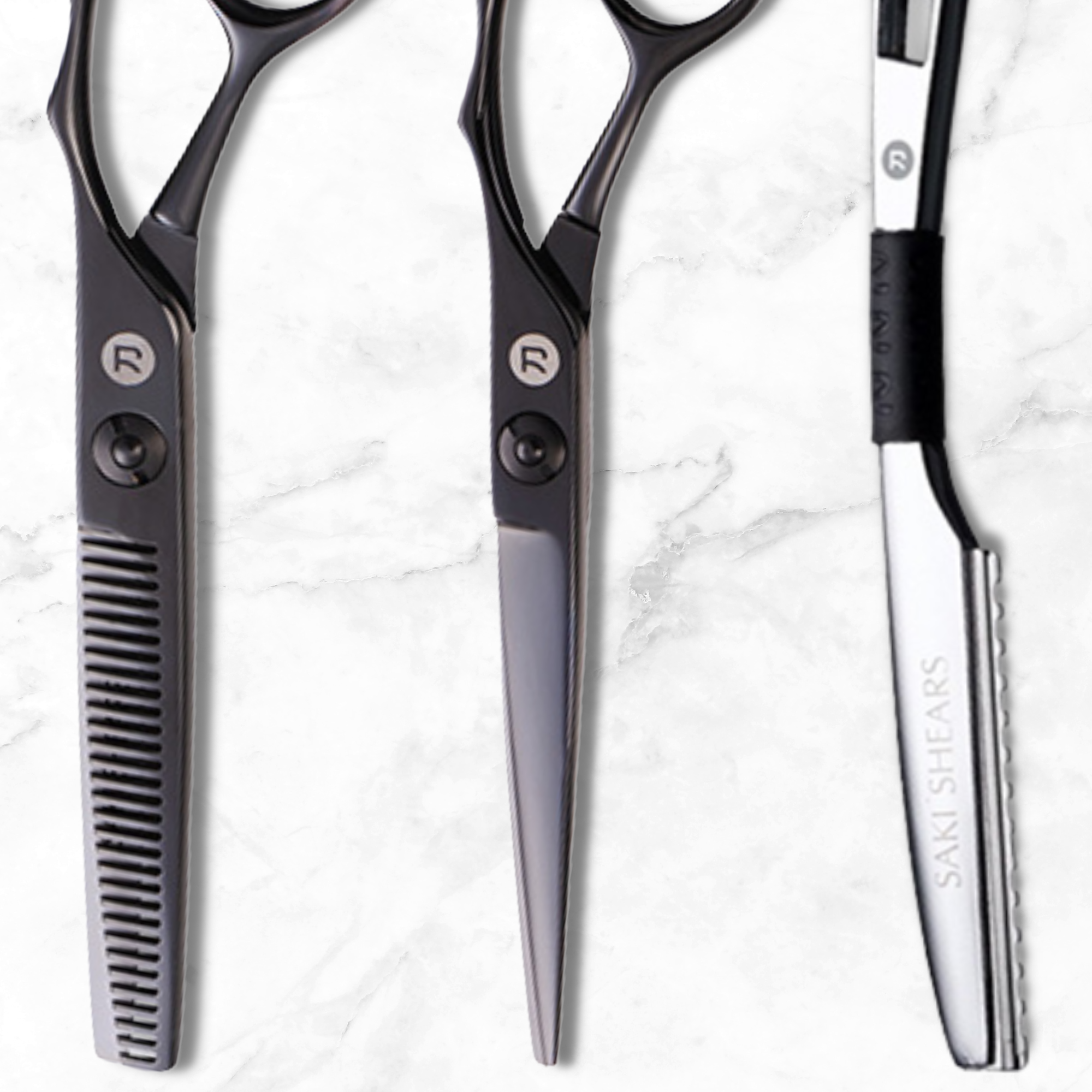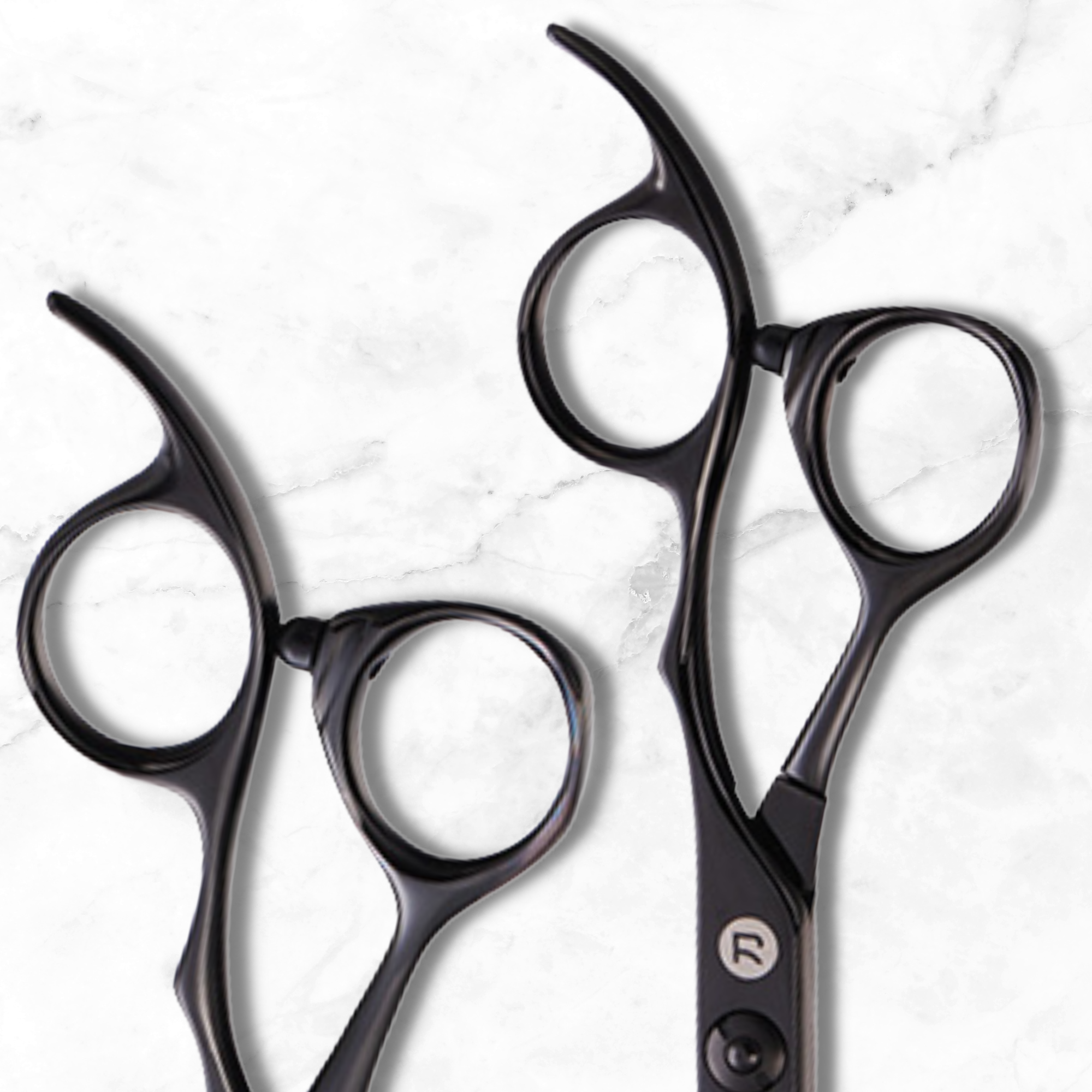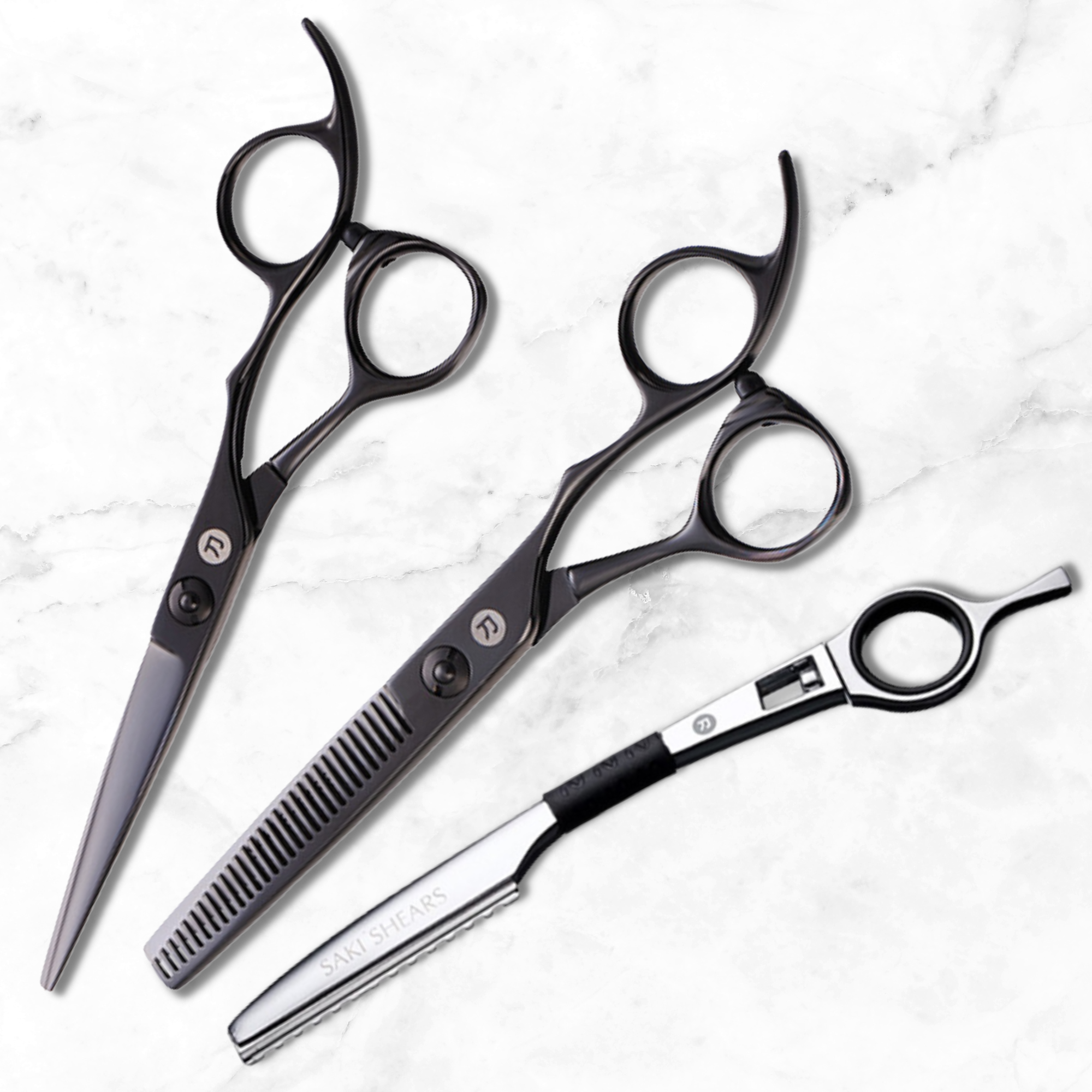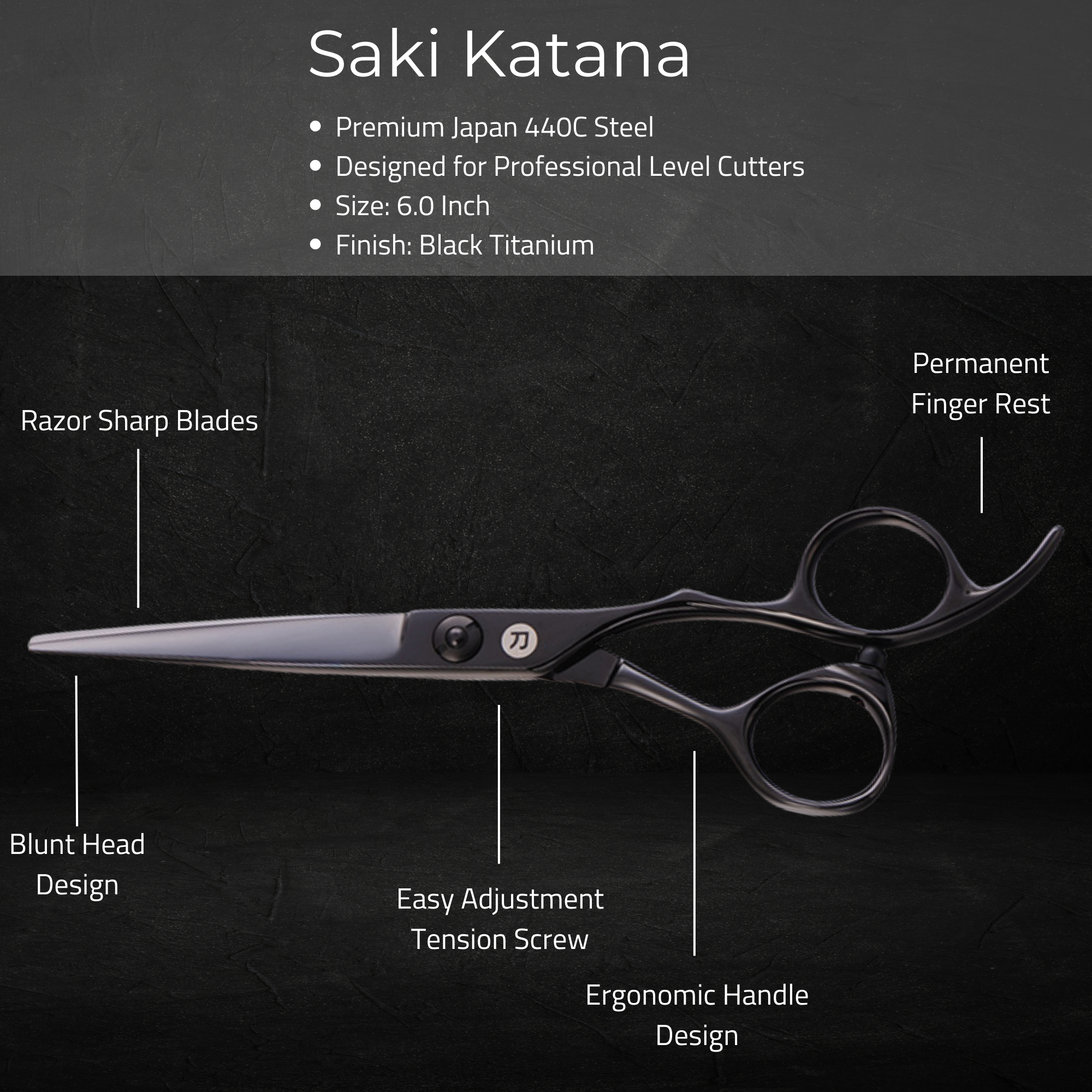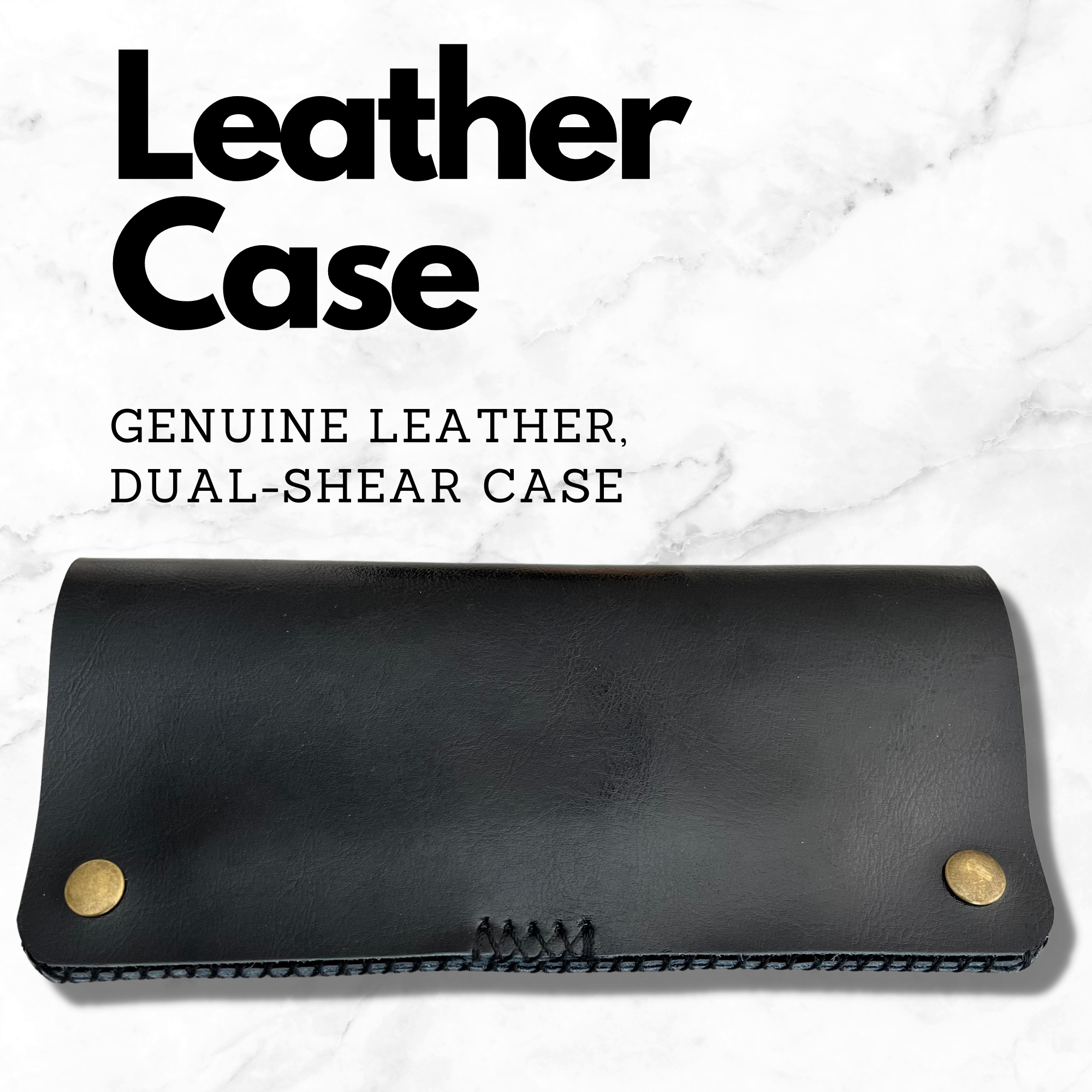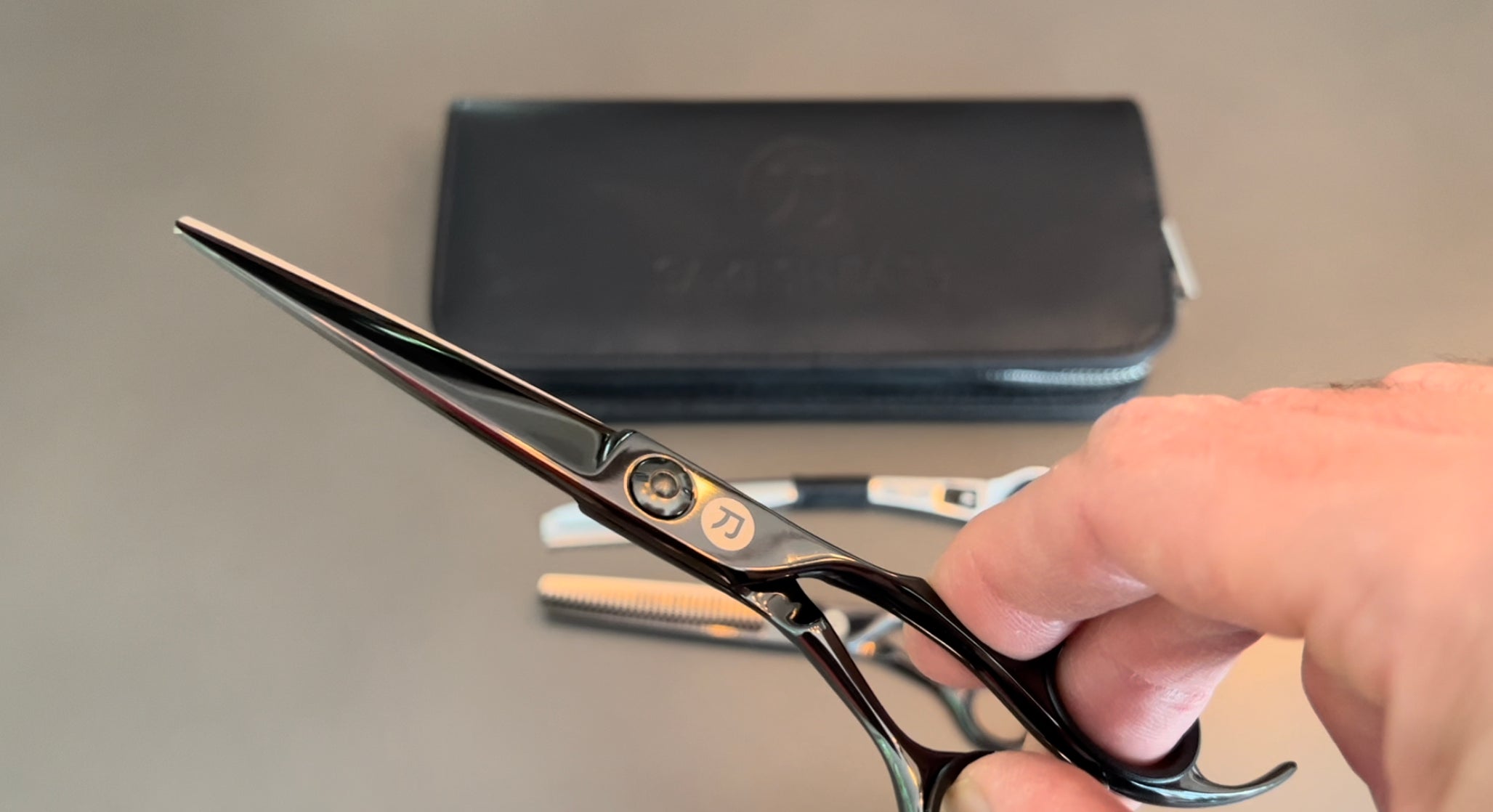 Save 30%
---
Saki Katana Hair Cutting set is the perfect pair! Handmade and constructed using Japanese stainless steel and a thick coating of black titanium, the Saki Katana Hair Scissor and Thinning Shear provide the ultimate durability for a long-lasting pair of hair shears you can count on. The Saki Katana set includes our premium hair cutting shears, hair thinning shears, razor and leather carrying case. 

Options:

6" set includes the Katana 6" cutting shears, 6" thinning shears, swivel razor and leather case.

7" set includes the Katana 7" cutting shears, 6" thinning shears, swivel razor and a leather case. 

Saki Katana Warranty: Covered by Saki Shears Lifetime Warranty

Saki Katana Cutting Shears

Saki Katana Hair Shears feature a convex edge and triple-honed, stainless steel blade for precise and smooth cutting while the offset, extra-long crane handle fights fatigue and provides the ultimate in comfort. Ideal for blunt, wet, and dry cutting.

Features:

Handmade for Precision
Material: Japanese Stainless Steel
Blade: Japanese style convex blade with hardness 60-61 HRC
Ring Size: Adjustable
Two-Piece Welded
Black Coating: Titanium Coating
Coating Thickness: 1.5 um
Size: 6 inch

Saki Katana Thinning Shears

Saki Katana Thinning Shear is perfect for thinning, blending and/or adding texture to any hairstyle with 30 teeth and thick, short sword back blades. Offset, extra-long crane handle, and adjustable ring size offers the utmost comfort and support while styling.

Features:

Handmade for Precision
Material: Japanese Stainless Steel
Blade: Japanese style convex blade with hardness 60-61 HRC
Ring Size: Adjustable
Two-Piece Welded
Black Coating: Titanium Coating
Coating Thickness: 1.5 um
Size: 6 inch/30 Teeth

Your Saki Katana Set Includes:

1 Handmade Saki Katana Hair Shears
1 Handmade Saki Katana Thinning Shears
1 Handmade Swivel Razor
1 Case
Lifetime Warranty

Saki Shears Katana line of hair shears are perfect for master barbers, advanced hair stylists and professional hairdressers. 
Read More About Hair Shears and Scissors