What is the difference between a hairdresser and a hairstylist?
Certain beauty phrases and their definitions could leave some of you scratching your heads. When we look around and see so many other experts making the same mistakes, we can't even blame you! You are in luck since we are here to assist you in gaining knowledge. The distinction between a hairdresser and a hairstylist is something that will be one of the topics that we discuss. Now, we realize that the first thing that may be going through your mind is something along the lines of, "Wait a minute, aren't that the exact same thing?" You shouldn't feel guilty about it because even those who work in the sector have trouble with it! How can we expect you to recognize the difference if some hair salons don't even aware it exists?

In point of fact, even though the terms are often used synonymously, hairdressers and hairstylists do NOT belong to the same occupational category at all. The fact that they both deal with hair in some capacity does not imply that they are capable of performing the same function. They all have their own unique professional training, but in addition to that, they also do very various kinds of job and even work with very different kinds of tools while they're doing it! For instance, a person may have perfected the art of cutting hair, but it does not necessarily imply that they are also masters in the art of creating beautiful hairstyles. Don't worry about it; by the time you've finished reading, you'll see why it's essential to make a distinction between the two.

Hairdressers
Hairdressers are responsible for processing as well as cutting hair, which includes services such as shampooing, cutting, styling, and administering chemical treatments in addition to the addition of hair extensions. If you are interested in altering your appearance not only for a single occasion but for the rest of your life, this is the person you should consult. Because this modifies your hair in a way that is irreversible, several jurisdictions mandate that hairdressers hold licenses in the field of cosmetology, which can take anywhere from one to two years to get.
All hairdressers use hair shears and cutting scissors in their day-to-day work. They use both cutting shears as well as thinning shears to cut hair. 
Hair Cutting Shears
A favorite set of shears among hairdressers is the Wabi-Sabi set of salon shears. The wave design in the cutting blade is unique and the 440C composition provides excellent durability and rust resistance. As an added bonus the Wabi-Sabi set includes a natural buffalo horn comb in addition to the standard cutting shear, thinning shear, swivel razor and leather carrying case. 
Wabi-Sabi Hair Salon Set of Shears

They are required to have specialized training for their job, credentials on how to utilize their unique items and equipment, and varying requirements depending on what it is that they specialize in. This is the basic minimum need. Because they require a large quantity of materials and tools that are difficult to transport, you will most frequently find them working in beauty salons.

Hairstylist
In the meantime, hairstylists are responsible for precisely what their job title implies: they style your hair! Learning how to style your hair includes becoming familiar with its design and changing its appearance through the production of curls, waves, and volume. This is accomplished without actually cutting or treating the hair. When you need an updo for a wedding, stunning curls for prom, or even elaborate waves for business functions, she is the person you want to go to.

Because they are not making alterations to your hair that are intended to be permanent, hairstylists are not need to have a license in order to perform. They will style it in a way that creates the illusion of change in your hair, but at the end of the day, in contrast to a trip to the hairdresser, any temporary alterations may be removed with shampoo. They will most commonly be found at big occasions such as weddings, when they will move quickly from one customer to the next while creating stunning hairstyles for each individual.


It's not true that every hairstylist can also cut hair, and it's also not true that every hairdresser can also cut hair... Because of this, if you go to a hair salon, you may find that you are attended to by a number of different people over the course of your service at various stages. On the other hand, it is possible for one person to obtain professional training to accomplish each of these things, which means that they will be able to wash, cut, and style your hair! Both of these careers need years of expertise, as well as creative thinking and a lot of hard work.

However, hairstylists and hairdressers are not entirely interchangeable terms for one another. Although they engage in quite diverse kinds of work, the abilities they require are often very similar. For instance, because they are both working with your hair, both of these professions need to be aware of the best ways to prevent damage to your hair to the greatest extent that they are able. They aim to prevent any damage to your hair, whether it be from heat or chemicals, so that it continues to have a healthy and shining appearance.

One further talent they have in common is an awareness of the connections between different facial forms, hair types, and hairstyles. The barber or hairstylist will give you a cut that is not only flattering to the contours of your face but also practical given the way you live your life. They will make an effort to offer you a haircut that takes into account all of your unique characteristics. In the meantime, the hairstylist continues to style your hair in the same manner! They will adjust the volume of your hair as necessary, add or subtract it where necessary, and even create waves and curls for you if that is what you want. They will ensure that your new hairdo complements the texture of your hair. To both of them, ensuring that the customer is happy is the most essential part of their jobs.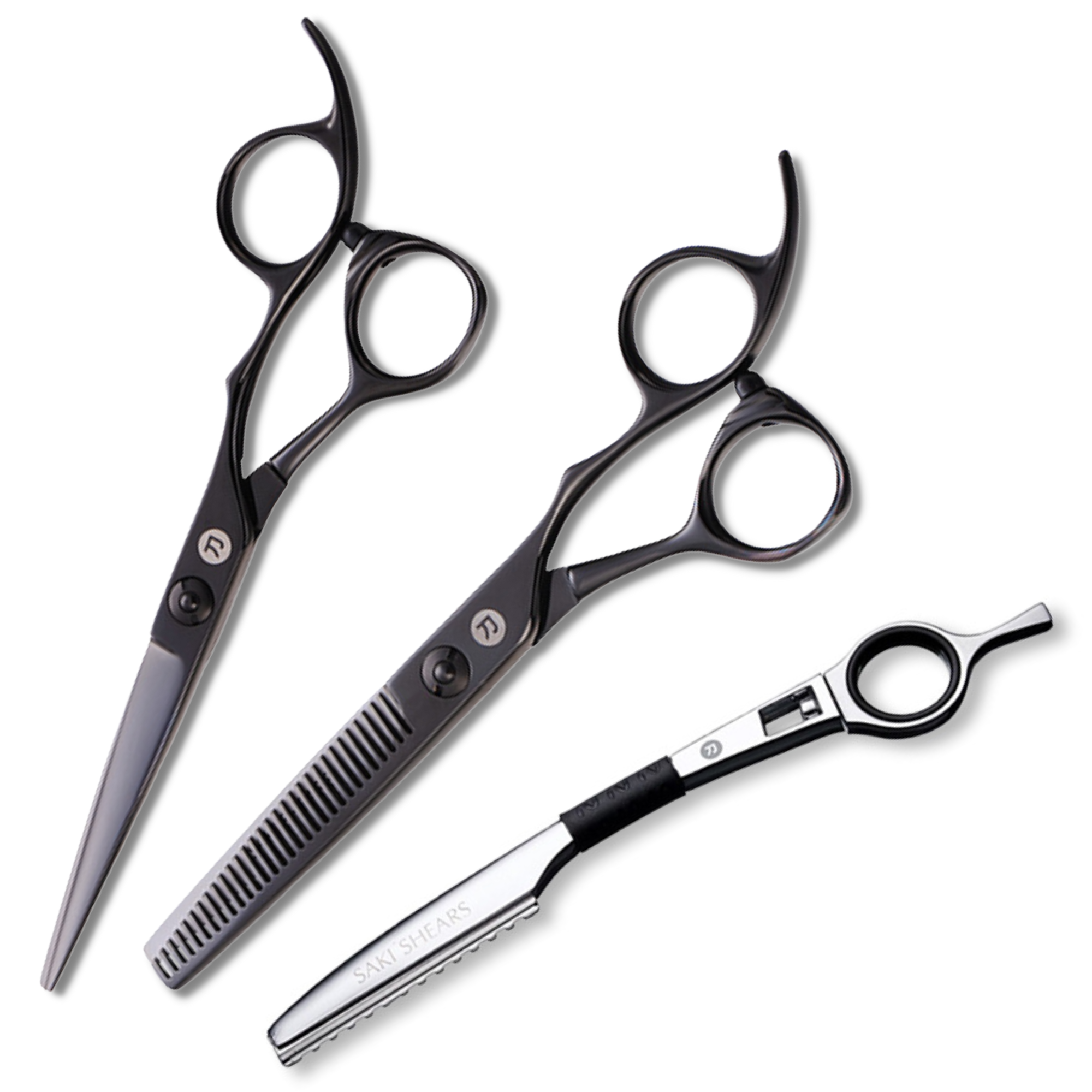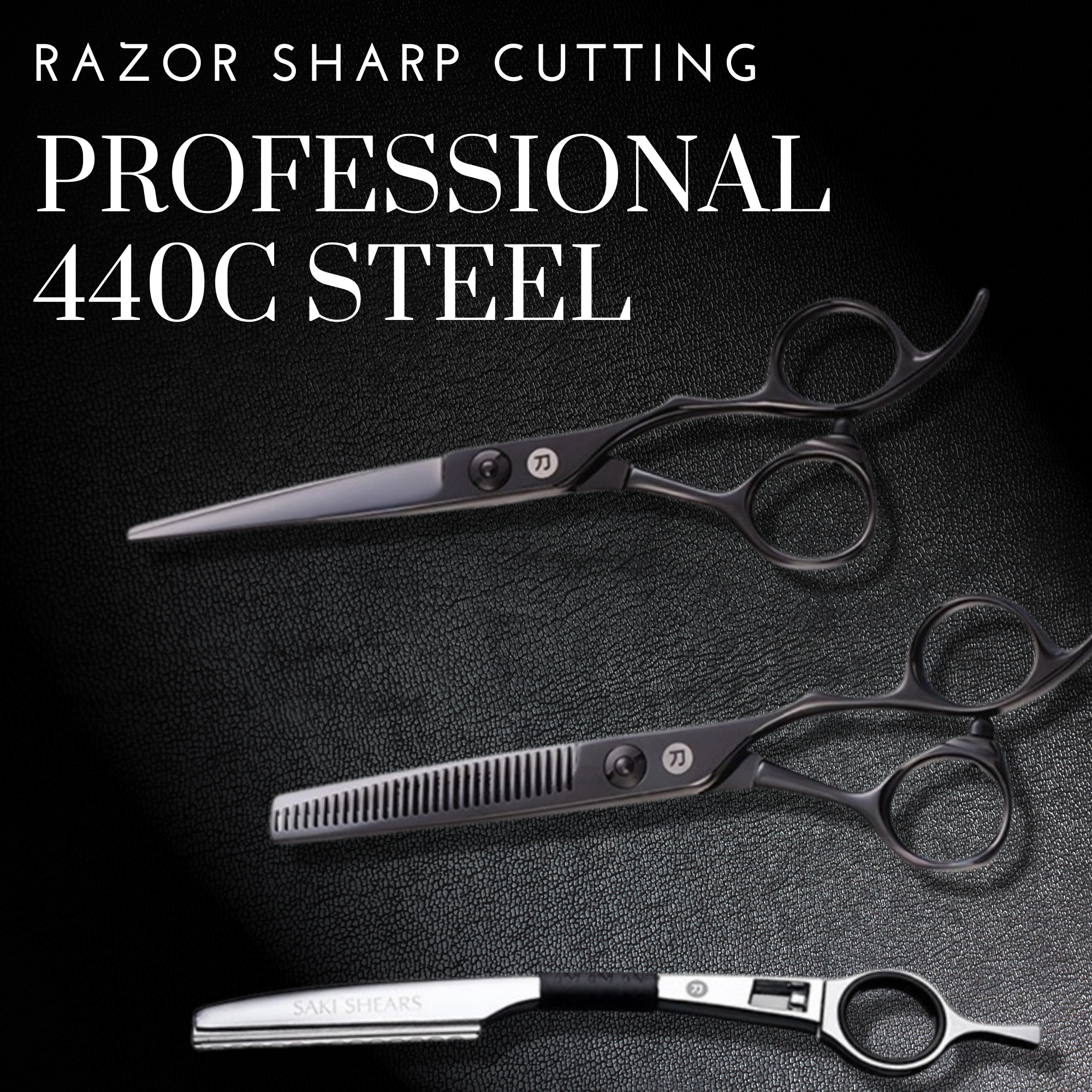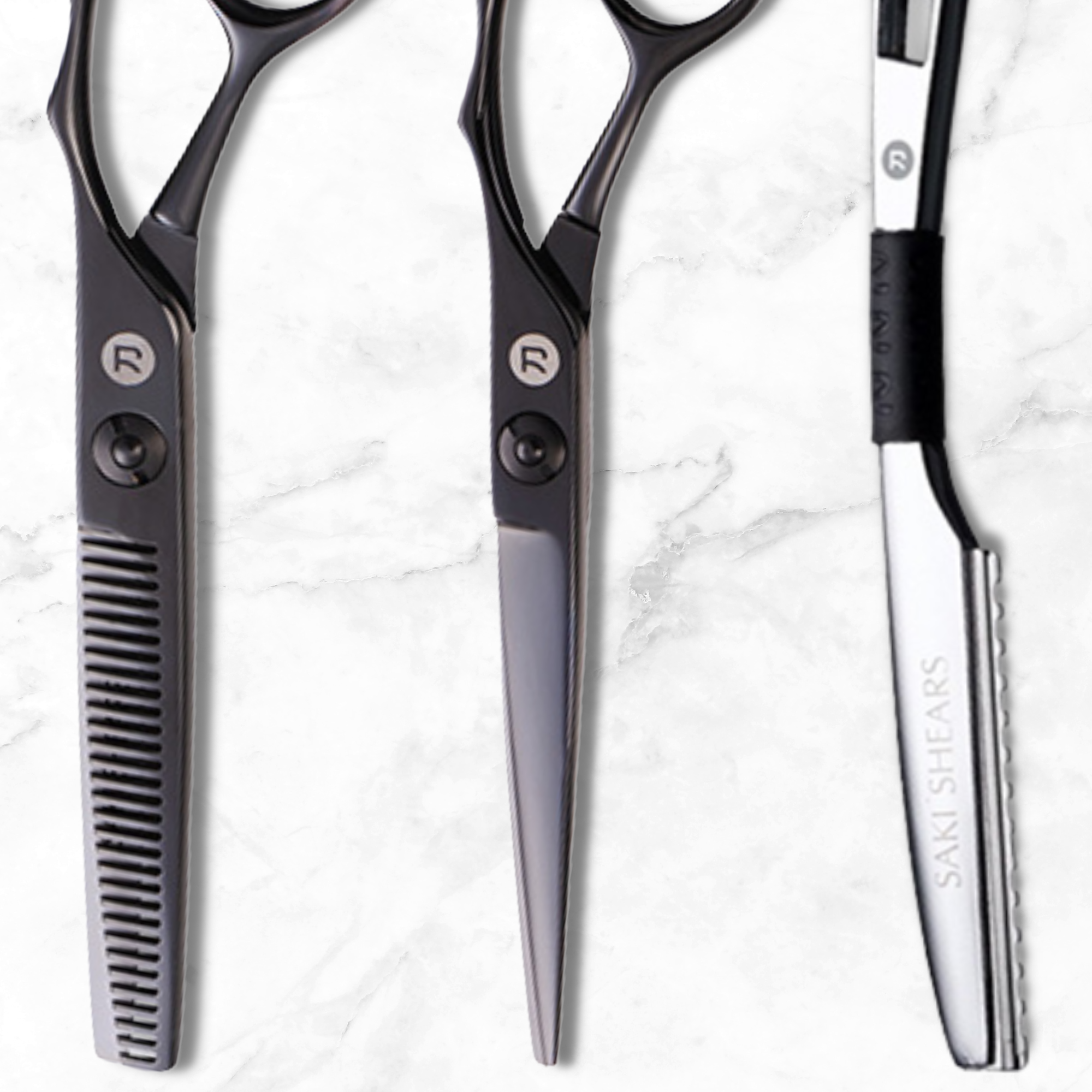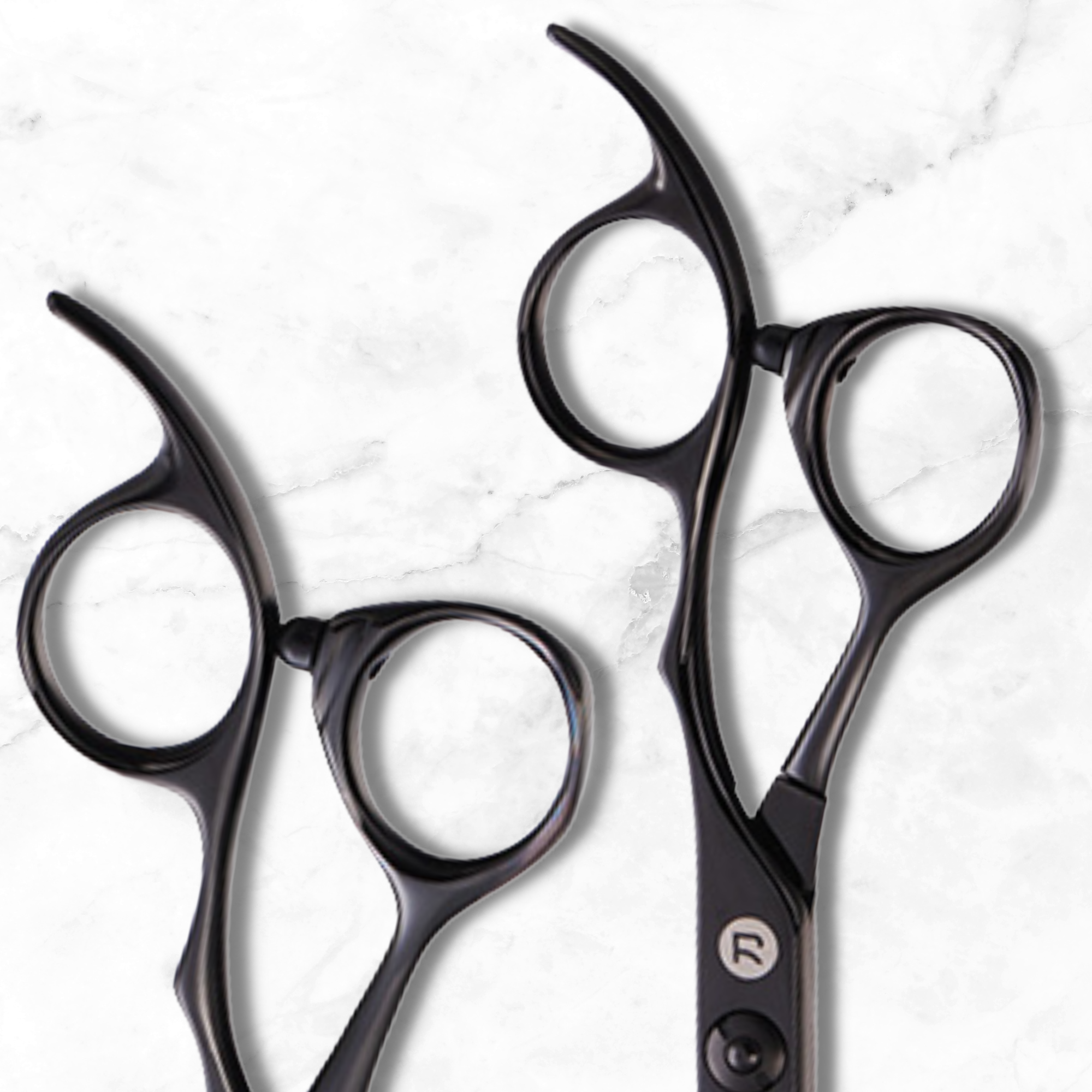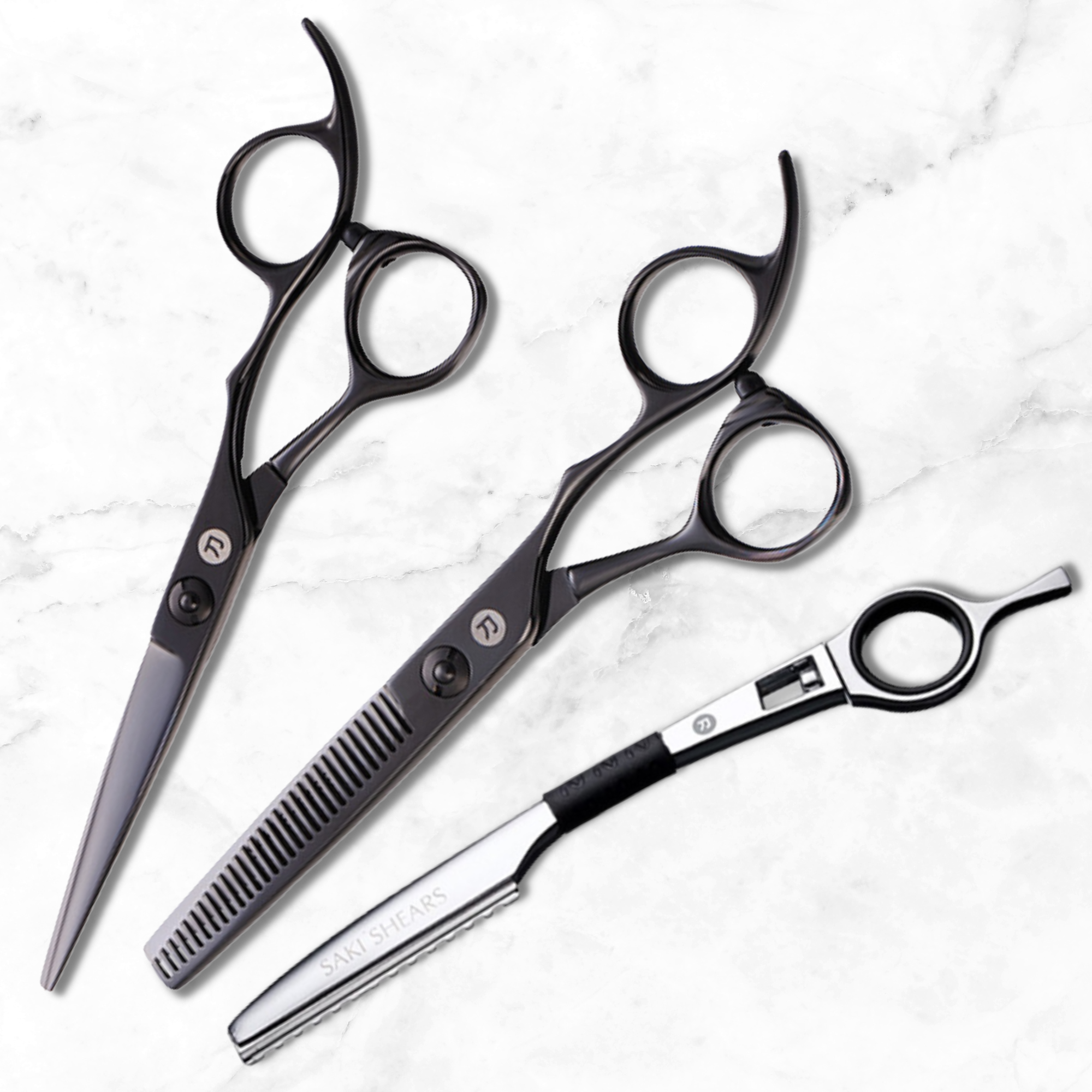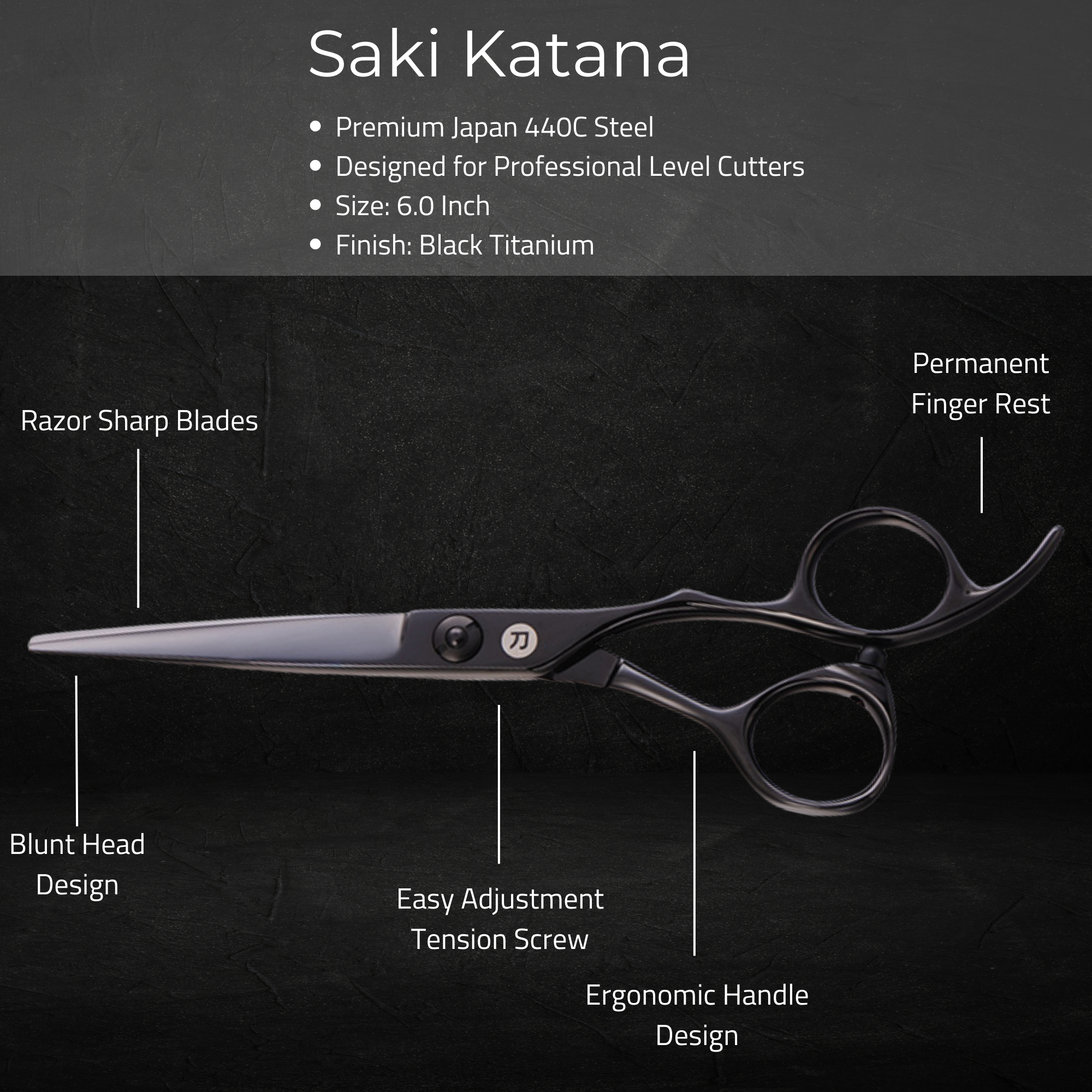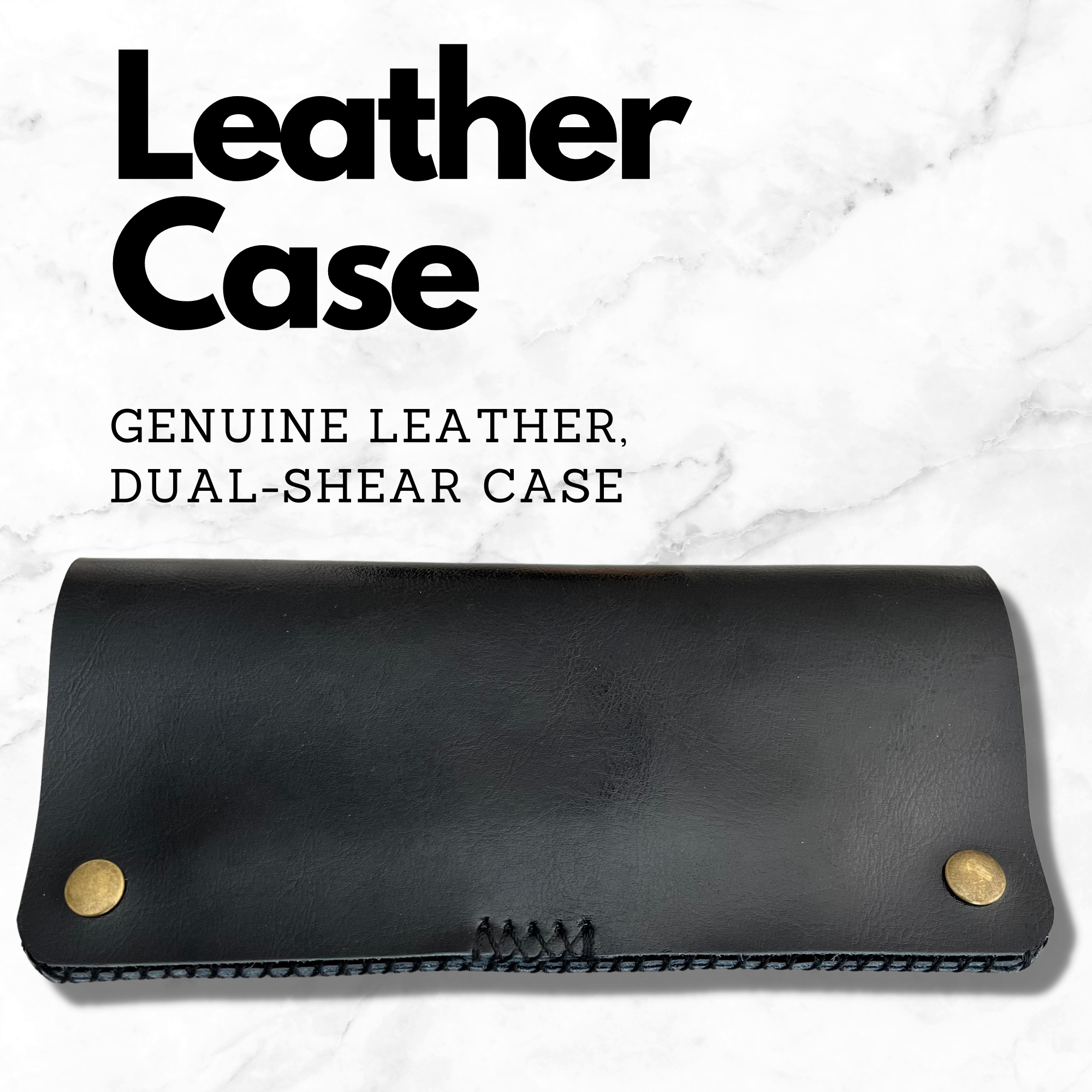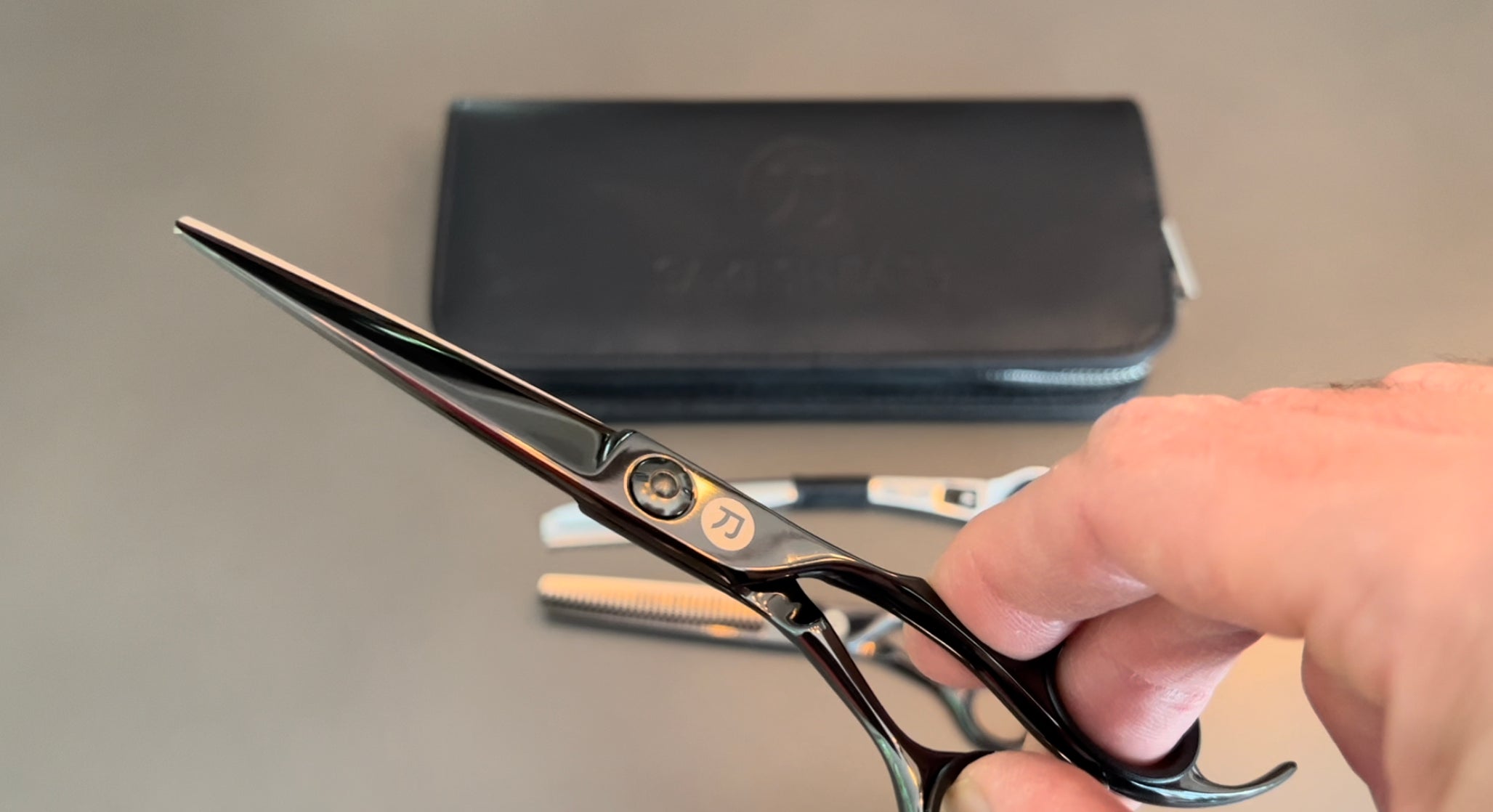 Save 30%
---
Saki Katana Hair Cutting set is the perfect pair! Handmade and constructed using Japanese stainless steel and a thick coating of black titanium, the Saki Katana Hair Scissor and Thinning Shear provide the ultimate durability for a long-lasting pair of hair shears you can count on. The Saki Katana set includes our premium hair cutting shears, hair thinning shears, razor and leather carrying case. 

Options:

6" set includes the Katana 6" cutting shears, 6" thinning shears, swivel razor and leather case.

7" set includes the Katana 7" cutting shears, 6" thinning shears, swivel razor and a leather case. 

Saki Katana Warranty: Covered by Saki Shears Lifetime Warranty

Saki Katana Cutting Shears

Saki Katana Hair Shears feature a convex edge and triple-honed, stainless steel blade for precise and smooth cutting while the offset, extra-long crane handle fights fatigue and provides the ultimate in comfort. Ideal for blunt, wet, and dry cutting.

Features:

Handmade for Precision
Material: Japanese Stainless Steel
Blade: Japanese style convex blade with hardness 60-61 HRC
Ring Size: Adjustable
Two-Piece Welded
Black Coating: Titanium Coating
Coating Thickness: 1.5 um
Size: 6 inch

Saki Katana Thinning Shears

Saki Katana Thinning Shear is perfect for thinning, blending and/or adding texture to any hairstyle with 30 teeth and thick, short sword back blades. Offset, extra-long crane handle, and adjustable ring size offers the utmost comfort and support while styling.

Features:

Handmade for Precision
Material: Japanese Stainless Steel
Blade: Japanese style convex blade with hardness 60-61 HRC
Ring Size: Adjustable
Two-Piece Welded
Black Coating: Titanium Coating
Coating Thickness: 1.5 um
Size: 6 inch/30 Teeth

Your Saki Katana Set Includes:

1 Handmade Saki Katana Hair Shears
1 Handmade Saki Katana Thinning Shears
1 Handmade Swivel Razor
1 Case
Lifetime Warranty

Saki Shears Katana line of hair shears are perfect for master barbers, advanced hair stylists and professional hairdressers. 
Read More About Hair Shears and Scissors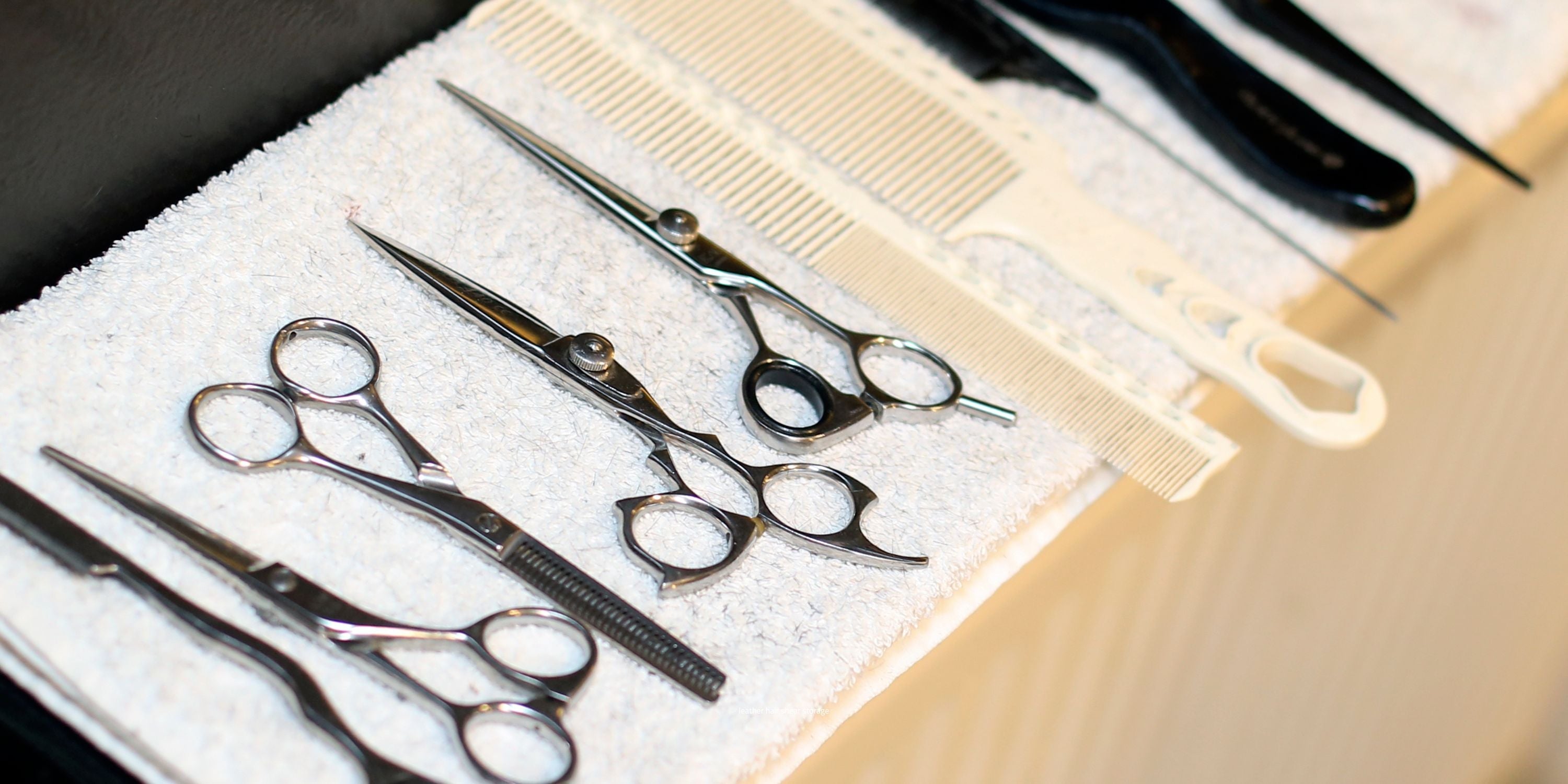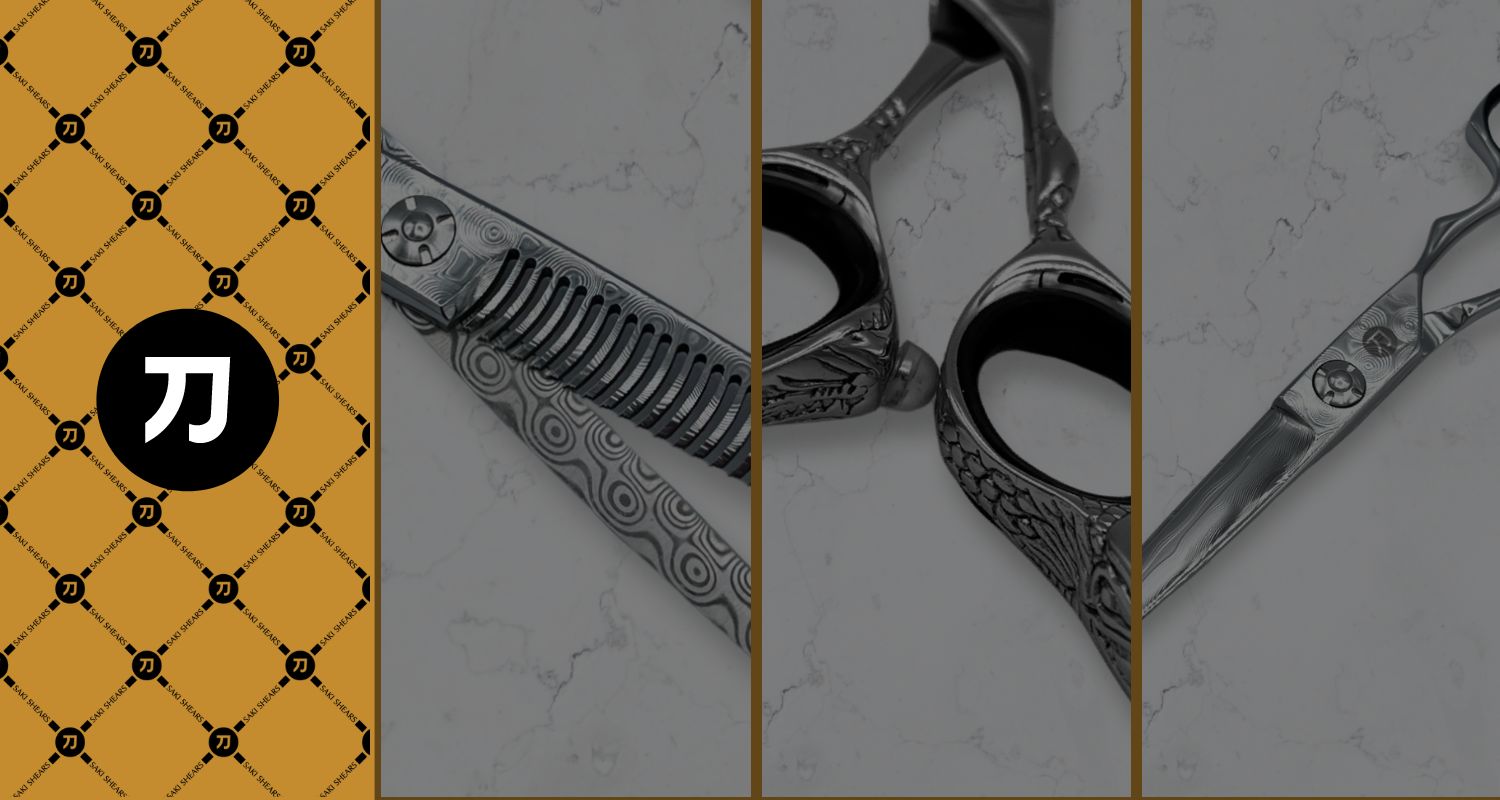 Best Hair Cutting Scissors and Shears
Finding the best set of hair cutting scissors is essential if you want to give your customers the best hair cut. Cheap hair shears will tug and pull and your clients hair, while the best hair shear...
Read more