Hair Shear Sizes - What Size Hair Cutting Shears Should You Buy?
There are many things to consider when purchasing a set of hair cutting scissors.  Although both the design and color of the scissors are essential factors to consider, perhaps the most important consideration is what size should you buy. The most commons sizes are 5.5", 6.0", 6.5" and 7.0". In the case of hair shears, ultimately, size does matter - at least when it comes to blades.
Unfortunately, we have found that many buyers find it difficult to determine what size scissors to purchase. We hope to answer your common questions such as, 1) How are scissors measured? and 2) How to measure scissor blade length.

Why Is It So Crucial to Select the Appropriate Scissors?

Your shears are the tools of your trade. You use them for hours every day. Selecting the correct size will ensure that they are as comfortable as possible and will ensure that you have the control you desire. If you don't have accurate control of your shears, how can you expect to give a great haircut?

How to Select Hairdressing Shears
Using poor quality shears will kill your career. This is exactly why you must invest in the finest from the beginning! A high-quality pair of shears will last you for many years. Saki Shears even offers a Accidental Damage warranty so you can feel comfortable that when you choose Saki Shears, they will stand by you for the entirety of your career. 

Now that you've decided to spend the money necessary on a high-quality pair of shears, next, you'll want to examine what form of hair cutting you do most often, since this will define the scissors that will serve you best. You construct several layers and rounded edges. Or maybe you like more direct styles? If you're unsure, you should really consider purchasing a set of scissors so that no matter what you select to create, you'll have the appropriate pair of scissors to assist you.


You should also consider whether you're left-handed or right-handed when purchasing scissors, since this is a rather clear distinction. Ultimately, you don't want to fight while holding them, since this will manifest itself in your hairdo.

Last but not least, you must consider the size, which is the whole purpose of this post. Choosing the proper size of hairdressing shears may not be simple, but it is possible. Utilize any hairdressing scissors you may find. Place them on the palm of your hand so that the finger hole contacts the base of your thumb and the blade's tip rests at the end of the middle finger.

Remember that you may also use this procedure to determine the optimal size of barber scissors.

How To Measure Cosmetology Scissors

Once you have determined the appropriate size of scissors for you, you must measure them to determine which size to get when purchasing a new set online. The best method for measuring scissors is to use a ruler. Align the scissors and the ruler perpendicularly. Thus, you now know the length of your scissors.


Remember to measure scissors from the finger hole all the way to the tip of the blade when taking measurements. Never include the finger rest in your calculations. Sure, the finger rest was included in the original German approach. However, in recent years, hairdressing scissors featuring a screw-on finger rest have become more popular.
Saki Shears has made it easy to search our website by shear size. Each category can be searched by size such as:
Hair Shear Sets
Perhaps the best way to save money is by purchasing your shears as a set. Saki Shears sets including cutting and thinning shears as well as a swivel razor and leather carrying case. Purchasing your salon tools as a set will save you at least 20% compared to purchasing each item individually. 
Do you know how to choose the right size shears for your hands? We have found that many of our female customers prefer a scissors that is between 5.5 inches and 6 inches in size. Anything bigger than 6.5" is likely too big for a woman's hands. Male barbers, however, tend to prefer a larger set of shears. Many of our male customers buy shears over 6" in size. Recently, we have found that many male barbers are buying our 7" shears. 
Saki Shears offers a variety of smaller shear sets in the 5.5" size. Models include: Ha, Kohana, Kotaro, Kodachi, Makoto, Sakura and Dotanuki. 

6" sets are our most popular size and therefore we carry the most options. Current models include: Ha, Katana, Gold, Kotaro, Tachi, Kodachi, Wabi-Sabi, Majime, Dotanuki, Kamakura and Shinrinyoku.

Although we offer a large selection of cutting shears in the 7" size, our sets are currently limited to the Ha model. 
After identifying the size you would like, you can further filter the search results by collection, color, etc. 
Hair cutting shears and hair thinning shears can also be sorted by the available sizes such as 5.5" cutting shears, 6.0" cutting shears and 7.0 inch cutting shears.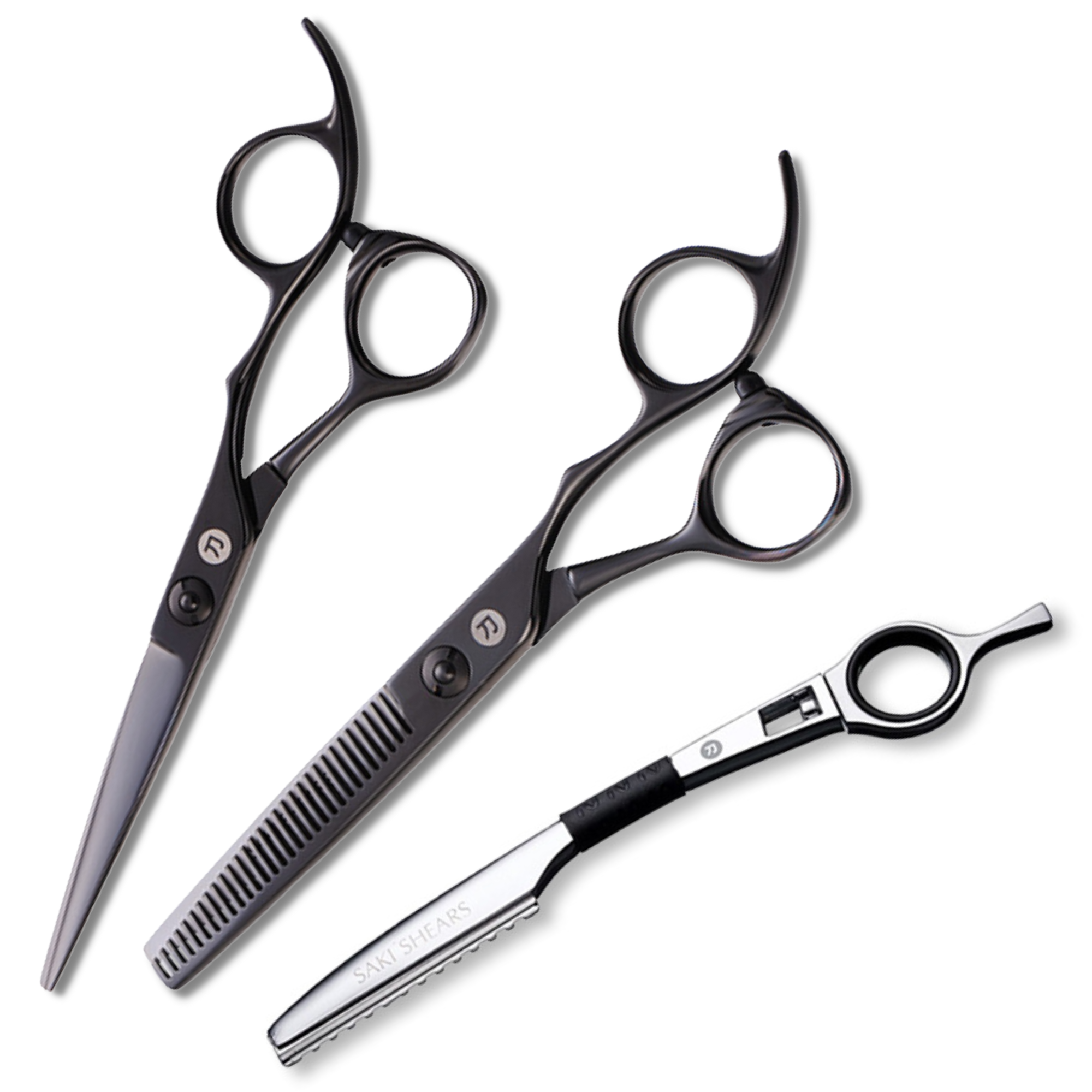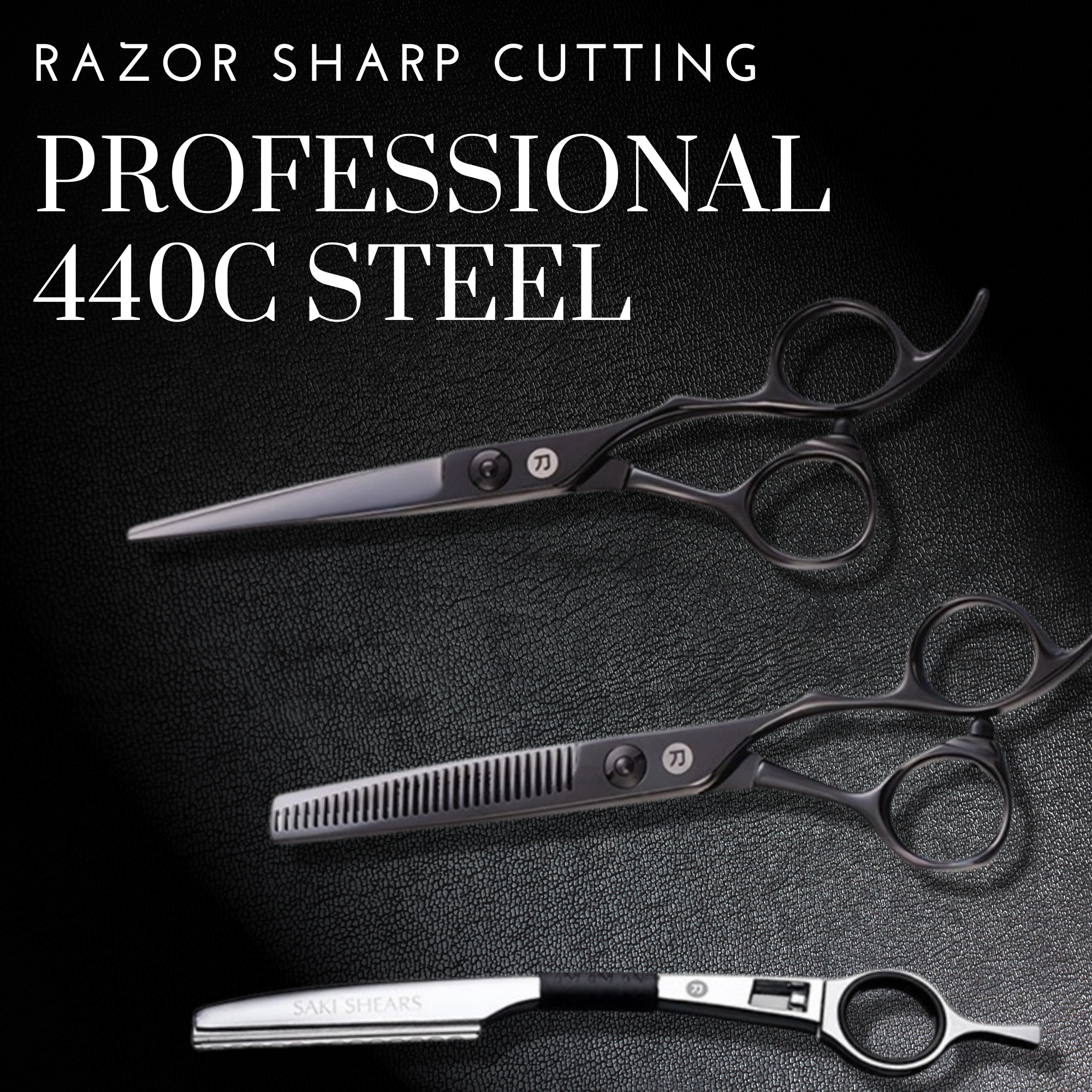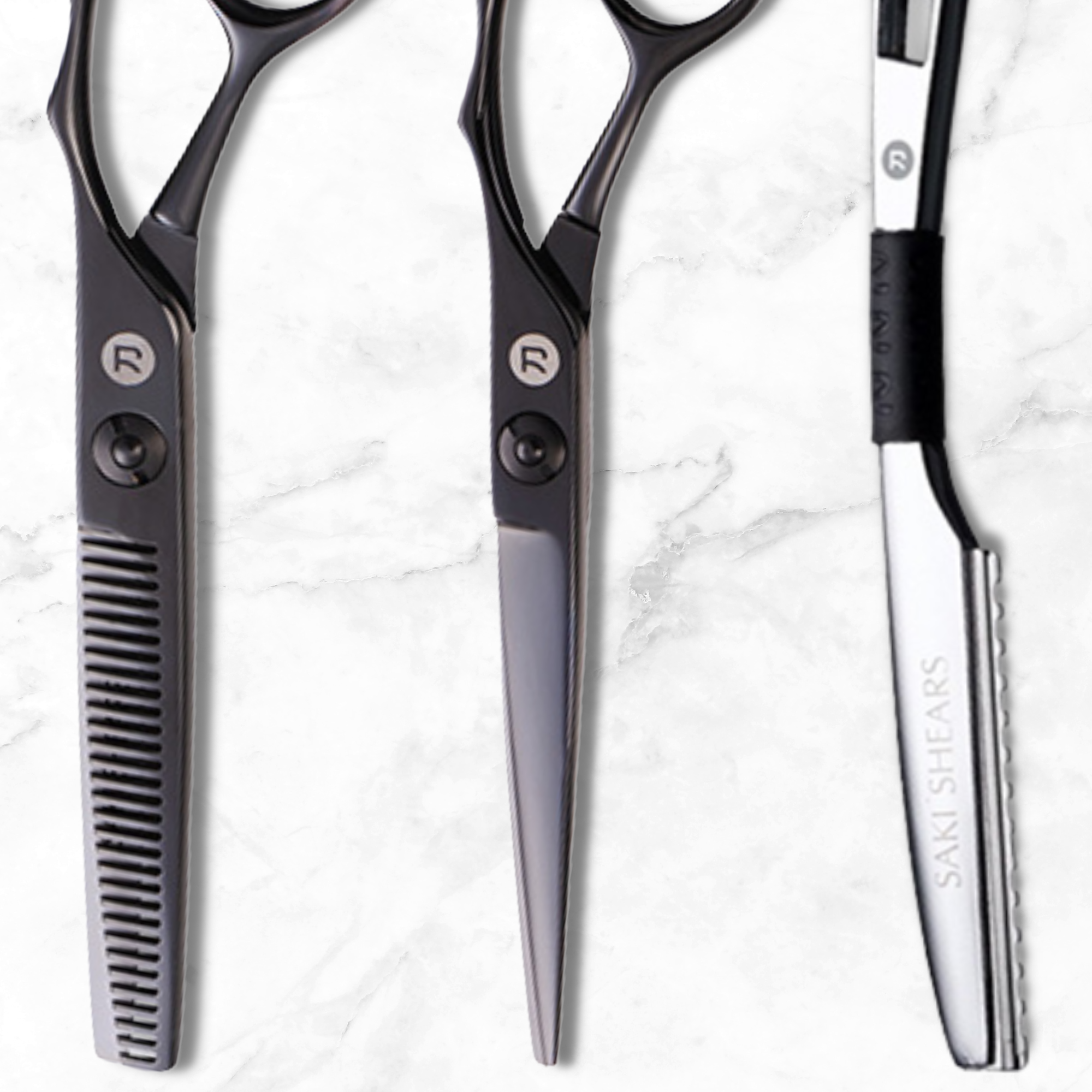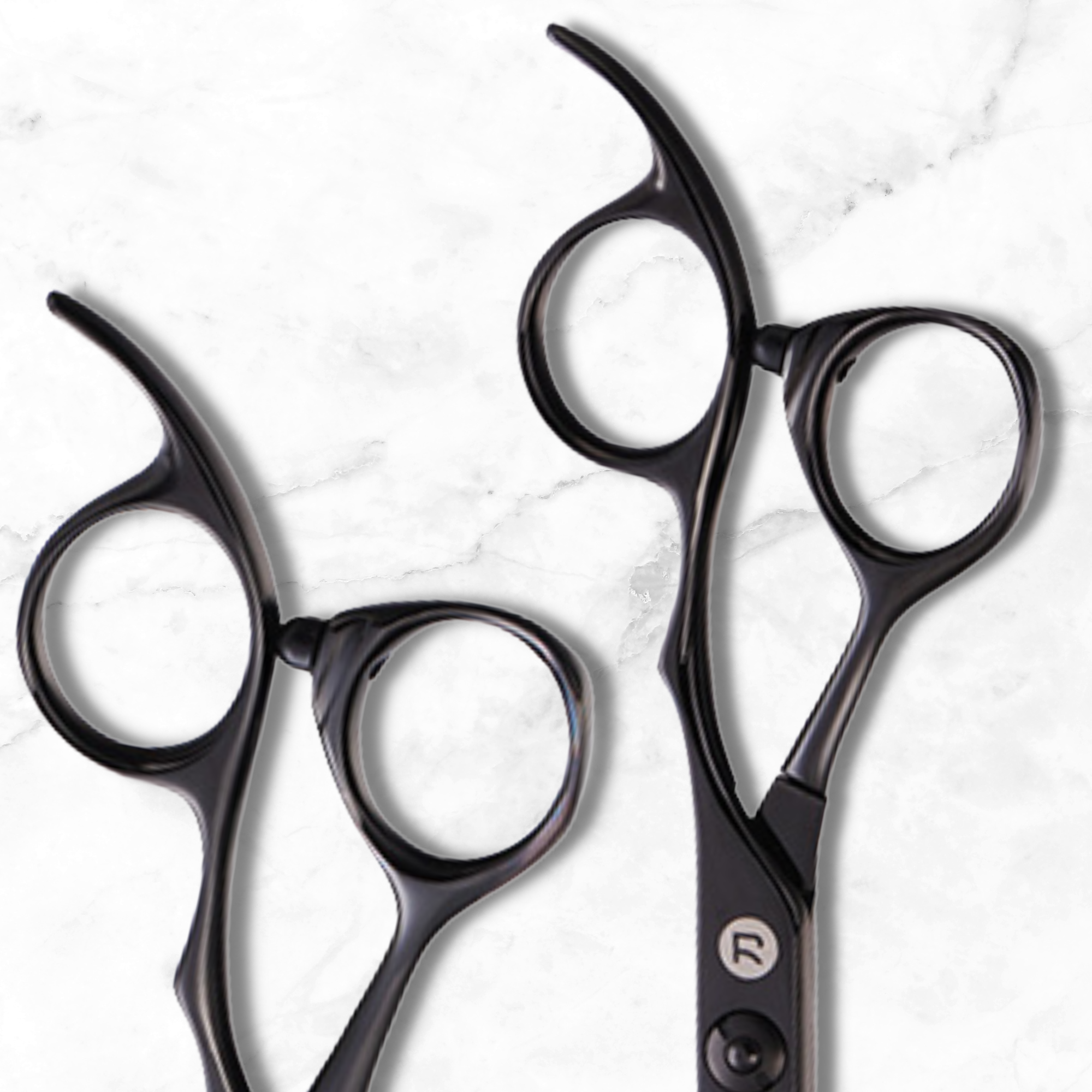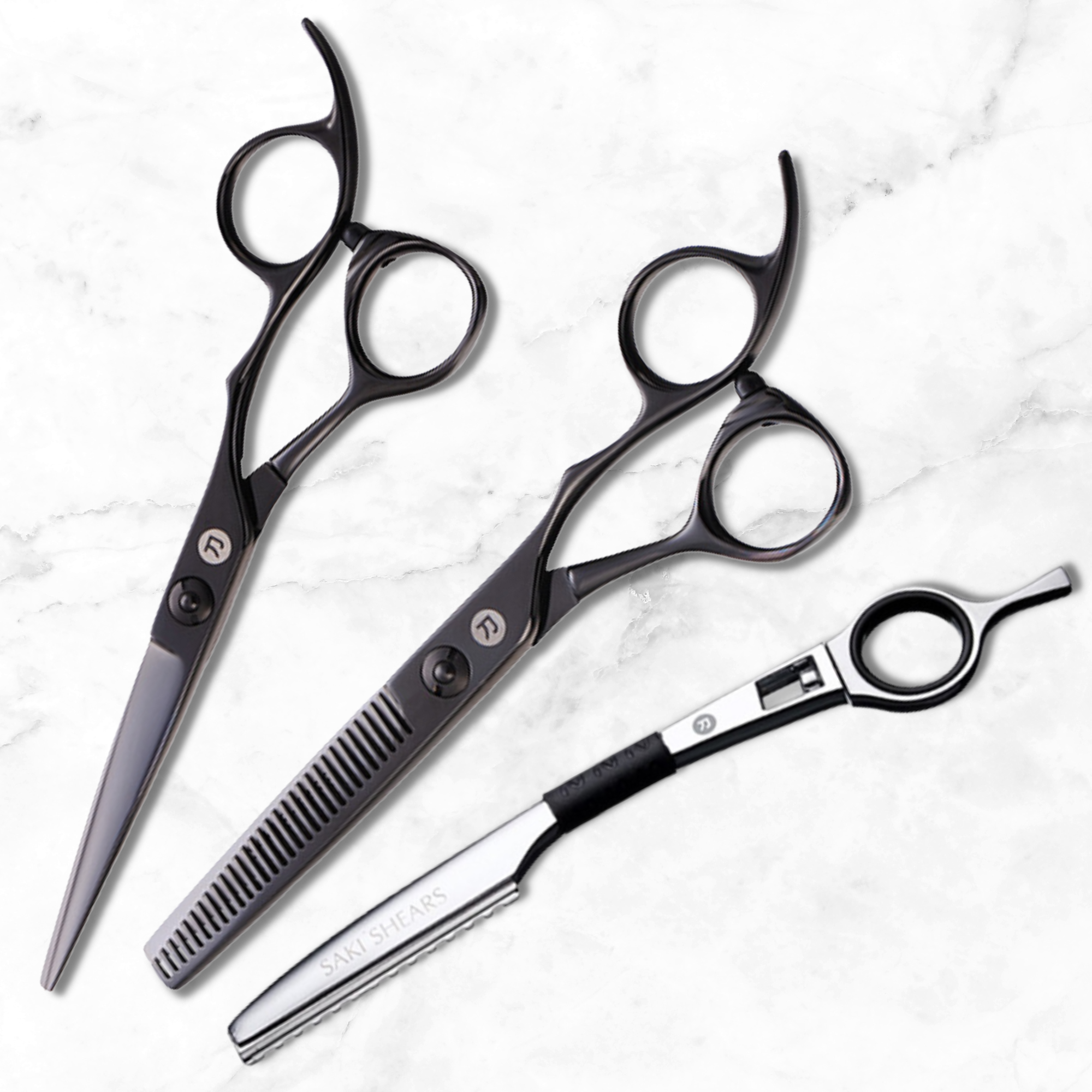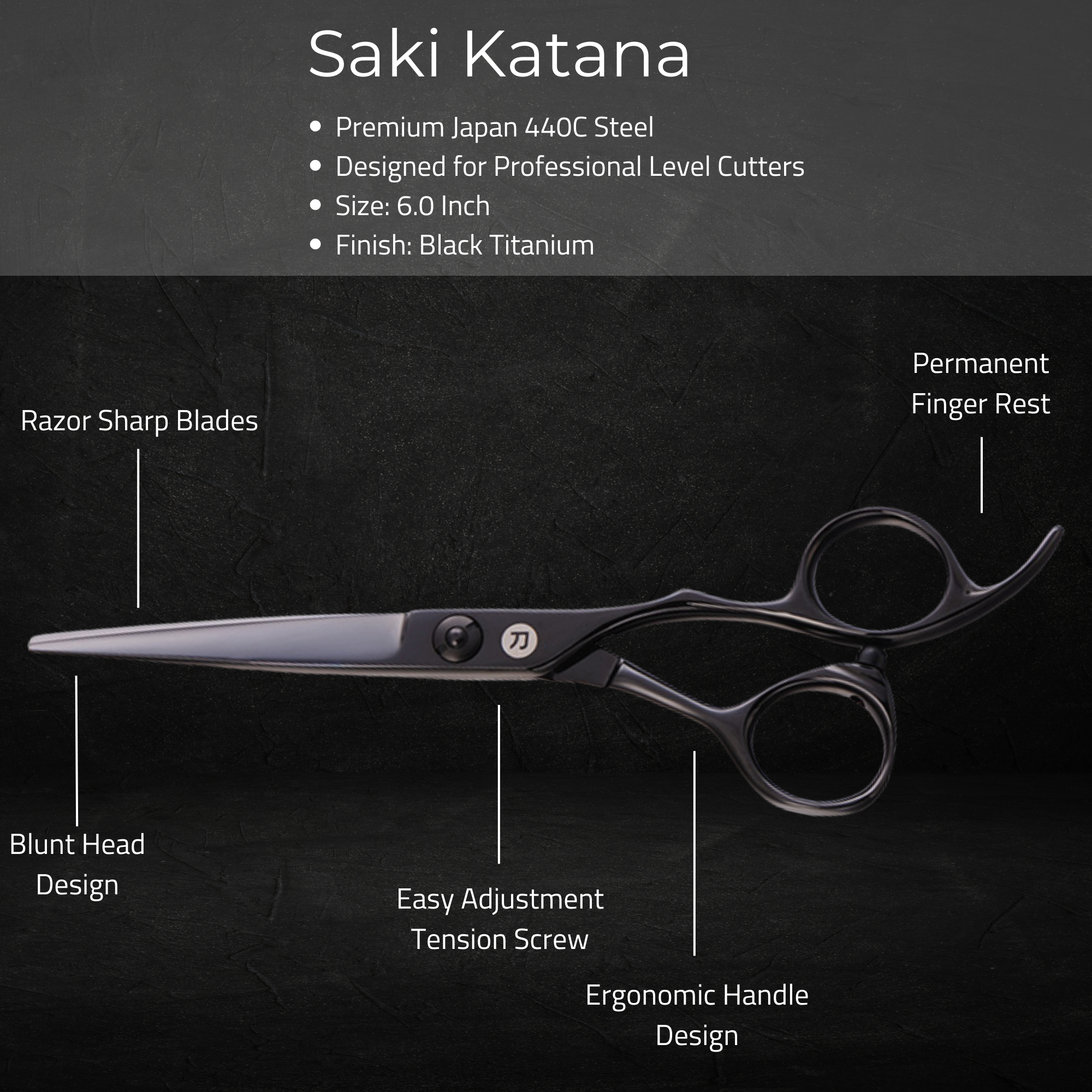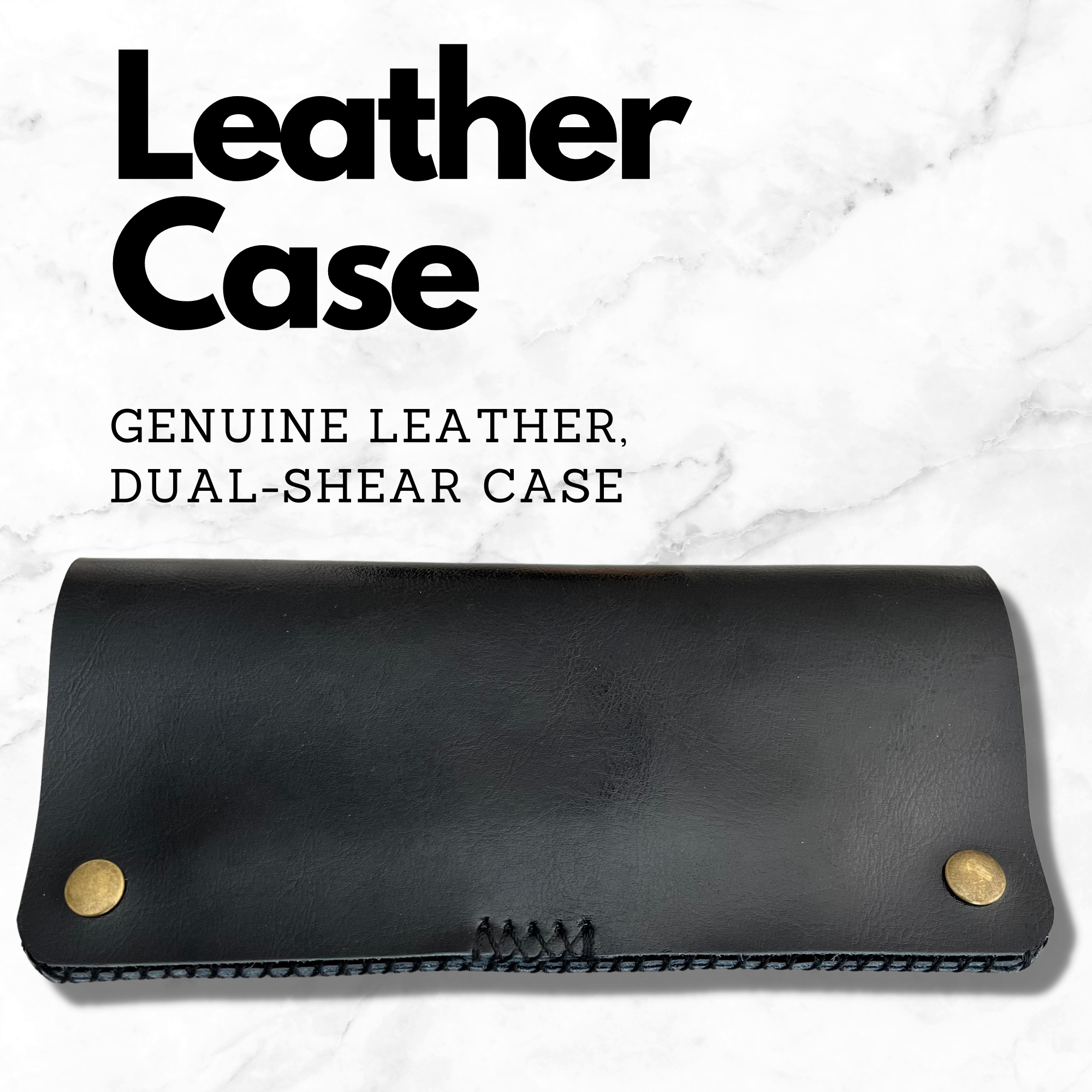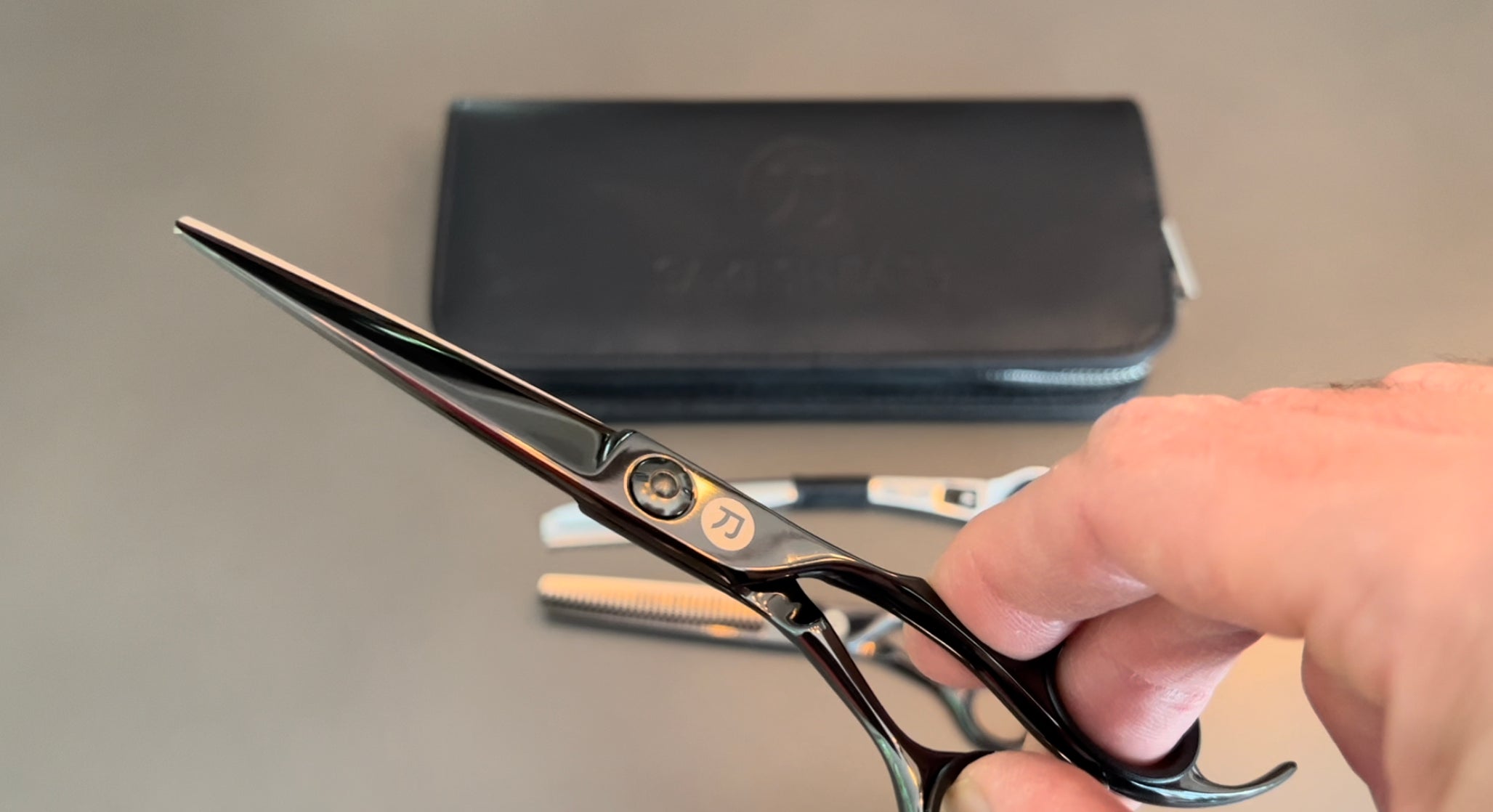 Save 30%
---
Saki Katana Hair Cutting set is the perfect pair! Handmade and constructed using Japanese stainless steel and a thick coating of black titanium, the Saki Katana Hair Scissor and Thinning Shear provide the ultimate durability for a long-lasting pair of hair shears you can count on. The Saki Katana set includes our premium hair cutting shears, hair thinning shears, razor and leather carrying case. 

Options:

6" set includes the Katana 6" cutting shears, 6" thinning shears, swivel razor and leather case.

7" set includes the Katana 7" cutting shears, 6" thinning shears, swivel razor and a leather case. 

Saki Katana Warranty: Covered by Saki Shears Lifetime Warranty

Saki Katana Cutting Shears

Saki Katana Hair Shears feature a convex edge and triple-honed, stainless steel blade for precise and smooth cutting while the offset, extra-long crane handle fights fatigue and provides the ultimate in comfort. Ideal for blunt, wet, and dry cutting.

Features:

Handmade for Precision
Material: Japanese Stainless Steel
Blade: Japanese style convex blade with hardness 60-61 HRC
Ring Size: Adjustable
Two-Piece Welded
Black Coating: Titanium Coating
Coating Thickness: 1.5 um
Size: 6 inch

Saki Katana Thinning Shears

Saki Katana Thinning Shear is perfect for thinning, blending and/or adding texture to any hairstyle with 30 teeth and thick, short sword back blades. Offset, extra-long crane handle, and adjustable ring size offers the utmost comfort and support while styling.

Features:

Handmade for Precision
Material: Japanese Stainless Steel
Blade: Japanese style convex blade with hardness 60-61 HRC
Ring Size: Adjustable
Two-Piece Welded
Black Coating: Titanium Coating
Coating Thickness: 1.5 um
Size: 6 inch/30 Teeth

Your Saki Katana Set Includes:

1 Handmade Saki Katana Hair Shears
1 Handmade Saki Katana Thinning Shears
1 Handmade Swivel Razor
1 Case
Lifetime Warranty

Saki Shears Katana line of hair shears are perfect for master barbers, advanced hair stylists and professional hairdressers. 
Read More About Hair Shears and Scissors